For those of us who are a size 12 and up, finding style tools can be a challenge.  For those of us who are a 12 or greater for sizing and have a lack of fashion sense, this is an obstacle.  I was recently introduced to Sonsi's Style Your Way-Outfitting Tool and it's very, very fun.  (I can see it also getting very, very expensive, very very quickly, because you just keep finding adorable this to go with that and oh if I got those shoes and this bag I could wear this top to XYZ and to 123…) 
Finally! There is a tool that makes outfitting your life easy. Introducing our premiere Style Your Way – Outfitting Tool: Create and save a personal online wardrobe, share your individually styled outfits with friends, and tap into the other's looks in the Sonsi community for inspiration. Consider it your new destination for personal style inspiration. With access to thousands of styles, it's truly fashion at your fingertips. Whether you are out and about, playing with the kids, or relaxing at home, this unique outfitting experience makes it easy to plan, coordinate, and accessorize your outfits before bringing them home.
Simply by starting a free account with Sonsi and creating an outfit, then sharing it with a friend (don't worry, they just send items, not sizes chosen- although I was able to choose items without needing to give sizesz), you will be entered to win a $200 Gift Card to Sonsi!  I just did it, although I am not eligible to win because of this post- but I wanted to see just how simple it was to enter- and it really is.  Plus, then you can show off your creation- this week (July 18-21) the theme for outfits to style is "Casual Friday" and here's my take on it: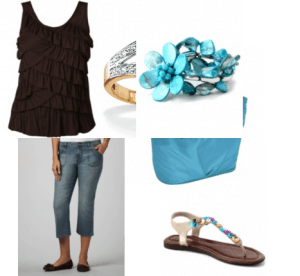 Fun and also comfortable (which is how I like to be).  I think I could even be brave enough to wear this, especially by simply printing out or ordering these items right from home at once!!
(I would like to know if the shoes pictured with the capris would look good or ridiculous on my wide feet- because I think they are super cute!)
Nearly 60 percent of American women are size 12 and up, and are no longer content to be the silent majority.  Sonsi's new upgrade sets the industry bar for personalized online customer service and social engagement to a new high. Sonsi's new Style Your Way outfitting tool takes shopping online for clothes to a new interactive level by letting plus-size women create a personal online wardrobe, share their individually styled outfits with friends and other women for feedback, and tap into each others' inspiration. Once they find an outfit they love, women can purchase their styled outfits directly from the tool.
Sonsi®, the award-winning online shopping and social destination designed exclusively for plus size women, is injecting the dog days of summer with a much-needed dose of retail therapy. Sonsi has launched the Style Your Way™ Summer Challenge, inviting women to put their fashion styling talents to the test. Starting today, full figured women coast to coast will have an opportunity to use Sonsi's new, innovative outfitting tool to create head-to-toe summer ensembles for the chance to win a $200 gift card to put towards an outfit of their choice.

Celebrity stylist Susan Moses, who has worked with such full figured A-listers as Mo'Nique, Kathy Bates, Emme, Wynonna Judd, Chaka Khan, Angie Stone, Gabourey Sidibe and Jill Scott, will select one winning outfit per week for four weekly summer style challenge categories: Casual Friday, Girls' Night Out, Day at the Beach, and Summer into Fall. Participants can select from thousands of fashion must-haves from among Sonsi's more than 380 apparel and accessories brands.

Citing Sonsi's Style Your Way outfitting tool as a breakthrough that puts the glamorous world of fashion styling at every curvy woman's fingertips, Sonsi General Manager and Publisher Jill Hutchison is certain the new tool will help full figured women discover just how much fun social shopping can be. "We're challenging plus size women to discover their inner stylist this summer," says Hutchison, "and with this season's lively colors, flattering silhouettes and fun accessories, we know they're going to have a blast!  But, the best part is, they can create as many outfits as they want for each of the style categories, giving their chances of winning a major boost."

Beginning July 18th and running through August 12th, women can submit their Style Your Way Summer Challenge entries until Thursday at midnight for each of the four consecutive weeks. The weekly winner will be announced each Friday (July 22, July 29, August 5 and August 12) and each weekly winning outfit will be featured on Sonsi.  Visit the www.Sonsi.com/SYWChallenge for official rules

Sonsi's new Style Your Way tool not only takes the guesswork out of finding the perfect outfit, it also makes it possible for traditionally underserved plus-size women to unleash their inner fashionistas.  "As a professional stylist, nothing is more fun for me than finding the perfect outfits for my clients," says Moses. "Now, fashionistas everywhere will have an entree into my exciting world of fashion styling, thanks to Sonsi's Style Your Way Summer Challenge."
Go ahead and Style Your Way- and feel free to share with me, I'm always up for new inspirations!!  Share them to thismamalovesherbargains@yahoo.com.
This post was made possible by Mom Spark Media.  Thoughts are my own.

 [ad#glam between posts]
0