One of the brands I have loved the most since even before I had my own kids was Carter's.  Great quality, fabrics and prints that don't fade or shrink, and soft on baby and kids' skin.  Plus, it's so stinkin' cute.  I lost count years ago of how many things I'd purchased from Carter's.  Carter's, in fact, was the one brick and mortar store my mom would venture into the last years of her life.  All other shopping was grocery store or online. Period. She loved the options and quality available at Carter's like I do. I participated in this spring fashion for kids program on behalf of Carter's and The Motherhood. All opinions are my own.
We were challenged to create some spring fashion for kids from the Carter's site.  Now, I will tell you, this isn't easy for me. There's too many options.  Lots of times when you think Carter's, you think of baby and toddler stuff, and you aren't wrong. But more and more, Carter's is offering styles for sizes 3-7 and even up to size 12.  I prefer my kids to look like kids- not mini adults.  They have plenty of time to dress up like teens and adults when the time comes.  Until then, they can be fashionable and trendy to their heart's content…in brands that mom's happy with.  Here are not one, not 2 but 3 outfits I pulled together from Carter's and am smitten with.  I'm pretty fortunate my girls LIKE to dress alike or coordinating so I can mix and match to my heart's content.  There's lots of room for them to each express their own individual style, though.  The first 2 outfits are all about spring break because I'm oh so ready for it.  The last could be for spring break if you go someplace tropical (we aren't) so we'll save it for summer.
This first outfit I like to call "Birdies" and it's so spring-like with the colors, and birds, and shoes that don't cover the whole foot.
Anyone else sick of winter? I am!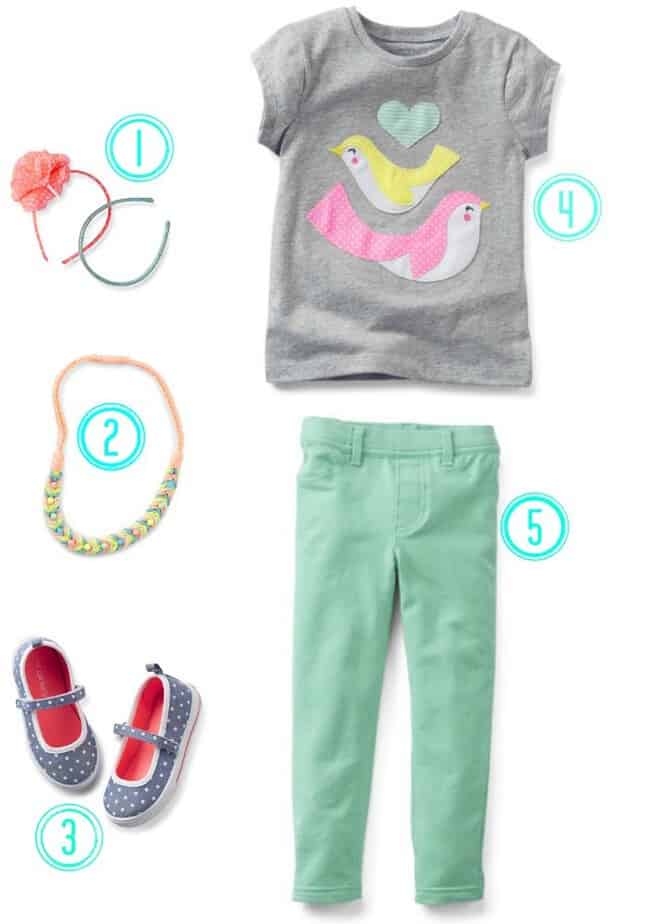 1 Two Pack Sparkle and Flower Headbands 2 Braid and Bead Necklace 3 Chambray Mary Janes 4 Two Birdies Applique Tee 5 French Terry Skinny Fit Pant
Next up is the Whale of a Spring outfit.
Skorts are a big thing in our house- my girls want to wear skirts and dresses but they want to hang upside down and do cartwheels 532432431 a day. This outfit is fun, casual, and spunky enough to make her smile.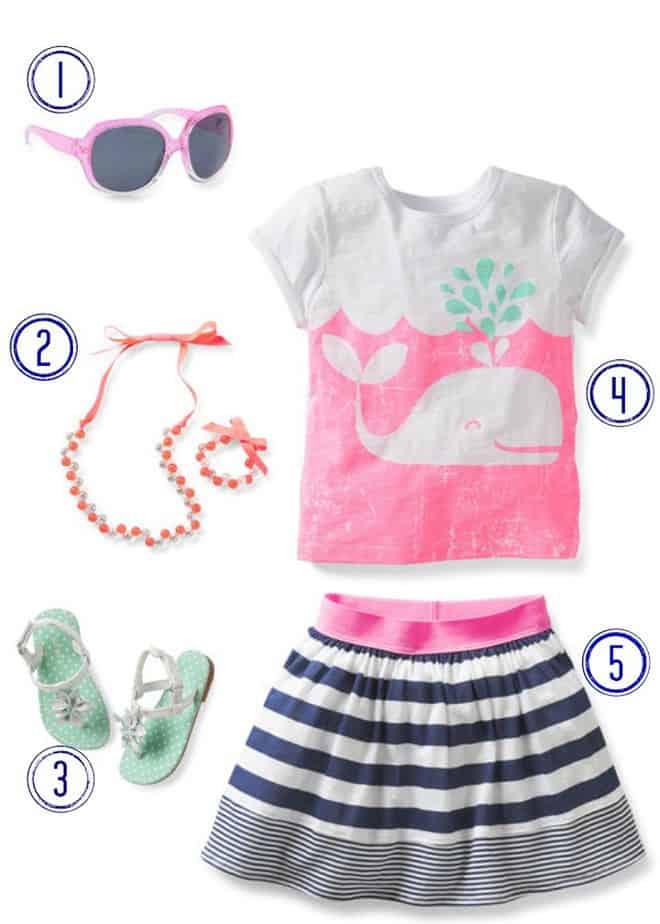 1  Polka Dot Jackie-O Sunglasses   2 Bubble Bead Necklace and Bracelet Set   3 Metallic T-Strap Sandals  4  Whale Tee  5  Jersey Mix Print Skort
Finally, I created the Flamingo Swim Ensemble, because it's just the cutest suit and needed to be showcased.
That, and the first 6 weeks of summer we are outside, at the pool, from 9am (swim team) until about 1:30 pm (Synchro ends) and in between- swim lessons and tennis lessons for all 3 kids.  They want to be comfortable and look the way they choose, and I want to know that the suits, towels, coverups, etc. that I get them will last all summer and hold up to hours of playtime, especially in the water.  I don't often get my kids suits that aren't rashguards, so finding this super adorable nautical theme had me squealing. (And ordering…)
1. Bright Flower Sun Hat 2 Goggles (Can't find them on site anymore) 3. Mermaid Hooded Towel 4.2 piece Rash Guard Set 5. Terry Swim Cover-Up 6. Bright T-Strap Sandals
Follow Brett Martin's board Carter's Spring Style on Pinterest.



Create your own spring style board for your kids! Ready to shop?  Check out Carter's store locator to find a store near you.
(You'll want to, because creating a spring style board of your own can get you entered to win below)