The Children's Place always offers fun, functional and stylish clothing that really stands up to wear and, my favorite part, is AFFORDABLE.  The looks range from sweet and classic to fun and funky, with a whole lot of fun in between.  Here are my two older kids sporting their new spring looks:
The dress my daughter is a Floral Empire Waist Dress. She'll wear this to a family celebration in March, and again at Easter, plus a whole lot more over the summer.  I love the navy with the floral print- its sweet, perfectly age appropriate for a 6 year old, and passes the twirl test.   Light and airy, it'll be perfect with a cardigan for cooler weather, and by itself for hot summer days. I love that it's got such a sweet and modest neckline.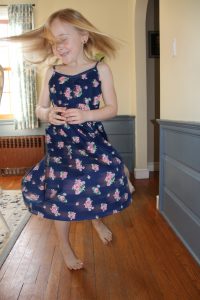 For my little guy, these 100% cotton twill  embroidered shorts are simply adorable for me to see, but "cool" for him to want to wear.  I love the charcoal grey color – and I'm not usually a skull and crossbones kind of  girl, but these are just fun and cute and we both love them. I swear, he does too, no matter what the photo above says.  He just wasn't feeling great when we did the photos and I put gel in his hair.    Pair those shorts with a pink colored oxford shirt and you have one handsome little man!!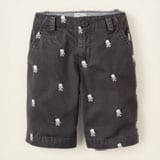 For my littlest one, this cotton voile Embroidered Bow Dress is just the perfect little dress for a toddler.  Simple, sweet, and oh so delightful.  As a bonus, it's got a little twirl to it as well.  So appropriate for our little ones- and a cardigan over it will keep her nice and warm if the days are cool!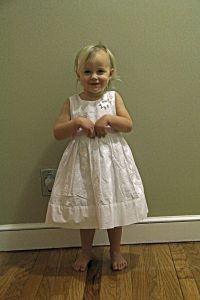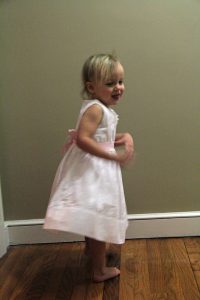 The Spring looks from
The Children's Place
have got me wanting to shop, shop SHOP right now.  Madras plaid shorts and vests and funky patterns, cool styles….there's just so much to love.  And with their sale pricing, so much to SAVE!!
The Children's Place is actually my go-to brand for pants for my son- adjustable elastic waist pants that don't "look" like elastic waist pants.  He hates buttons- they make him bonkers.  So elastic waist it is.  The cargo pants are a staple wardrobe item in our house and I can honestly say we've passed each pair along to another family and I know that they've all gone to yet another family or two afterwards!
One lucky reader will win a $50 gift card to spend at The Children's Place!  To enter, follow the instructions on the Rafflecopter form below.

a Rafflecopter giveaway
I received samples of this product to facilitate my review.  Opinions are my own.