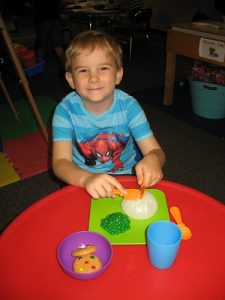 My kids love cooking- either with role play or actually helping me to cook.  Either way, this always, always goes better when the dishes, bowls and utensils they are using are the appropriate size for little hands… and little foods.  The new Sprouts™ Serve it! My very own dish set offers a way for kids to actually use and manipulate dishes and play food with plenty of room for the foods.  (Anyone who's played with pretend foods has probably experienced the frustration of the foods not fitting or coming close to fitting on the dishes!!  It's frustrating for the kids and the adults!)
As we have before, we sent these dishes in to my son's preschool classroom.  This is a peer model program and I love being able to support the teacher and staff in the classroom.  Mrs. O has loved everything that Learning Resources has to offer and has been very glad to be able to try some new manipulatives, games and products for the children in class.  Many of the children in the classroom are working on improving fine motor skills  and social skills,
Love them!!!  The colors are great. They are simple and durable. They resemble real dishes that kids use in the real world which I really appreciate. I like the size of the plates and bowls too – the kids can actually fit a "meal" on them whereas with other plates that we have you can only put one piece of play food on at a time.
Larger—size dishes to truly fit play food and chunky, easy-to-hold silverware
Encourage social interaction and build color identification through dramatic play
Perfect for Pretend & Play® and New Sprouts™ play food
Set of 4 of each dish item and silverware. Plate measures 7″L x 7″W
Super safe: Meets FDA specifications for food use. Dishwasher safe. (The dishwasher safe feature is a FAVORITE feature for me- when kids are sick, they can go in the dishwasher and be clean, and germ free!!)
We are hoping that the folks at Sprouts decide to expand this line a bit and add some more pieces, perhaps some pots and pans or serving dishes!?
One lucky reader will win a set of  Sprouts™ Serve it! My very own dish set
 I received a sample of this product to facilitate my review.  Opinions are my own.