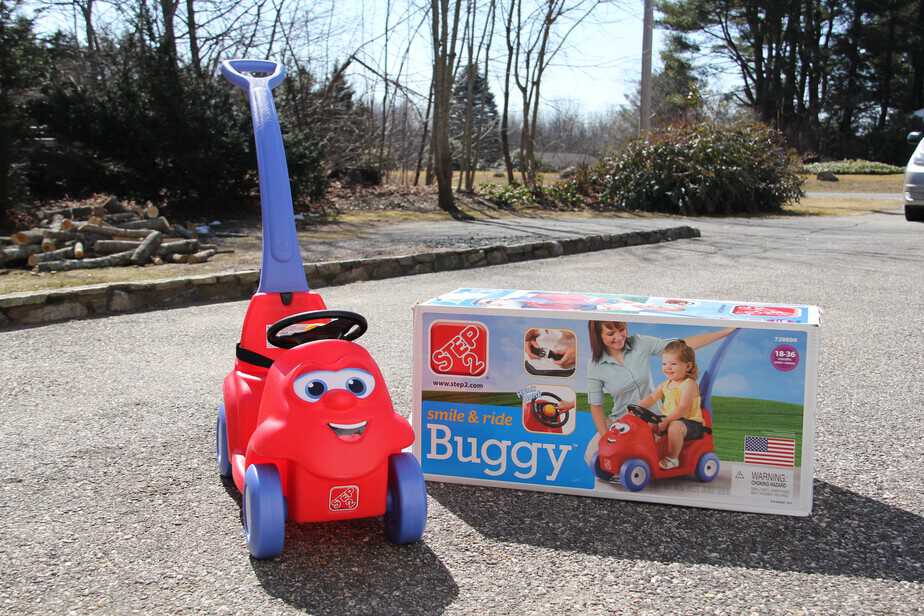 Step2's Smile & Ride Buggy is a safe, adorable way to let your child ride outdoors (or indoors, I suppose!).
The buggy itself is made of strong, durable plastic in a fun, vibrant (and unisex!!) red, with an adorable character face, honking horn and a nice, long handle for  mom, dad, babysitter, big sister or brother to push your little passenger along.  We gave our Smile & Ride to our little friend Leo, who turned 1 a few months ago and has parents and an older sister (5!) who just love to be outdoors and go for walks, etc.  It isn't always easy to take long family walks, or be outside with a toddler, but with his own 'car' to drive, and be safely buckled into, L can feel like he's cruising along in his own little convertible, and his family can be assured that he's safe, not running away, and even big sister H can have a turn pushing him in his car.
If you are familiar with Step2, you know that they are known for quality, lasting toys that stand up to rough play.  Their reputation speaks for itself.  What I am concerned with when I come across toys and products like this buggy is always " How long is this going to take me, as the parent, to assemble?"
The answer, my friends, is a happy "not too long!!" From this: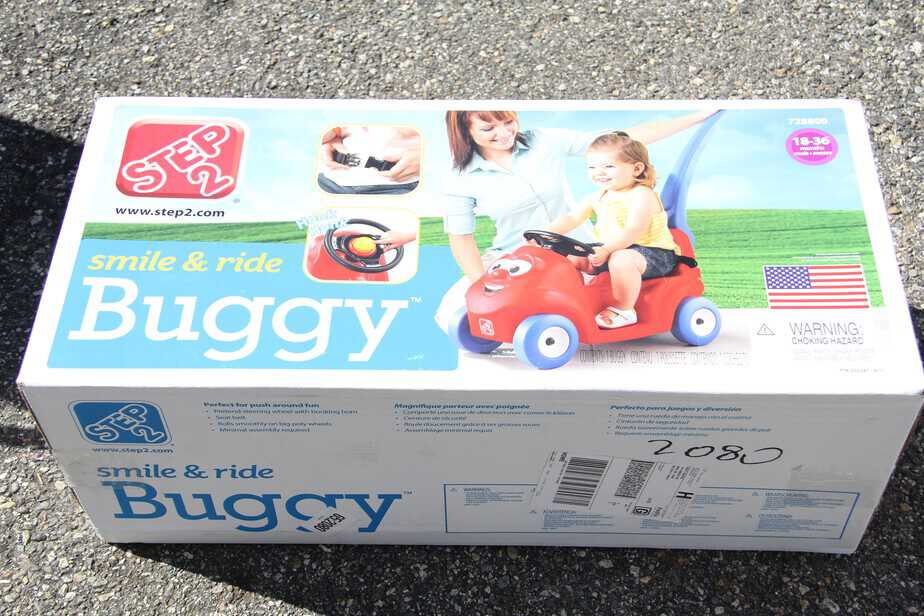 To this:

To this final product in under 40 minutes (it might well have been less but with a 2 and 4 year old helping, things tend to take a bit longer…)

Enjoy the ride in this fun push around car! Made in USA.

Cute character for enjoyable push and ride fun
Horn honks and wheel turns
Seat belt for added security
Maximum weight: 50 lbs (22.68 kg)
Adult assembly required
Step2 always delivers products that are made to hold up to the test of time and play- and then some more. I think this little buggy will be loved by our friend L, and probably for a few children after him, don't you?
One reader will win a Step 2 Smile & Ride Buggy ARV $34.99!
I received a sample of this product as part of the Step2 Test Drive Mom Program.  Opinions are my own.
0