Don't miss Academy Award nominee Greg Kinnear, Academy Award Winner Jennifer Connelly, Lily Collins and Kristen Bell in STUCK IN LOVE… a film about first loves, second chances and endings that can become new beginnings. STUCK IN LOVE is available at Target tomorrow on Blu-ray and DVD from Millennium Entertainment.
This is a sponsored giveaway post promoting the release of STUCK IN LOVE on DVD October 8, 2013.
I've been wanting to see this movie for a while. I've had a "thing" for Greg Kinnear- I just really enjoy watching his films- and I'm a sucker for a good love story anyway.  Can't wait to see this!  This one is rated R, so be sure to save it for when the kids are in bed.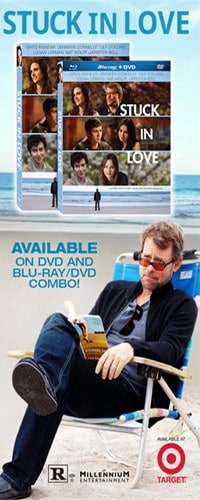 Five readers will each win a DVD copy of Stuck in Love!