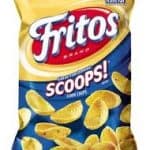 The New England  Patriots have made it to the semi-finals of the big game (and by big I'm assuming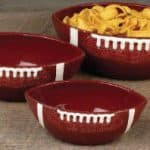 you all know I mean The Superbowl). With big games often comes parties- and no party would be complete with game-time snacks, especially chips and dip. Frito-Lay is here to help yus prep for the upcoming games with a set of 3 Touchdown Football Serving Bowls and a bag of Fritos® Scoops!® Corn Chips.
Fritos Scoops! corn chips are not only perfect for dipping, but they're made with just three simple ingredients: Corn, healthier oils (such as corn oil), and less salt than a slice of bread. These chips are the perfect vehicles to help you "scoop" a little more nutrition into your diet – especially when you pair them with these easy-to-make recipes like Tuscan White Bean Dip (see below).
Tuscan White Bean Dip
1 can white kidney beans, drained
2 tablespoons extra virgin olive oil
1 1/2 tablespoons fresh lemon juice
1 large garlic clove, peeled
1 teaspoon fresh ground pepper
2 teaspoons dried thyme
2 teaspoons dried rosemary
1 tablespoon fresh basil, chopped
1 teaspoon grated lemon peel
Combine all ingredients, except basil and grated lemon peel, in blender or food processor and blend until smooth. Transfer to a bowl, add salt and pepper to taste and garnish with fresh basil and grated lemon peel. Serve immediately with Fritos® Scoops!® Corn Chips
Here are a few additional healthier dips you can check out on the Frito-Lay website:
• Simple Mango Salsa
• Avocado Hummus
One of my readers will win a set of the 3 Football Touchdown Serving Bowls and a bag of Fritos Scoops Corn Chips!  If the Patriots make it to Superbowl, there will be three additional winners for the same prize pack!
I will receive a sample of this product to thank me for taking the time to share this post with you.  Opinions are my own.
0