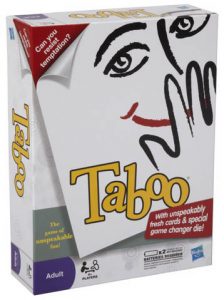 TABOO has always been a favorite game of mine.  I love it!  It's good, clean fun, and you can get seriously silly.
TABOO is recommended for adults, but I think many kids from 8+ can play- you may have to skip a few words, but overall I think they can do it.  You have to think fast and think creatively when you aren't able to rhyme or gesture to get someone to guess your words!  This is definitely a must-have game if you are a game night lover like me, and with over 1000 words you are sure to have many hours of fun (especially now with the Uh-Oh! Buzzer- which I won't lie, makes me jump every.single.time!!)  Games like this are great to bring on family trips, too, or to family gatherings!
TABOO, everyone's favorite game of forbidden words, has gotten a makeover in 2011! Now with a new,sleek look, game changing die and hysterical "Uh-Oh!" buzzer sound, players will frantically try to get their teammates to guess the winning word without using the Taboo words and phrases on their card. How do you get your team to say the word "heart throb" without saying "teenage," "idol," "star" or "movies"? With more than 1,000 words for players to try to guess, the "unspeakable" fun can continue for hours.

Game Objective: Be the team with the most points at the end of the game.

Game Play: Each player helps the team guess a specific word on a card without using the words that are off limits.Be careful. Opponents will be listening for the TABOO words that can't be used in game play. Each time a team hears a TABOO word they can sound the new "Uh-Oh!" buzzer, signaling that the opposing team's turn is up! But if team members guess the word before the buzzer sounds, a point is won.

And now a new game changing die adds even more excitement to the game,  to do things like not speak or use their hands on their turn!

Players: 4 or more

Ages: Adult

Approximate Price: $26.99

Availability: Fall 2011 at mass merchandise retailers nationwide

Batteries: Requires 2 AA Batteries
Be sure to "like" Family Game Night on Facebook for all the latest and greatest in family games!!
The folks at Hasbro want to send ONE of my readers the new version of TABOO to enjoy at their home!  This is a FLASH giveaway- and by that, I mean that comment #41 will be the winning comment. Winner has 24 hours to respond and confirm after initial contact.  US only.
I received a sample of this product to facilitate my review.  Opinions are my own.
0