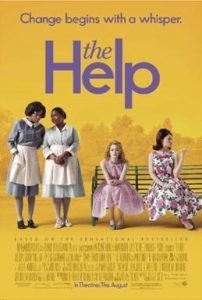 The Help is a heartwarming story about women who took a chance, risked everything,  and told their story.  By sharing, they empowered themselves- which inspired others and empowered others.  Their story inspired change, and so much more.  TakePart.com wants to know: What inspires you?  What inspires you to get up each day, put a smile on your face, and be the best you there is?  What inspires you to do more, seek more, think more, feel more?   Who inspires you to help others, to pay it forward, to "Do unto others" and to be a good person?
There are so many who inspire me.  My mom, of course, and her mom, too.  They were both nurses at one point in their lives- or more than one point in my mom's case- it was their chosen profession to care for others.   Their chosen profession, but for reasons unbeknownst to me, not something that carried over into their relationship with one another.  
I don't know and won't know what ever happened between my mom and her mom, but I do know that their lack of
 contact, lack of trust, lack of warmth, lack of closeness, has inspired me as a mother to break that cycle.  My mom and I spent many years- TOO many years- at odds with one another, and we had  5 wonderful, close years together, but I don't want to waste time like that with my kids. Their discord inspires me to break down the barriers with my kids and be close with them throughout their lives.
My kids inspire me – they are my heart, my life, my love.  They inspire me to be a better person and to be healthier so that I can live a very long life and maybe inspire them to do the same.  They inspire me to get out of my own way and try new things, to be an active member of our church, to stomp in puddles, to play in the rain, to forget to cook dinner because sometimes, the game IS that important. 
My friends inspire me.  I have some wonderful, amazing women in my life that I am honored to call friends.  Each is amazing in her own way, but some of them, I marvel at their strength, and their gifts, and they inspire me in many ways to be more, be better- be stronger. 
Who inspires you?  Share your story at TakePart.com and you could be on your way to NYC!
In The Help, Skeeter is changed forever after interviewing Aibileen, Minny and other maids about their experiences. Inspiring stories from others can shape our own values and make a positive and everlasting impact on our lives. For the third challenge in their three-part series, TakePart.com invites you to interview or otherwise tell the story of someone who inspires you. Guest judge Doc Hendley Wine to Water will choose the winner based on quality and overall consistency with the challenge.

Deadline: Your complete entry (including Title and Story) must be submitted by no later than 11:59 p.m. Eastern Time on September 5, 2011 to be entered for a chance to win.

Prize: The winner will receive a trip for two to New York City for a main stage performance of The Moth.

 

 
THREE of my readers will win  $50 Paypal — this is open internationally BUT I will not be responsible for any currency exchange fees- the $50 will be sent as a gift to you from me! http://www.takepart.com/thehelp


This post is brought to you by our friends at The Help and TakePart.com, and the paypal monies were also provided for the giveaways.  All opinions expressed within are my own.
0