It's a funny thing- I'd had this idea in my head of what I'd be writing for this post, about my taking a break from the chaos of the holidays–  and then my family got sick.  Several doctor appointments, 105++ fevers and a trip to the emergency room later, I have 2/3 kids with pneumonia and I'm down for the count with bronchitis and an ear infection.  My husband's diagnosis is pending as I write this.  The chaos of the holidays came to a screeching halt this weekend, and our plans went right out the window.  So my break from holiday chaos has included snuggles, blankets, tissues, board games, medicine, napping, lots of fluids, and a few presents in between.  We've had no chaos, and honestly? I've loved every single moment of it, although I'd really like for my kids to not be so sick.  Don't you worry, I've still spent a great deal of time indulging in some delightful coffee and tea drinks  while sitting on the couch and snuggling- I may be free of chaos but I still like to have my escapes, and with sick kids waking up several times a night, I'm tired!   Yesterday my 7 year old and I had some nice  Cafe Escapes hot chocolate (yes, with a candy cane) while doing our first 300 piece puzzle together.  Quality time, indulging ourselves,  and escaping the chaos.  Coincidence? No.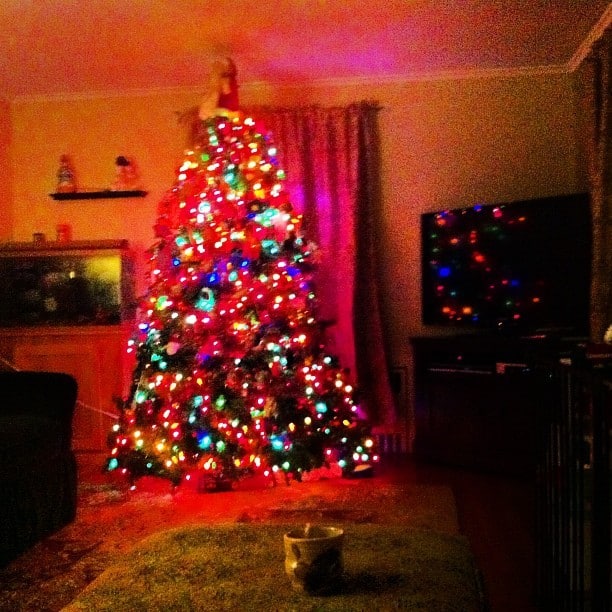 My indulgences lately have been sitting and staring at the Christmas tree- and bubble baths.  We've not had a suitable tub for baths- gosh, since I met my husband, and when we redid our bathroom this summer, we got a nice big Americast tub which keeps that water toasty warm for at least an hour, and is deep enough for a good soak.  My favorite thing to do has been a luxurious bubble bath with a nice hot cup of chai tea or (decaf) coffee when the kids go to bed- I feel so recharged and refreshed when I do it (plus, I smell great!).

Since I'm a new Keurig owner, I've been having so much fun indulging myself regularly- with all kinds of fun coffee brands and flavors.  I've been really enjoying the Cafe Escapes K-Cups line- the Chai Latte is wonderful to enjoy while soaking in the tub.  They also have a caramel, mocha and vanilla- each of which I've enjoyed already. I hear the dark chocolate is divine from good friends but I'm trusting their word- I'm not a dark chocolate girl.  A friend of mine just got a full shipping box (2 24 packs) of the dark chocolate flavor for Christmas so clearly, it's awesome.  I'm so in love with the Chai Latte I am planning to go ahead and order a case myself- I'm afraid to run out and it's been a great relief for my very sore throat.  Each of the varieties I have tried of the Cafe Escapes is just as good as the next- wonderful layers of flavor, brewed to perfection without being too strong- just how I like my hot drinks!
Speaking of indulging, Cafe Escapes is doing a great Facebook sweeps called Indulge Anytime , with 2 winners daily Monday through Friday through January 9, 2013.  Entry is really simple, and I like the sweeps not just for the prizes (which are awesome) but simply by the entry method they are encouraging people to take a break from the chaos of the holiday season- something we all need to do!   There are also 6 grand prize winners, one per week.  All you need to do to enter is upload your #indulgeanytime photo to the app (easy instructions) and you will be entered!  You CAN enter daily, so feel free to indulge every day until January 9th- doing so might get you a fabulous prize!  GOOD LUCK!
Daily prizes for 2 winners include an indulgent spa gift basket, consisting of:

–          Luxury robe

–          Slippers

–          Vanilla scented candle

–          Wooden hand massager

–          Soft, luxury blanket

Grand prize (6 total winners, every Monday the winner will be announced):

In addition to our daily prizes, we're giving away a grand prize every week: a spa getaway weekend in San Diego or Atlanta!

 Here's what you'll get if you're one of the six winners:

–          SAN DIEGO OR ATLANTA SPA WEEKEND

–          Round-trip coach airfare for you and a guest from the major airport closest to your home to Atlanta, GA or San Diego, CA

–          Two nights accommodations at La Costa Resort & Spa or Chateau Elan

–          Rental Car

–          $800 to use towards the spa
So how do you indulge?  What's your "everyday" indulgence?
Café Escapes is the brand of hot, flavored indulgent beverages that provide you an everyday treat and a chance to relax and savor a moment of your day, whether at home or at work.
Disclosure: Compensation was provided by Green Mountain Coffee Roasters, Inc. via Glam Media.  The opinions expressed herein are those of the author and are not indicative of the opinions or positions of Green Mountain Coffee Roasters, Inc.
0