For many, coffee is an essential way to start the day.  For me, its crucial.  My 5 year old was recently overheard telling her siblings not to be afraid of the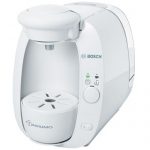 scary pumpkin in a board book- because its only a "little" scary and not scary like "mommy before she has coffee in the morning!"  Coffee, tea, hot chocolate- hot drinks are a part of daily life in my house, even in the heat of summer- and I know for many other households, hot drinks are a beloved part of daily routines.
With technology comes inventions that are simply awesome and convenient, like the Tassimo T20 brewer- which not only will make you a cup of piping hot fresh brewed coffee in under a minute, but will also make your tea, cappuccino, latte, crema, espresso and hot cocoa in under a minute!  The Tassmio T20 uses T-discs which are becoming more and more widely available the longer the "Brewbot" is available.  I have found some really great deals on the discs (especially for Chai Tea!!) on Amazon, so be sure to check there when you start to run low.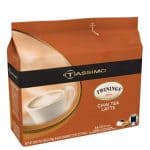 I don't drink a LOT of coffee – usually a cup each morning, maybe 2 on sleepy days.  But I do love tea, or chai tea- and the kids like hot cocoa.  I often use the microwave to warm up water to make these because I can't seem to commit to buying a tea kettle- but with the Tassimo, I can just put the right disc into the machine and have the hot beverages ready in less than a minute- which is awesome- no waiting for water to boil and cool down a bit.  SO delicious!
Cleanup and care for this machine has been super simple, and that makes me happy.  We have had the worst luck with traditional coffee makers over the years and I get so annoyed at having to take them apart to clean them.  I've also been recycling the t-discs, because I can't stand the thought of throwing the plastic into the trash!  The different colored inserts mean I can change the look of my Brewbot without excessive cost- and I won't get bored. Fun colors for different holidays!!  Why NOT have some fun with morning coffee?
One thing I like about the Brewbot, aside from the cool design and many beverage options is that you can leave it unplugged between use.  I hate leaving much of anything plugged in when it isn't being used and prefer to buy and use products that are able to be left unplugged.  Its also got a smaller footprint than many other home brewers which means less of my valuable counter space is being used by the machine.

You can purchase the Brewbot at many online and retail locations, in addition to the Tassimo site itself.
Tassimo is going to send one of my readers the Tassimo T20 Brewbot with disc samples and a colorful insert (their choice)
Mandatory Entry: Leave a comment with your name and be sure to use a valid email when you fill out the comment form so I can contact you if you've won!
Extra Entries:
Follow my blog publicly via GFC, RSS Reader/Email subscription or Facebook.  +1 entry each.
Share this giveaway on any social networking site: "Be a barista at home with the @Tassimo #brewbot – #win it from @mamatomjr http://wp.me/p1qA6G-1oO" (can be done up to 2x/day at least 1 hour apart)
Enter any other What a Mom Wants giveaway +1 entry each, up to 5 giveaways
Leave a (relevant) comment on any non-giveaway post +1 entry/post up to 5 entries
Enter this same giveaway at Our Kids Mom +1 entry
Enter this same giveaway at Mommy to 2 Little Monkeys +1 entry
Enter this giveaway at Shining2Save +1 entry
Enter this giveaway at Living on Love and Cents +1 entry (will add link when its live)
This giveaway will end on May 16, 2011 at midnight, EST.  Winner to be chosen using "And the Winner is" plugin.  US only.  Winner has 48 hours to respond to initial contact or a new winner will be chosen.
I received a sample of this product in exchange for my post.  Opinions expressed within are my own.
[ad#glam between posts]
0