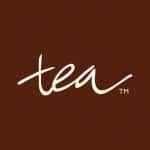 I already have much love for Tea Collection.  Really well made, gorgeous fabrics, attention to detail, and comfort.  Plus, no itchy tags.  There isn't much to dislike, now that I think of it.  Tea Collection sent us some of their  pajamas for the kiddos (I am hoping sooner or later I can try some Tea goodies for ME!!) and oh, do I love them.  I will tell you, I love the fabrics, and the color choices, the 100% cotton-ness  and the fact that these are not the pajamas you will come across in every single store you head into.  I'm a huge pajama girl.  I love them.  But really, without restful sleep, what good is going to bed- snuggly pajamas can make all the difference, so I do what I can to keep all 5 of us in this family as comfortable as possible when it comes to bed.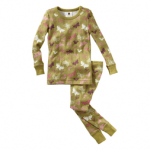 Tea Collection sent us the Tossed Butterfly pajamas for Baby B.  These are SNUG fitting pajamas- she's a teeny size 2 and these pajamas are a 3 (I think they run on the small side) but oh, are they adorable.  And for those of us who adore pink but appreciate when there are things for girls that are a little bit different in color scheme, well, these fit the bill.  Plus, they range in size from 6-12 months to 12 years- hello, matching siblings pjs!!
For Busy B, they sent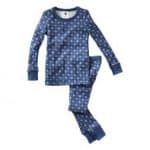 target="_blank">Delicious Daisies.  These are my favorites.  I love the dark blue for my girl although I secretly wish these came in my size.  I'd totally wear them!!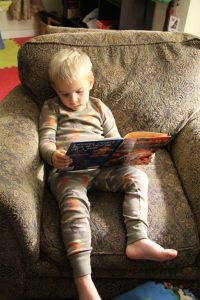 My little guy got the Dueling Tigers, which is quite appropriate since he and my husband love tigers- these are super cute and super snuggly- but not "cute" so that they feel babyish. Moms are allowed to think these are cute ON the kids- I'm learning fast that 4 year olds don't want to look "cute" anymore.
We design distinctive fashion collections inspired by the beauty we discover in our travels around the world. From the iconic art and architecture of Barcelona to the graphic boldness of Brazilian street graffiti, we interpret our discoveries into beautiful, dynamic styles for children, ages 0-12. We launched our women's collection in the fall of 2010 in that same spirit—easy-going, culturally-connected styles designed to fit your life.

Everything we create—our products, images, words and ideas—is inspired by going there and being here. And by our passion for exploring different cultures. We are awed by the unique beauty and diversity of people around the world. As we celebrate and share our discoveries, it reminds us how small the world is and how alike we all are.
While Tea Collection isn't a bargain per say, they do have sales and there are ways to save on the products.  They are also very well made and very easily can and will (and do!) last through 2+ children in terms of handmedowns.  I cannot say the same for the cheap pajamas we've purchased.  They never last.  Sometimes, quality is worth a lot more than a bargain.  Tea is worth it!
One reader will win a $50 Tea Collection Gift Card/Code!

I received a sample of this product to facilitate my review.  Opinions are my own.