This post is produced in collaboration with Yoplait Go Big, but the content and opinions expressed here are my own. Yoplait Go Big provided me the product and stipend for this partnership.
As a mom, I want my kids to get the best out of life. And I mean in every aspect, whether it is school, sports, family time and what they eat. Since they were young, they have had a love for yogurt! And not just any yogurt. The only brand this family buys is Yoplait®. Imagine our delight when we learned about their newest product, Yoplait® Go Big™ Yogurt.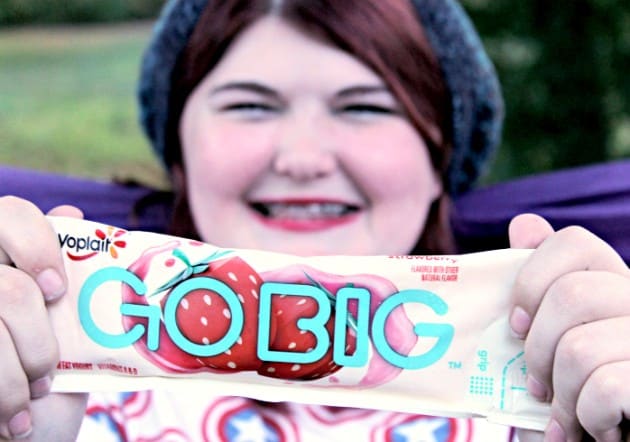 If you have teens, you know how they love to eat! No more kiddie sized portions for them! I love that Yoplait created Go Big with teens in mind. The folks at Yoplait worked with teens to develop a product that would be perfect for them. The name, Go Big, is perfect for this new product! You still get what you love about Yoplait but bigger! That means more of what your kids want of the brand they already love!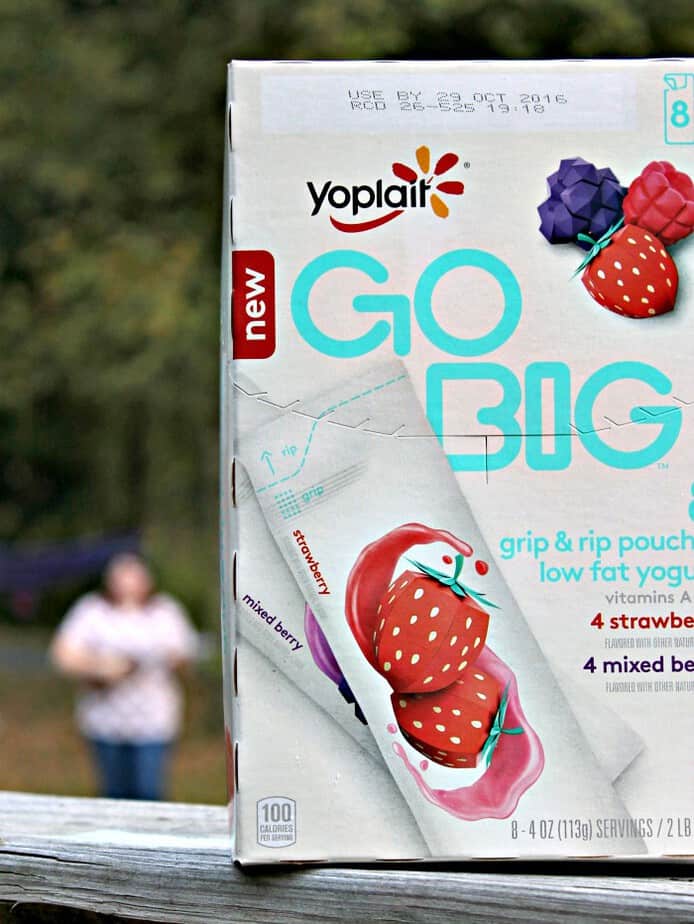 Go Big is available in two variety packs, each with 8 pouches, in two delicious flavors. ­­You can choose from Strawberry/Mixed Berry or Peach Mango/Cherry. You can find Go Big at most grocery stores, Walmart and Target for less than $5 per box. We found Go Big at our local Kroger in the yogurt section of the dairy aisle. What you won't find are colors from artificial sources or high fructose corn syrup. What you will find is your family's favorite yogurt with real fruit, which my kids love. It is also a "good source of calcium", is Gluten free and Kosher Dairy.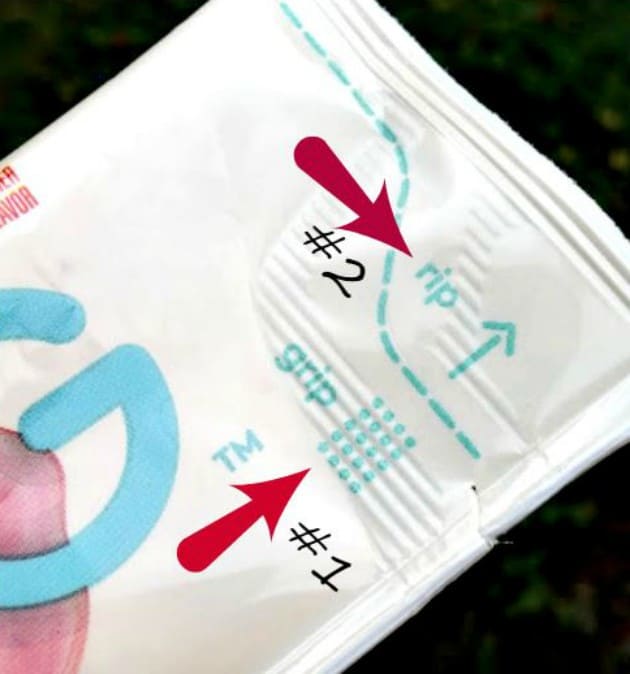 Go Big has an innovative "grip-and-rip" feature that makes opening it a breeze. Now I don't have to hunt down a pair of scissors to open these larger pouches. All you do is grip (#1) and then rip (#2) up and back, not sideways. This feature makes it super easy for the kids to get more of what they want, faster! And the new larger size is great for a quick boost of energy, allowing them to "Go Big" as well.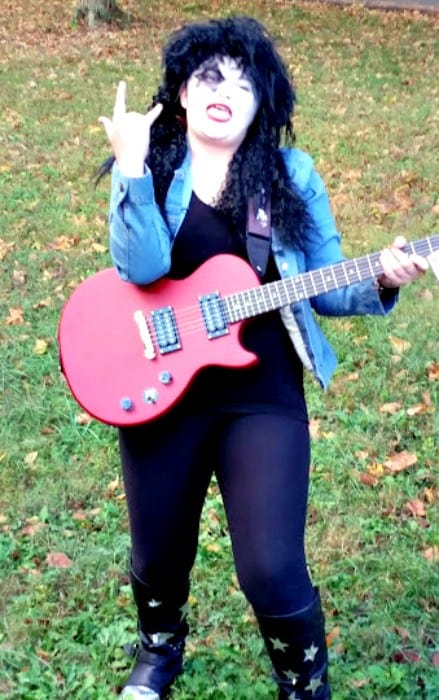 I am excited to tell you about something fantastic Go Big is doing for teens. As a mom of two teens, I know how incredible and amazing they are. Go Big feels the same way and wants to help spotlight the wide span of interests and talents teens have today! That is why they have helped me to Go Big with Caitlin's dream of releasing her inner rock star! Caitlin truly is one of the best kids you would ever meet!  I could not have dreamed for a better kid! She is a delight to be around! She is kind, funny, shy, creative, respectful, compassionate and passionate.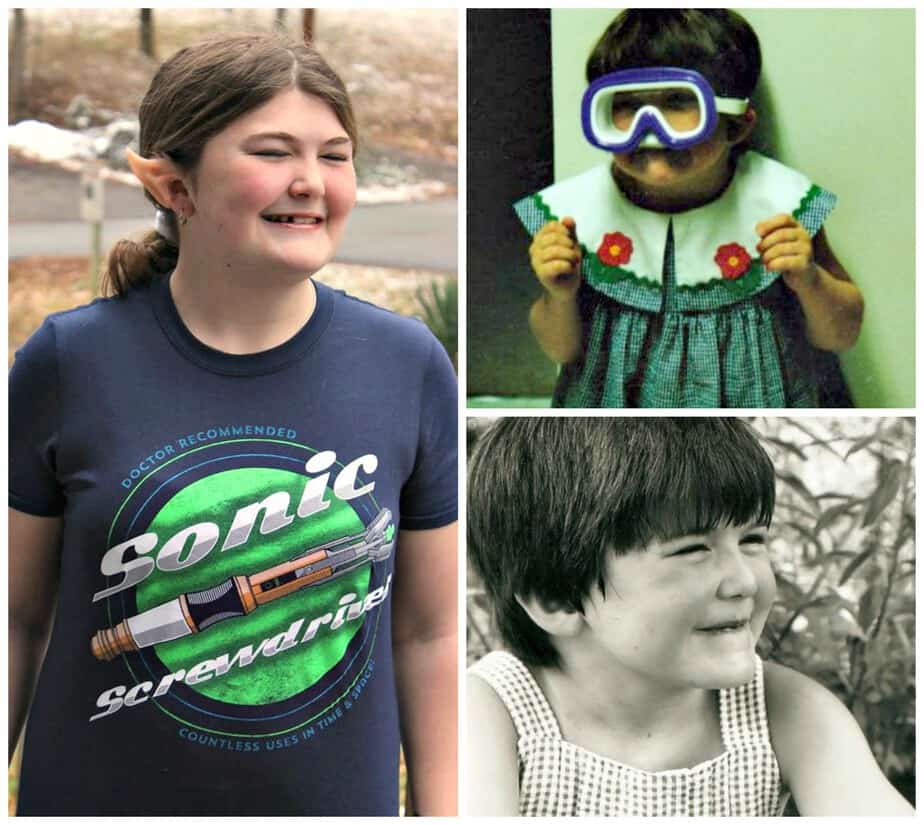 Music runs in our family. My mom was a singer in the 40's and 50's. When I was a kid, mom would play record after record. She knew the words to every song. By the time I was eight, I knew them as well. I played the violin and flute in middle and high school and was in chorus for eight years. My older daughter played the violin for almost 10 years and was in chorus for just as long. So, it is no surprise that Caitlin would be passionate about music as well!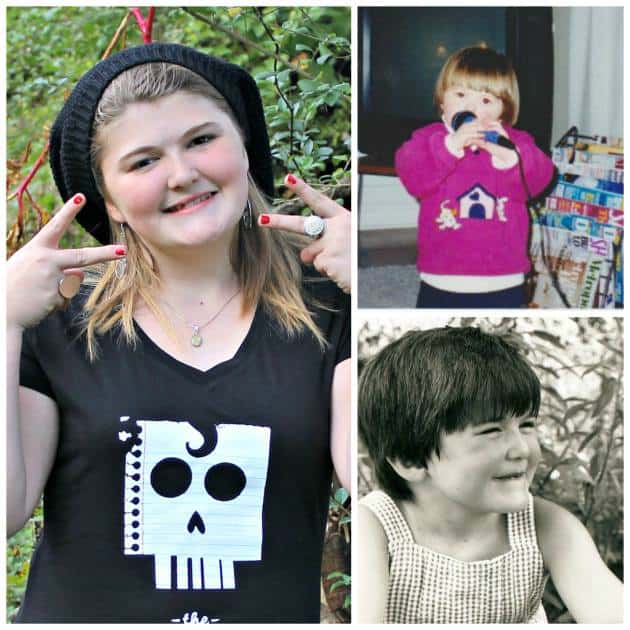 From a young age, Caitlin has loved to sing and play music. Like my mom, I play music in our home all the time. Caitlin and I love to sing together, especially on the way to school. It's our version of carpool karaoke! She has been in chorus since the 4th grade, and this year she is in honor's choir. She started playing the violin when she was nine and has been in orchestra since 5th grade.
Currently, Caitlin participates in what the school calls the Rock Guitar Genius Hour. The idea behind the Genius Hour program was to give the kids a mental break from the stresses of school.  There are ten kids in her Rock Guitar Genius Hour. Some days the kids do their own thing, but often they choose a song and all play together. It is her favorite part of the day.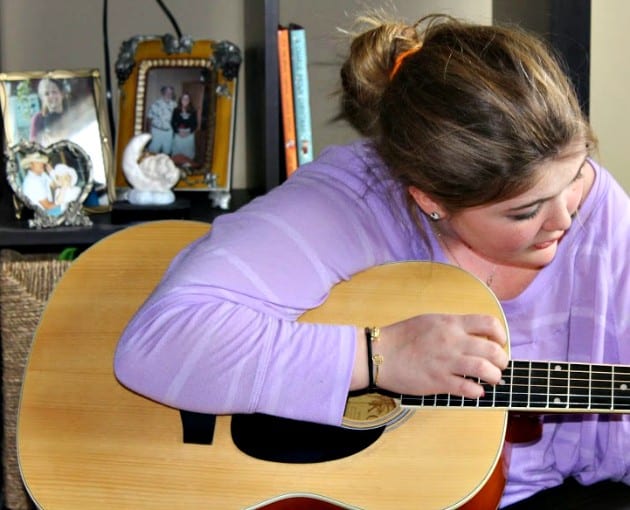 For her "Go Big" opportunity, I wanted to help her follow her dream of learning to play the guitar and better her singing voice. She has had her eye on a gorgeous electric guitar, a beauty of a ukulele and an amp, which are displayed at a local guitar store. It was super difficult to keep this huge surprise a secret from Caitlin! My husband and I invited Caitlin to run errands with us and have lunch on a recent Saturday. She is always up for some shopping and food, so she jumped at the chance.
When we pulled into the parking lot of the guitar store, she was curious why we were there. I told her I had something I needed to look at inside. When we entered the store, I walked back to where the electric guitars were. Caitlin asked if I was teasing her with a possible birthday or Christmas gift. I said no, it is something much bigger. That is when I let the cat out of the bag!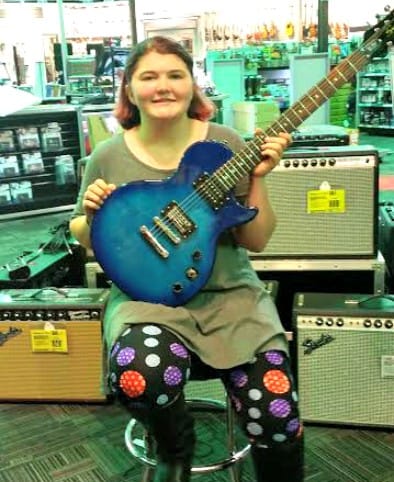 I told Caitlin about the Yoplait "Go Big" opportunity. She was completely shocked! She teared up a bit and so did I! She hugged me so tightly and said nothing this amazing had ever happened to her! She went to where her "baby" would be, but the space was empty. It turned out her Epiphone Limited Edition Les Paul Special-I Electric Guitar in the Worn Cherry finish was sold out! No worries! Amy, our sales associate said she could order it for us, along with a case, and have it delivered directly to the house. What a relief!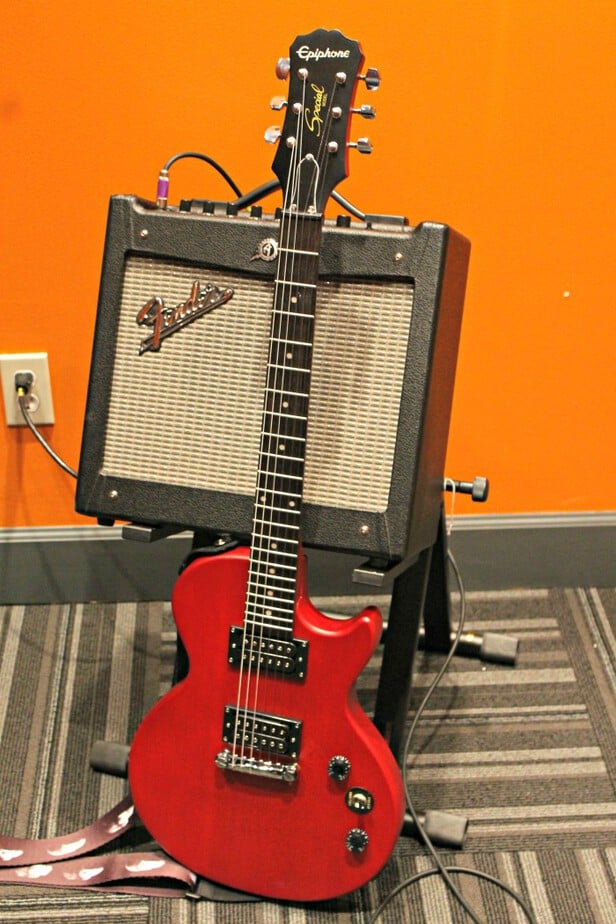 Next, Caitlin went over to the amplifiers. Amy helped her choose the perfect amp for Caitlin's needs. Amy chose a model that offered a headphone jack so Caitlin could hear herself play on the amp without blasting out the rest of the house! Smart choice! In quick succession, Caitlin chose the proper plus, a strap and a special plug-in for her computer.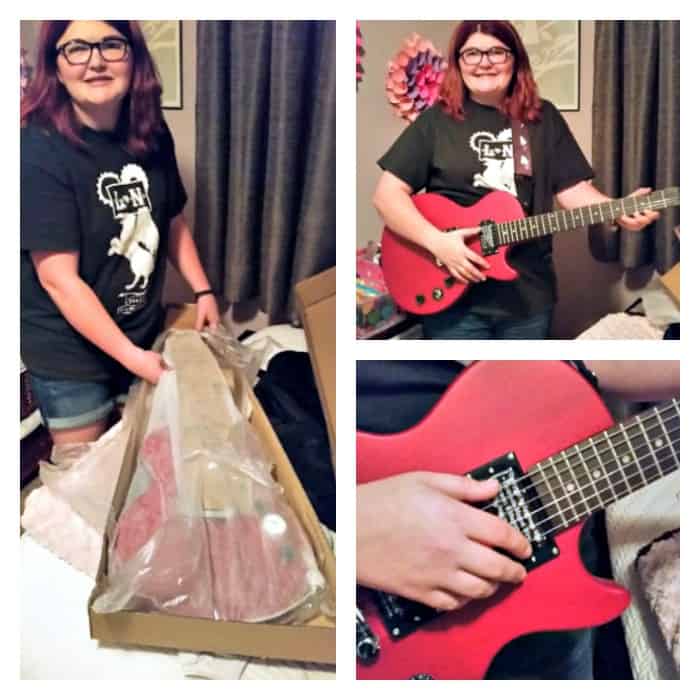 When Caitlin's guitar and case came, she could not wait to start playing! The excitement and joy was all over her sweet face! It was such a great moment watching her tear open the box and cradle her prized "baby." As she sat on the bed playing around on the guitar, I told her she should probably learn to play her guitar properly. That is when I broke the news that she would in fact be getting guitar lessons! She shrieked and jumped up and down with joy!
We have a School of Rock here in Knoxville where they offer a myriad of music lessons. I knew it would be a great place for Caitlin to take her guitar and voice lessons. Again, I know moms are biased, but I feel with some direction, Caitlin can be a very good musician. Her dream is to try out for The Voice or be a professional musician. I think she would do well in either.  So, I explained we had an appointment the following day to meet with Greg Franklin, the director of the School of Rock in Knoxville.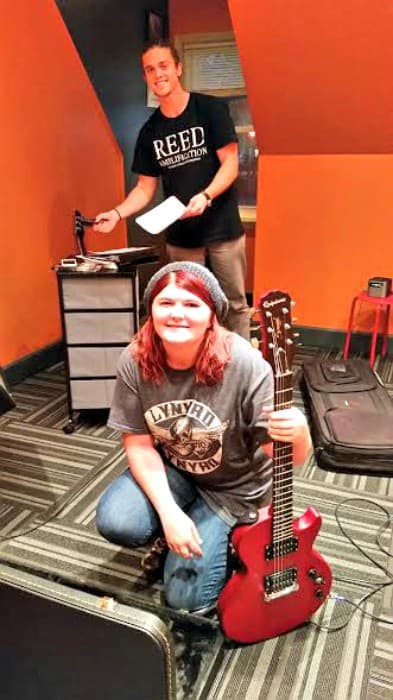 The School of Rock is set up so the kids can jam in a group or have a private lesson. We took the grand tour and were amazed at the number of kids who were in the larger room. They were so good! Afterwards, we met Cam, who would be Caitlin's guitar teacher. He is a recent graduate of the University of Tennessee, with a degree in music. In addition to teaching kids to play guitar at the School of Rock, Cam is also in a cover band.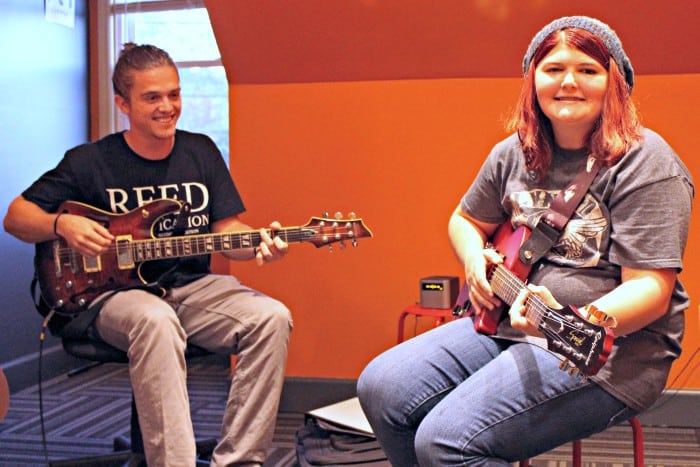 Cam is a great fit for Caitlin. He knows his stuff! He is so patient with Caitlin. On her first night, she learned to tune her guitar, how to use the amp and several chords on the guitar. That 45 minutes went by so quickly!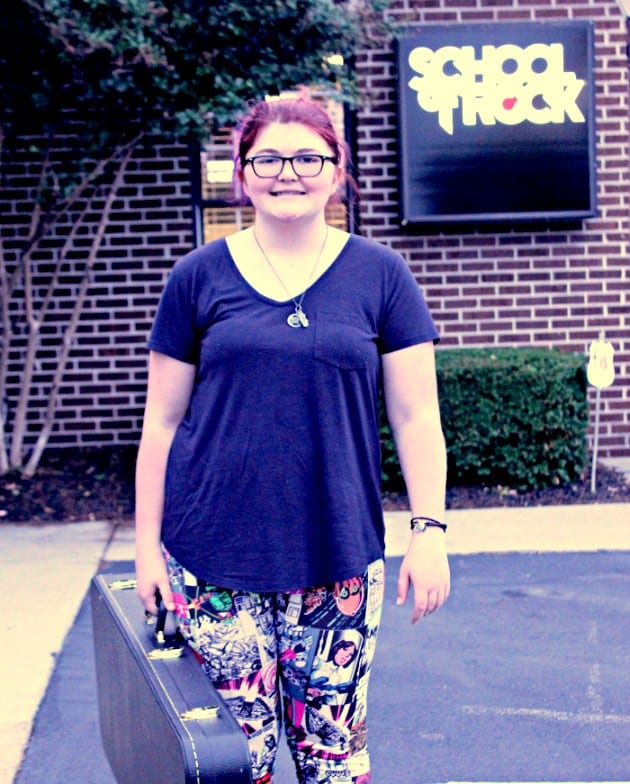 The following week, Caitlin met with Cam and learned the Blues scale. Cam also taught her the basics of Queen's, "We Will Rock You." This week, Cam was on tour with his band, so Caitlin played with Aiden, who has toured with U2! Aiden asked Caitlin what genre of music she liked best. Caitlin told Aiden she liked playing classic rock. She has wanted to learn to play "Crazy Train" by Ozzy Osbourne. Although it is a more difficult song to learn, Aiden said Caitlin could learn it within a few lessons. She is super excited! Within the next year, Caitlin hopes to join a classic rock cover band. She wants to play guitar and sing!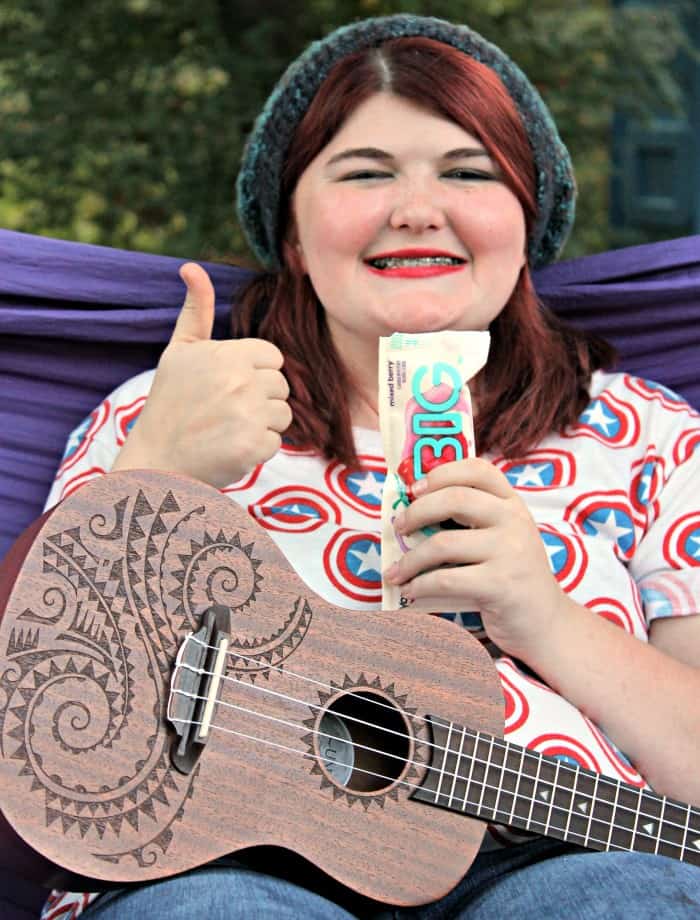 We could not be happier with Cam and the rest of the staff at the School of Rock. I am confidant Caitlin is in great hands and will be playing some of her favorite songs in no time! A big thanks to Go Big for helping spotlight my amazing teen, Caitlin! Be sure to head over to the Go Big Facebook page to enter the Amazing Teens Contest. Share what makes your teen amazing for a chance to see them featured in an upcoming Go Big marketing campaign!
One reader will win a Go Big! Prize pack including product and a $500 Visa Gift Card! To enter, follow the instructions on the giveaway tools widget below: