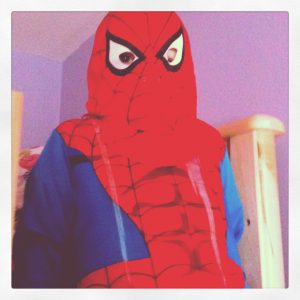 We hear a lot about Spiderman in our house.  Spiderman, Spidey, Black Spiderman, Peter Parker…it's a common theme to any conversation with my soon-to-be 5 year old son and his friends (We literally just got home from his best friend's Spiderman themed birthday party…including a trip to a make your own stuffed animal place…and the boys had Spiderman costumes on their new stuffed friends!)  With The Amazing Spiderman coming to theaters on July 3rd, even *this* mama has gotten a little excited to see the new movie- and I have to say, the toys and products coming out to go along with this movie are awesome.
World Premiere Event: The Amazing Spider-Man™ Never-Before-Seen Footage
Watch a never-before-seen preview of The Amazing Spider-Man™ on June 15th and 16th only! All you have to do is visit your local Walmart to catch 10 minutes of exclusive footage. How's that for making your friends jealous? It gets better! Take home The Amazing Spider-Man comic for only $2.96! Don't forget, it's only at Walmart! Check out the site for what times you can catch the previews.


Download Spider-Man Wallpaper Patterns
Are you rooting for Spider-Man or the villain, The Lizard? Regardless, you can show your support by sporting one of six Spider-Man wallpapers for your desktop, laptop, or mobile device.


Entertain the Kids with Spider-Man Coloring Pages
Looking for a classic source of entertainment? Coloring pages! Have the kids color in their favorite Spider-Man pose! It's as easy as printing out one (or all) of the 8 different coloring pages. You can even show them the wallpapers for inspiration.


Spider-Man at Walmart
Prep for The Amazing Spider-Man release on July 3, 2012 by getting your Spider-Man shirts, pajamas, and accessories at Walmart. Shop Walmart for your Spider-Man apparel to get everyday low prices!
To celebrate the upcoming film arrival, one lucky reader will win an Amazing Spiderman Prize Pack including: 
A $50 Fandango gift certificate for four movie tickets to see The Amazing Spider-Man in theaters on July 3
Spider-Man Special Edition DVD
Spider-Man 2 Special Edition DVD
The Amazing Spider-Man Mega Blaster Web Shooter with Glove toys
Javascript must be enabled to enter this giveaway. Learn how to activate Javascript by
clicking here.

Loading Entry-Form
This post contains sponsored content.  Opinions are my own. 
0