Disney Book Group sent me a copy of The Mortification of Fovea Muson to check out and is partnering with me for a giveaway! This is a really fun Halloween book for tweens- a little bit of spook, a lot of gross, and a whole lot of FUNNY.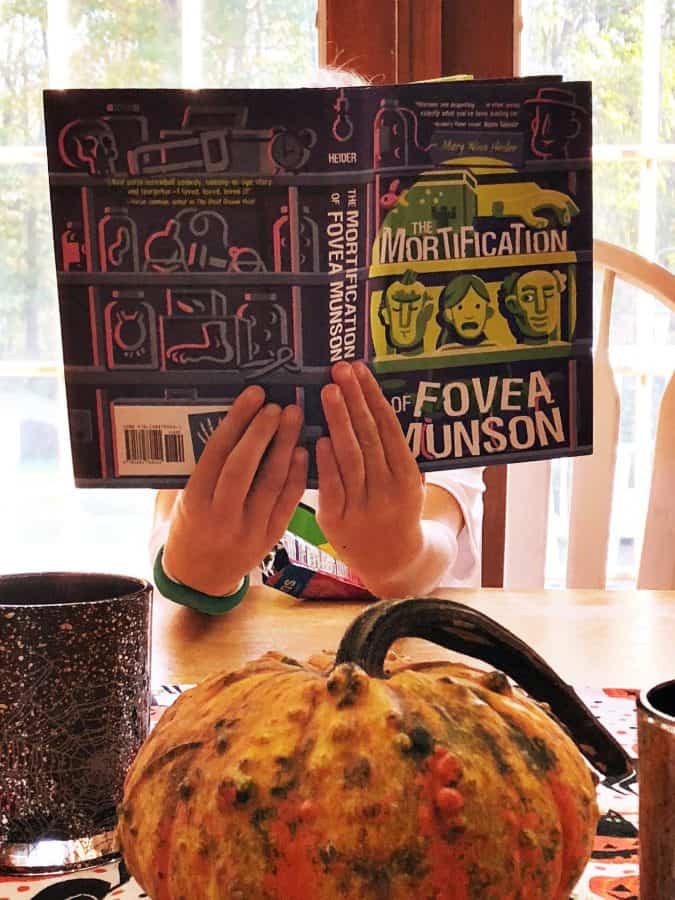 I feel like when my kids were little, there were lots of fun picture and board books for Halloween time. As they've gotten older, themed holiday books are further and farther between, and I get excited when I find things that fit with the season or holiday. I tuck them away with the decorations and pull them out each year when we decorate. That way, the books are enjoyed each year, but it's also a fun way to include new things in our traditions. The Mortification of Forvea Munson is a really fun read that's not really scary, so even kids like me who hate to be scared are able to enjoy and not be spooked out!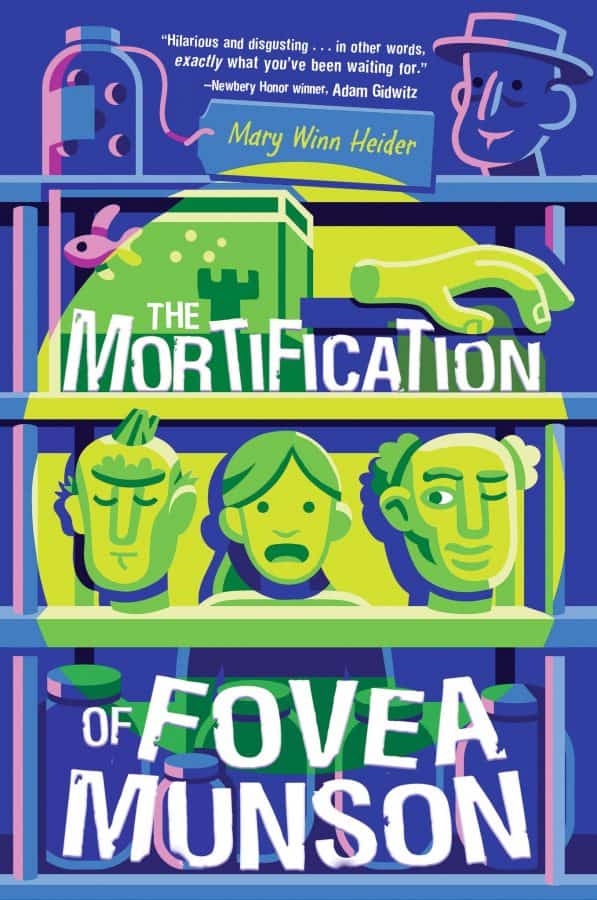 Fovea Munson is nobody's Igor.
True, her parents own a cadaver lab where they perform surgeries on dead bodies. And yes, that makes her gross by association, at least according to everyone in seventh grade. And sure, Fovea's stuck working at the lab now that her summer camp plans have fallen through. But she is by no means Dr. Frankenstein's snuffling assistant! That is, until three disembodied heads, left to thaw in the wet lab, start talking. To her. Out loud. What seems like a nightmare, or bizarre hallucination, is not. Fovea is somebody's Igor, all right. Three somebodies, actually. And they need a favor.
With a madcap sense of humor and a lot of heart (not to mention other body parts), this is a story about finding oneself, finding one's friends, and embracing the moment.
The Mortification of Fovea Munson- Fun Halloween Book for Tweens!
From my 11 year old:
Fovea gets bullied and harassed at school because her parents are cadavers,and she lost her friends because of it. When school lets out, she gets signed up at the cadaver lab, Because the old one, Whitney, quit and ran off with one off the heads.

While she's there,Whitney's' ex-boyfriend came and threatened to blackmail Fovea to get Whitney back and the lost head, and three heads start talking to her. They need her to do a favor, which is to help them record an album. They need a baritone, so she invites a kid named Howe over to sing with them, but Fovea's Grandma overhears there plan. They go to a place called Nussbaum's to record, and they recorded. When they got back, her grandma had invited the entire senior center over to party.

After the party, Whitney suddenly arrived, and so did her ex. He called the police to tell them who stole the head,but Fovea had an idea. She got one of the heads, threw it at Whitney's ex, and by the time the police got there, it looked like he stole the head.

I thought that this was a great book, and that it showed me what being a cadaver was like. It was funny with many twists and turns, and I just couldn't put it down.
Enter to win a copy of this fun book plus a $50 Visa Gift Card! Enter in the form below