Sweat happens! Whether it is from working out, stress or being out on a hot day, we all sweat. The big question is how do we stop it in its tracks? Antiperspirants are one of the staples in our personal care routine, which traditionally has been in the roll on form. The problem is they are not all created equal nor do they always do what they are supposed to do. There is nothing worse than going out in public and having those embarrassing sweat stains on your clothes. I bet we have all had that experience. When did it happen for you? On that big job interview or maybe that important first date? No matter when it happened, it was completely humiliating. The issue with these roll on types is they can go on wet, sometimes sticky and can leave behind residue. Thank goodness Unilever has revolutionized the antiperspirant market with their innovative new dry spray antiperspirants that go on instantly dry for a cleaner feel with no visible residue. This post is brought to you by our friends at Lunchbox.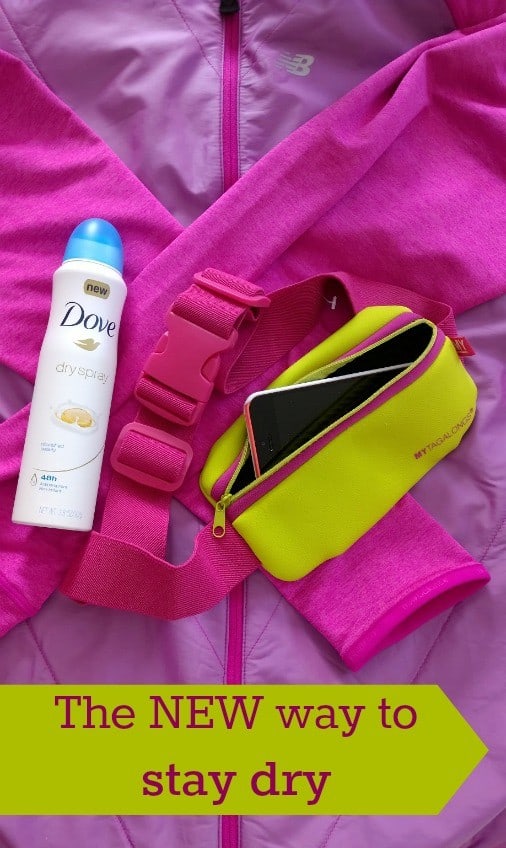 This new formula is like nothing you have every tried before with no alcohol or water. This enables them to go on without that annoying sticky or wet sensation from those other brands. Even better is they offer 48-hour odor and wetness protection! You can find them at Walgreens in five brands; Degree Women, Degree Men, Dove for women, Dove Men+Care, and Axe. The Degree Women, Degree Men have a special formula that responds directly to your body movement, releasing extra protection when you are physically active. The Dove for women and the Dove Men+Care features a non-irritant formula that has moisturizing technology for softer, smother underarms The Axe brand for men offers premium and unique fragrances to make men feel confident all day long.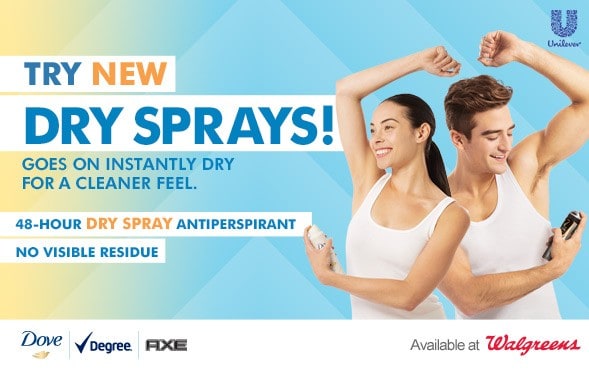 The containers have a sleek modern design and are made to spray on more evenly when you hold them at the recommended 6" from your underarms. Once you have a chance to take them home and give them a (stay dry) try, you can let everyone know what you think using the hashtag #TryDry. Visit Walgreens.com/TryDry to check them out!
One reader will win a $100 Walgreen Gift Card!