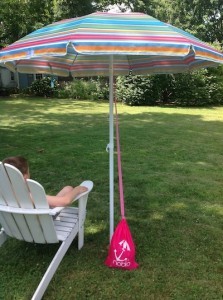 Ahhhh Summertime!  Time to pack up the wagon and head to the beach with the family.  When we go we like to stay for the day but, because we are fair skinned we can not be in the direct sun the entire time.  So, we lather up with sunscreen and bring the beach umbrella.  Beach umbrellas are great but, on windy days, they can take flight and become dangerous.   Recently I was sent a great new product that keeps your umbrella from flying away.  It is the Noblo umbrella buddy.  The Noblo is a simple and easy to use solution to your beach umbrella worries.  The directions are printed right on the Noblo, and the kids love to help fill the bag with sand.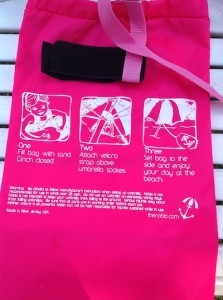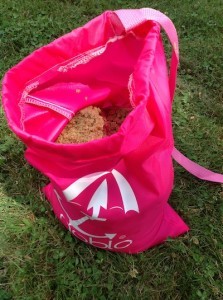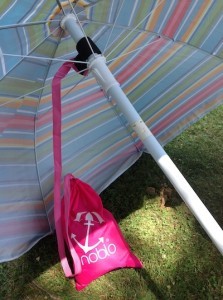 When empty the Noblo folds up so it does not take up much space at all.
From the makers of Noblo

After witnessing a horrible accident we then understood the urgent need for umbrella safety. It was then that we started a grassroots movement to raise awareness about the problem. Like all mothers in need we developed a simple device to anchor our umbrella. This enabled us to provide sun protection for our small children without the fear of our umbrealla blowing away . Unfortunately, everyday countless umbrellas are blowing down the beach. We would like to see all umbrellas properly anchored for the safety, convenience and enjoyment of all beach goers.
Great things about the Noblo Umbrella Buddy
Manufactured in New Jersey, USA
Affordable for people and families retails at $14.99
Packaged in Eatontown, NJ by CVR;  a local non-profit organization that hires mentally and physically handicapped individuals
Portion of each bag sold to be donated  to USLA – United States Lifeguard Association
Invented by moms
It's super easy to use
Available in yellow,pink, turquoise, blue, black, and bright green
You can purchase your own Noblo online today at thenoblo.com for $14.99 plus shipping.  When I calculated shipping to CT it came to $3.
Noblo would like to send one lucky reader a Noblo of their own
Javascript must be enabled to enter this giveaway. Learn how to activate Javascript by
clicking here.

Loading Entry-Form

I received a Noblo to facilitate this review.  All opinions are my own.
0