I have a lot of love for books.  Fiction, non fiction, it doesn't matter.  Children's books are no exception.  I love them.  I am happy to say that my kids love them.  I love sharing books with them, and discovering new stories to share, rhymes to recite over and over again.  The Scholastic Store has such an awesome range of books- including some of our favorites, the I Spy series.  One of my favorite gifts, and one that my kids always receive, is the gift of a book.   My mom had a great love of books and I obviously inherited it from her!!  I love the Scholastic books because it offers a way to save a bit of money on the same titles you can find elsewhere.  Books are great gifts, they can be enjoyed over and over and over again, and they are easy to find, and affordable options!!  I love tucking a book in as an extra gift, too!! Be creative and fun!
We do a lot of I Spy around here- if not with the books, then in the car, at the dinner table, we play the game…I love that Scholastic continues to put out more I Spy books regularly. I will be very, very sad when they stop publishing them, although I find them as delightful the 100th time I read them as the first.  I Spy Christmas wasn't in our collection (thankfully it is now) and I love going through it with the kids- or even better, when they all three snuggle on the couch and go through it just themselves.  It makes my heart all melty, plus they are teaching one another and helping one another.  I think having met Jean Marzollo last spring at our local school probably only served to make my love of I Spy grow deeper!! They even have Nintendo DS games  of ISpy!
There are books for babies and toddlers, the preschool crowd, the graders, even books for ages 13 and up.  Not sure what to get?  The Scholastic Store offers suggestions for your purchases based on ages, price ranges, toys, games, crafts, etc.  They have an entire section just of gift ideas.  What I just learned is that The Scholastic Store isn't just online.  They are in New York City.  I will be there one day!!
We received several wonderful books including  Rainbow Magic: Magical Holiday Boxed Set (the Rainbow Magic series is one of MY favorite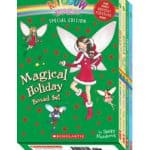 chapter books, along with Magic Tree House- positive messages and fun characters and storylines really make for enjoyable reading for my daughter and me- solo or together!!)
The holidays have lost their shimmer!

There's trouble in Fairyland! Jack Frost is up to his old tricks. Now the fairies are missing their special holiday magic! Will the holly-jolly holidays be changed forever? Or can Rachel and Kirsty help Holly, Stella, Gabriella, and Paige save the day?

This boxed set includes four holiday stories:
Holly the Christmas Fairy
Stella the Star Fairy
Gabriella the Snow Kingdom Fairy
Paige the Christmas Play Fairy
A perfectly magical holiday gift for fairy fans!
I Am Small, (This book is so simple and so sweet- my 2 year old has it memorized so she "reads" it to her babies, to her legos, to her brother and sister and us!!)
Cuddle up with your little penguin this winter!

"The world is big and I am small."

From the eyes of a baby penguin the world is a great big place. The sky so high, the ocean so deep, and the mountains so steep – all these things are magnificent from it's point of view. But in the eyes of it's mother – this little penguin is the biggest, most important thing in the world! This beautiful story is highlighted with foil on the cover and throughout.
Clifford Cares, (Clifford is such a sweet dog, despite his size, and always wants to do what's right and what's best.  We've got a lot of Clifford in our house and are glad to add a few more toddler-friendly options to the mix)
Caring is important to the Big Red Dog!

Clifford loves to care. He shows he cares – about his neighbors, his family, and his park – and everyone cares about Clifford!

Perfect for the youngest puppy fans, this simple story is done in classic Clifford style and also has a padded cover!
As you can see, Scholastic offers a huge range of books for all ages of children (and more- they aren't limited to just books!!) and definitely a great place to turn for a child of any age!
Scholastic has offered to send three winners each a prize pack:
For Little Ones (One prize pack)
Oh, What a Christmas!
Can You See What I See? Toyland Express
For Middle Grades: (One prize pack)
Rainbow Magic: Magical Holiday Boxed Set
The 39 Clues Part 2: A King's Ransom
For older kids (One prize pack)
Hugo Cabret Movie Companion
Diary of a Wimpy Kid 6: Cabin Fever

a Rafflecopter giveawayI received samples of these products in exchange for my post.  Opinions are my own.
0