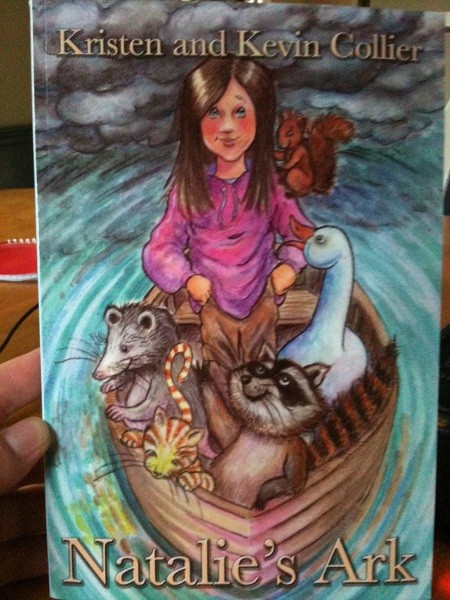 We love books in our family.  Fiction, non fiction, humor, spiritual, it's all welcomed and loved.
From my 7 year old: Natalie's Ark is about a girl named Natalie who  and her animal friends she meets as the dam in her town breaks: Nimbus the raccoon, Telsa the cat, Sadie the Opossum, Stella the Goose, and Skittles the Squirrel- all of whom help her to learn about what's important and not to be afraid so much.
Amazon's description of Natalie's Ark: A dam above a small town threatens to burst and Natalie finds herself adrift in a rickety boat surrounded by animals plucked from the raging flood. Natalie's journey leads her to discovery of faith, friendship, love and home. Suggested Age for readers: 8-12
Natalie's journey after the dam breaks brings her, along with several new animal friends, to the realization that she needs to follow her faith, not her fears.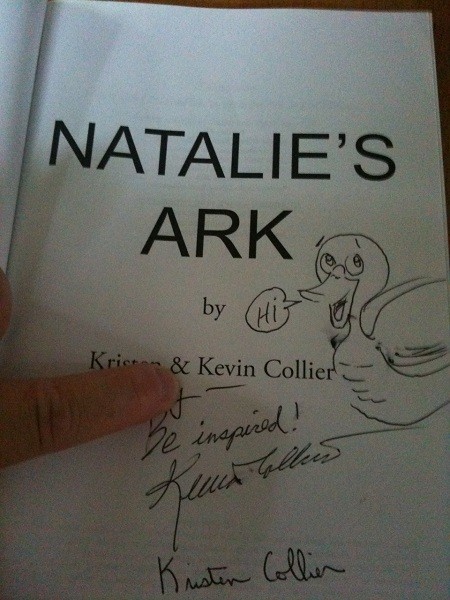 Tangerine Sky Productions was begun in order to create inspirational and educational entertainment for families, by husband and wife Kristen and Kevin Collier. The couple has a great partnership in their productions- each book, each character, each story, and video are clearly coming from the heart and have a message to be heard.  The illustrations are lovely, and the characters relate-able.
TSP doesn't just write chapter books for tweens- they have also done some great videos, adult non-fiction,  picture books and illustrated storybooks.  All are written with the Colliers' clear desire to produce quality, wholesome entertainment for the entire family.
Tangerine Sky Productions would like to send one winner one of their books (your choice), as well as a signed, suitable for framing, drawing done by Kevin Collier.  (retail value: $100)  
Loading Entry-Form…
…
A sample of this book was received to facilitate my review.  Opinions are my own.
0