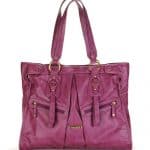 If you have kids or friends with kids, chances are you have heard of timi & leslie bags.  I've drooled over them for years now, to be quite honest.  Never before have I actually owned one, until last month.  Guess what bag I used to tote my stuff around LA when I was there for the Cars 2, Winnie the Pooh and The Help media events?   The Dawn bag, in Raspberry, from timi & leslie.  I got so many compliments on it!
Caution: only wear this bag if you don't mind getting tons of compliments! It's made from easy to clean faux leather (PVC free) and features our custom hardware in a gold finish. Dawn comes with many functional and fashionable accessories and features:

A cross body, adjustable detachable strap so you can wear it hands free whenever you need to
Our specially designed changing pad with a front mesh pocket where you can store your diapers, wipes and creams when you need to make a quick diaper change trip
A stylish clutch that you can use as your purse (who wants to carry a purse and a bebe bag?) with interior credit card slots and an inside zipper pocket
An insulated bottle tote to keep your baby's bottle warm or cool
Matching stroller straps so you can hang your diaper bag from your stroller
Dirty clothes sac to keep your wet or dirty clothes contained, or a duster bag to keep your bag safe during storage.
Water resistant, light colored lining so you can easily see everything in your bag
Three exterior pockets
Six interior organizational pockets
Inside key fob – never lose your keys!
Measures 16"H x 13"W x 6.5"D x 9" handle drop
Dawn is available in Black, Taupe, Cloud Blue and Raspberry
I knew the Dawn was for me because it is roomy enough to fit kid supplies (or mom blogger supplies) but not so big that I felt like I was carrying a suitcase around.  The look  of the bag is stylish, pretty, and chic, and not at all babyish.  I'm all for cute with my kids, especially babies, but they aren't carrying my diaper bag.  I am.  It's my bag and I want it to reflect ME not the kids!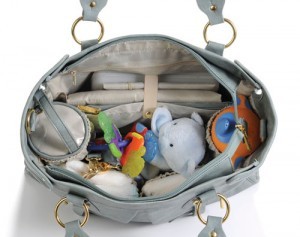 I love that timi & leslie bags keep the mom side of things in mind when they design their bags.  The fact that they are PVC free and not made of leather but still feel luxurious is simply awesome. I've had a LOT of diaper bags in my 6 years as a mom, and this bag was like no other I've tried.  Some were cute, but totally wasteful of space, some were not as cute and very functional, but, well, the cute factor was missing.  These bags bring it all to the table (or, I guess, they bring it all to the bag?) and then some.
I chose the Raspberry color for this bag because I thought it would add a splash of color to my dress for the red carpet- and given that the clutch that comes with the Dawn bag has credit card slots, a zippered pouch and a small size, I knew it was perfect for me to hold my essentials without having to tote around a large bag- I knew we'd be heading to an after party and didn't want to be stuck doing who knows what with a large bag in tow. 
The pockets are a good size, and a good variety to fit the different things you carry in your bag.  This is key when you need to keep delicate hair bows separate from monster trucks.  Things can get ugly when your kids discover that a pull back racer has tangled with a pony holder and both items are ruined- many tears will be shed.  You may be accused of being "mean" and be expected to drive children to the store for immediate replacements.  You want separate pockets, just trust me. You may not need them now, but at some point, down the road, you will.  And you will think back on this post and say "gosh, that This Mama Loves Her Bargains loved me enough to tell me about the pockets."
I love this bag, and I keep using it!  I'm sure that sounds a bit strange, but I have this thing about bags- I get bored with them quickly and my friends have come bag shopping in my closets many, many times over the years. So for me to be using this regularly still, says a lot.  (I am not kidding. I had 11 diaper bags at one time.  Mr. Bargains actually said if I brought another bag into the house, I had to get rid of two. I did what anyone would do. I  got rid of 4 and went shopping.)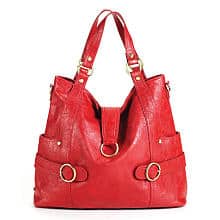 The nice folks at timi & leslie have offered to send one of my readers the Hannah bag in Rouge!!  Isn't it gorgeous?
This will be a Rafflecopter giveaway so you don't need to leave comments to enter- simply fill out the form.  If it's easier for you to comment so you know if you've entered or not (I say this because I forget) please feel free to leave a comment anyway.  I love comments :o)



I received a sample of this product to facilitate my review. Opinions expressed within are my own.
[ad#glam between posts]
0