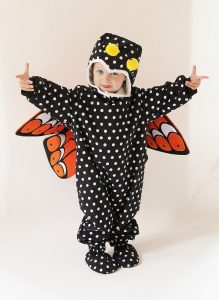 I have heard of Tom Arma's gorgeous costumes for infants, toddlers and children for years – even before I was a mom, I believe.  As you can see on the left here, the costumes are seriously stunning in color, in construction and detail, and the cute factor?  Oh goodness.  This is clearly a biased opinion here but is this NOT the cutest Monarch Butterfly you have ever see?
We also got to try the White Tiger and Monkey- or rather, Jenni's younger boys got to try them.   Although Jen and I both love taking photos, getting one shot of all three of these cuties together just wasn't happening for us!!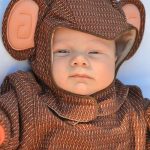 These costumes are really well made, and made to last through multiple wearings- and multiple children.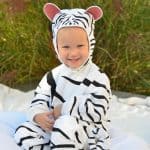 The fabrics are comfortable for your little one and easy to get on and off- I love that the feet are actually booties so that your little one can still rock the costume look without being too hot if its a warm day- or if they need to be wearing shoes to trick or treat.
Halloween isn't the only time you'd want one of these gorgeous costumes- there's an Elf, a Snowman and a Gingerbread Boy costume for the winter season, the Bunny would be adorable for Easter photos, and really, any photographer who works with young children would have tons of fun with these costumes in their studio!!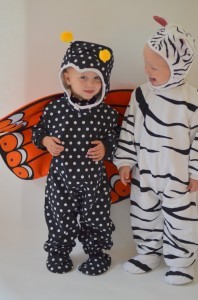 Now really, are you going to look at these cuties and tell me they are NOT the cutest costumes ever?  Of course, the models are darling as  well…
Tom Arma costumes are available only from HalloweenExpress.com and right now if you order 1 costume, you get a 2nd at 25% off if you go through ShopatHome (plus you get 7.5% cash back!!).  If you like one, get it now- they make a limited amount of each style and when they are sold out, that's it until next year…
PLUS they have been giving costumes away on their Facebook page (next one to be given away is at 2500 likes to a random fan..I think every time they hit 500 new fans, they are doing another giveaway!!)
We received costumes in exchange for our review.  Opinions are our own.
0