TruKid is a company that makes safe, natural, non toxic skincare products for kids. The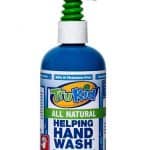 y also work well.  As a mom, I like knowing that when I put this brand on my kids, or let them use it on themselves, it's a worry free deal for me.   It may not be the least expensive product but to be honest, my kids have all broken out in rashes and or hives at one point or another from mainstream skincare products, so if I have to spend a little bit more and rest assured their skin won't have a reaction, that's worth it to me.  Plus buying remedies for reactions adds up VERY quickly!!)  We've used TruKid before and will continue to use it for the years to come.   They sent us a few of their products to try out- all of which we adore.
Helping Hand Wash: Aside from smelling great, and being easy to use for even my 2 year old, I love having this dispenser in my bathroom. I love the fun design, albeit simple, and the cues for non readers to know this is to use on your hands withe orange hand outline on it.  Works great, and I like knowing that there are no harmful chemicals as ingredients when my kids wash their hands, especially with the little one potty training and washing hands 30 times a day it seems! 
The kids like the fun design (they noticed the green on the pump immediately- which means that they are less resistant to washing.  Whatever makes that part of life be less of a battle, sign me up.  They like the smell too!
All Natural TruKid Sunny Days SPORT SPF30+ Water Resistant & Unscented Lotion I recently purchased my third tube of this sunscreen.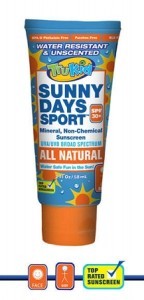 Yes, it is almost the end of September and yes, I am still applying sunscreen to my kids' skin.  Perhaps not as thoroughly but if they are going to be outside, they absolutely have it on!  I love the SPORT formula with no scent- I don't mind scents but I think when you are wearing them they kind of get "old" after a while, especially for the kids when you apply and reapply throughout the day, so I was glad to see this formula come out this year.  Love it.  My husband doesn't like that it stays white for so long when he puts it on the kids, but I don't mind at all.  I'd rather see some sunscreen and know its there than miss a spot!!  Plus this formula is water resistant- we have a pool in the yard (and its still open) so we are in and out of water all day long, multiple times.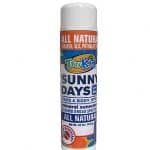 We have used the Sunny Days SPF 30+ Face Stick for three years now, and it is hands down my favorite sunscreen product.  It goes on well, VERY easy for kids to apply (without a ton of waste) and like the other products made by TruKid, safe and non toxic.  The tube it comes in with a lid means you can easily tote it around, it doesn't take up a ton of space and if it gets bumped, you aren't going to end up with the contents of a tube all over your belongings.  We usually have one of these in our bags and my purse at all times over the summer
One of my readers will win one each of the Sunny Days Face Stick, the TruKids Sport Sunscreen and the Helping Hands Wash!
 



I received samples of this product to facilitate my review. Opinions are my own.
0