When you welcome a pet into your family, you also welcome all that comes with it.  The care and keeping of pets includes many things- love, affection, veterinary care…feeding.  We want our pets to have a healthy, happy life, and one way to make sure they have a healthy life is by choosing food that has a balance of nutrients and is the proper recipe for your pet's stage in life.  You aren't going to feed a kitten adult food, nor should you feed an adult cat kitten food- but there's more to pet foods than just recipes based on needs for each age/stage of their lives.  There's been a lot of talk about Grain-Free Cat Food lately, and while I'm certainly not going to tell anyone what they should be feeding their pets, I will absolutely share information I find helpful so that we can make informed choices FOR our pets. This post is sponsored by Hill's. We are being compensated for helping spread the word about Hill's Science Diet for Cats, but This Mama Loves only shares  information we feel is relevant to our readers. Hill's Pet Nutrition, Inc. is not responsible for the content of this article.
Hill's® Science Diet® Grain-Free cat food offers the precise balance of nutrients your cat needs for optimal health without any grains! The first ingredient REAL CHICKEN – and no artificial colors, flavors or preservatives.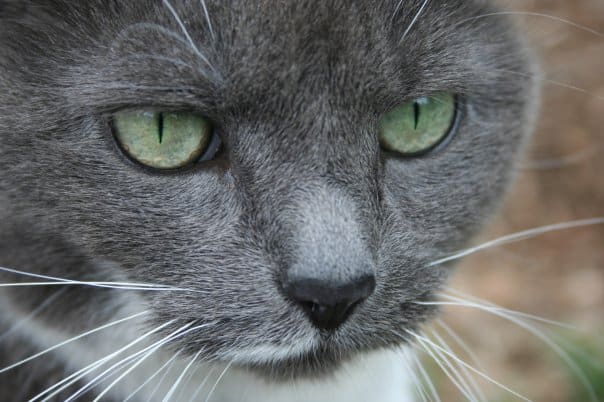 So what IS Grain-Free Cat Food ?  It's a formula of cat food designed for those cats who've got an allergy or sensitivity to grains (which can cause upset stomach and/or dry, itchy skin) or for cats who's owners prefer to eat a grain-free diet and want their pets to do the same.  It isn't carb-free (and actually can be the same or have more carbs because of the ingredients replacing the grains to keep that balance of nutritional needs). Grain-Free cat foods often have sweet potatoes in them, which offer a lot of nutritional value but also offer carbs.  Grain free cat food has a balance of nutrients to both replace what grains offer and also to keep their bodies healthy.
Grain-free does not mean carb-free or that the food is high in protein. In fact, grains are often replaced with ingredients such as sweet potatoes which provide similar or even higher carbohydrate levels, allowing for grain-free foods to still provide complete nutrition for your cat. Remember – whether or not you feed grain-free, balanced nutrition is the key to good health for your pet. Nutrient excess, such as high phosphorus or high salt, may be a problem with some health conditions.

Whatever food you choose, you DO want to make sure you are feeding your furry family members a food diet that offers a nutritionally balanced recipe.  Too much of one thing and too little of another that your cat needs is not going to do them any good.  The key is balance.  We have 2 kittens in our home- they aren't going to be ready for the Grain-Free cat food for several months.  They are both eating kitten food which is made FOR kittens and their digestive systems.  When they are old enough for adult foods?  We'll be discussing what dietary options are best for them with the vet.  Hill's Pet is a brand we will look at FIRST. I recommend always talking with your vet about your pet's dietary needs.
Healthy choices matter, for both you and your pet. For more than 70 years, Hill's has been advancing knowledge of how to keep pets their healthiest. That means great-tasting, nutritious food with natural ingredients that helps your cat live a long, happy life. 

We make every bag of our dry cat food in our own US facilities with highest quality natural ingredients from North America and Europe. These ingredients must meet our strict requirements for purity and nutrient content, which exceed industry standards.

By choosing Science Diet, you help us provide food to shelter pets 365 days a year.
Learn more at hillsfoodshelterlove.com.

You can get a FREE sample of the NEW Science Diet Grain-Free cat food right here and have it delivered to your door for your cat to enjoy. Make sure you let Hill's know how much your cat loves their new Grain-Free food! Visit http://www.hillspet.com/products/sd-feline-adult-grain-free-dry.html and click "Write a Review."
One reader will win 40lbs of Hill's Grain-Free Cat Food!
0