Last week, I opened a gift I'd secretly wished for many years ago, but never told my parents- nor Santa.  The little kids were napping and my oldest was at school, and there was a big white box on my doorstep holding the new Ultimate Easy Bake Oven inside!!  I used to get so excited when I'd go to a friend's house and they had the Easy Bake.  I tried to act all cool and nonchalant, but inside I was all "wheeeeeeeeeeeeee I get to bake and I'm a kid" at their houses.  So.much.fun.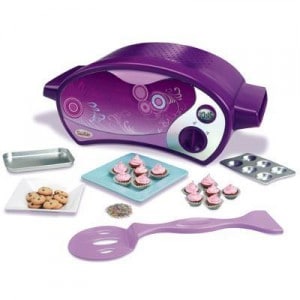 Times have changed for the Easy Bake- the new design is far more sleek, more hip, more modern than before, and there's no more cooking with a light bulb.  They even make whoopie pie mix for the Easy Bake.  Little tiny whoopie pies.  Teeny tiny cookies, cupcakes, and cakes.  The whole thing just screams fun for everyone.  Who wants to cook dinner like a grownup when there's an Easy Bake oven around? NOT ME! (Oh wait. I don't usually want to cook dinner anyway…)
The Ultimate Easy Bake gets to a toasty 375 degrees inside. Outside, its cool to the touch.  That's not to say you shouldn't be exercising caution, because I firmly believe you always should when cooking…but its a nice feature that gives a littel peace of mind.  You should always have your child using this under adult supervision.  The recommended age for this toy is 8+ so if and when my oldest uses this, it will be with my very close supervision and likely only me using the oven itself (and not just because I don't want to share my new toy…)
This is a nostalgia purchase for those of us who grew up with (or wanting) the Easy Bake oven.  For kids, its a way to let them cook and create and experiment with that process with a controlled, safer mechanism….and its a ton of fun.  You can find the Ultimate Easy Bake Oven many places where toys are sold including Target, ToysRUs and Amazon.
With the Ultimate Easy Bake Oven, you get a baking pan, cupcake pan, pan pusher, chocolate chip cookie mix, red velvet cake mix, pink frosting mix, rainbow sugar crystals package, paper cupcake wraps and instructions/recipe booklet.
Using the Easy Bake was easy, fun, and cleanup a breeze. The kids were super excited to have whoopie pies (and even more fun trying to pronounce whoopie pies properly) and are very excited to try some cookies over the weekend. I finally got my Christmas wish!! Instructions are clear and packaging for the ingredients is easy to open. Definitely a GREAT gift for the holidays (or just for fun!)
One US or Canadian reader will win an Ultimate Easy Bake Oven!


I received a sample of this product to facilitate my review.  Opinions are my own.