Recently Dreena Burton sent me a digital copy of her  Plant Powered 15 to review.  She also offered to share one of her recipes with you.  Dreena is the author of 4 vegan cookbooks.  I reviewed Let Them Eat Vegan last year.  In addition to writing incredible vegan recipes, Dreena is active on Facebook and Twitter.  I really enjoy following her on both social media platforms.  Her Plant Powered 15 can be purchased on her website or you can win your own here.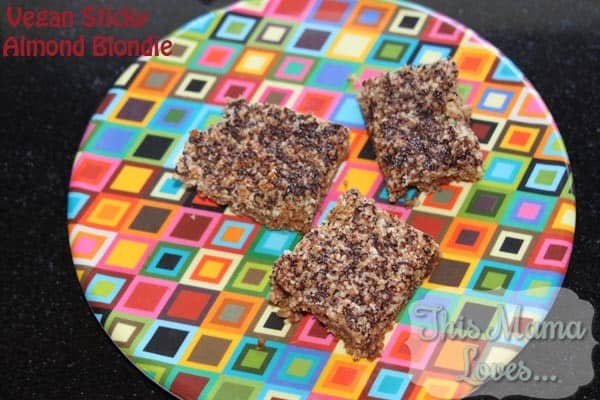 Before I post the recipe, I want to say that these Blondies are out of this world. They received high ratings from my husband, our 8 year old and myself.  We all had to eat a second one to make sure they were really that good.  The following recipe is from Plant Powered 15 with Photo credits to Nicole Axworthy. 

Sticky Almond Blondies
These are positively delicious. They have the dense, sticky, decadent texture and quality of a traditional blondie, yet are made with wholesome ingredients – and no flour or oil!
1 tbsp ground white chia
1/4 cup pure maple syrup
1/2 tbsp freshly squeezed lemon juice
1 1/2 tsp pure vanilla
1/2 tsp blackstrap molasses
1/2 cup pitted dates, lightly packed
1/2 tsp baking soda
1/4 + 1/8 tsp sea salt
few pinches freshly grated nutmeg
2 1/2 cups almond meal
1/2 cup coconut sugar
2-3 tbsp nondairy chocolate chips (optional)
Preheat oven to 325°F. In mixer fitted with the paddle attachment, add ground chia, maple syrup, lemon juice, vanilla, molasses, and dates. Process on low speed to first incorporate, and then increase speed slightly to fully pulverize and smooth dates. Once smooth, turn off mixer and add baking soda, salt, and nutmeg – mix just briefly and then add almond meal, and coconut sugar. Process on low speed until mixer just comes together (do not over-mix). Transfer mixture to an 8" x 8" brownie pan, and press in with a spatula. If using chocolate chips, lightly press into top of batter. Bake for 20 minutes. Remove, let cool completely, and cut into squares. Squares can be refrigerated for a week or more (as if they'll last)! Makes 16 blondies.
Chocolate Note: I usually make these without chocolate chips, and sometimes I'll simply sprinkle a few chips over top of half the batch – either way, these are crazy-good!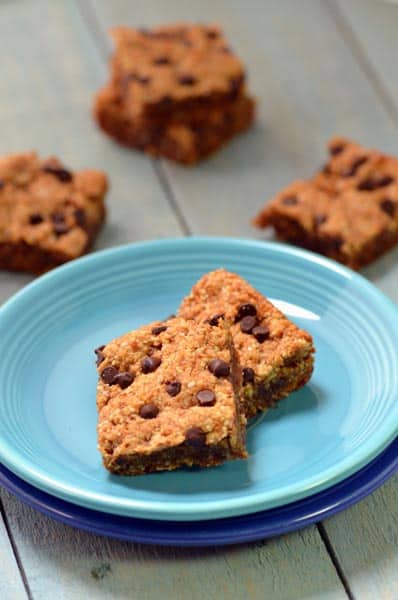 Dreena has agreed to give one lucky reader a copy of her Plant Powered 15.
I received a copy of Plant Powered 15 to help facilitate this review.  All opinions are my own.
0