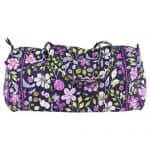 I love Vera Bradley.  I have since my first encounter with a Vera bag, about 15 years ago.  What's not to love?  Beautiful fabrics, gorgeous patterns, in a huge range of colors and prints, sure to meet just about any taste…variety of size, shape, color, style…coordinating,  matching…there's so much to love.  Recently the fine folks over at Vera Bradley sent me some of their delighful Floral Nightingale line for review- a fun print with lots of vibrant colors.  Perfect for moi!
Like an enchanted, moonlit forest, sweet songbirds nest among whimsical florals in the deep navy twilight. Lavender-pink, orchid and golden olive tones mingle with light blue, soft gray and cream. Inside, a floral trellis with creamy blossoms adds a magical touch.
I was in desperate need of a new wallet. Um, maybe not desperate, but things were overcrowded in there.  I swear, with every year of my life, I add 10% more "stuff" to my wallet and pocketbooks/purses/handbags.  I think I could quite easily fill a UHaul trailer, if it were to come in the fabulous prints that Veras come  in!  But my wallet, my poor wallet, it was stuffed to the gills and a little bit more and was due to just burst at the seams at any moment.  I had to go larger.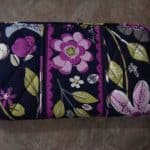 My Accordion Wallet has saved the day.  Fun and functional- but lots and lots of spaces for credit cards, ATM cards (yes,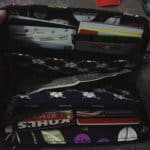 ATM.  We don't do debit cards!!) and the 1000 other little cards like our library cards (my 6 year old has one too…I carry her duplicate), our museum membership card, local store cards, reward cards, plus all of the other stuff that goes into a wallet.  Plus gift cards…and then money, and coins.  You know, STUFF!  I love that there are so many compartments, and that there's a kind of "separate" place for my license – then I'm not constantly fumbling to figure out where it was I shoved that thing.  I want to tell you I have a super organized wallet but…I don't.  I love that this thing zips all the way around for closure- so if I'm just grabbing my wallet to go someplace, I don't have to worry about it opening by accident and spilling the contents in forty directions!  Plus, it looks nice.  So pretty. I love the pattern!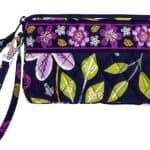 The Floral Nightingale line comes in so many styles- from the wristlet (which, my friends, one of YOU will be winning below…) to a large duffel– which is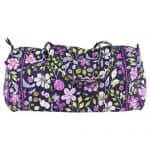 probably going to be my next bag, because I can't seem to find a way to decrease what goes in my bag.  I thought that a potty trained 2 year old would mean LESS stuff to carry but now I have to bring extra pants and underwear, plus something to put the wet things in, just in case…Gear, gadgets and school all have a place in the Vera family.  My sister has an e-reader with a Vera cover for it!!    I even spotted a stadium blanket- now that is a blanket I'd love to sport at a tailgating party, or a football game!!
It's probably a good thing that Vera Bradley doesn't have bedding (yet) because while my husband is glad that I have fabric bags to adore,  I also change them out frequently, and that would probably mean a few bed sets, one for each season…that might get costly, and fast.
Vera Bradley bags are available on their website, from many online vendors, and in retail stores nationwide.  They are definitely a bit pricier than other brands, but are very well constructed and made to last.
One of my readers will win a Floral Nightingale Wristlet!
a Rafflecopter giveaway

I received samples of this product to facilitate my review.  Opinions are my own.
0