This post brought to you by VISIT FLORIDA. All opinions are 100% mine.
Ponce de Leon first explored Florida in 1513 paving the way for 500 years of exploring the Sunshine State by billions of visitors from all around the world. What better way to celebrate 500 years, than to give away a trip every week in 2013?  That's what VISIT FLORIDA was thinking with their Florida's 500 Years of Adventure Sweepstakes- they decided to give away a trip EVERY WEEK in 2013.  A trip. EVERY WEEK.  Sign me up please (Literally.  Sign. Me. Up. and pick me?). One of my favorite things about this promotion, aside from the giving away of the trips, is that it's not all the same trips, nor to the same area of Florida.  Each week is a different trip showcased so if it's not a week you'd be interested in, you simply don't enter that week and sit tight until the following week.
Enter the Florida's 500 Years of Adventure Sweepstakes for a chance to win a new Florida adventure every week! Each week VISIT FLORIDA is giving away exciting Florida adventure packages that include rental car, hotel accommodations, and other exciting "what to do about town" activities!
Entry into this sweepstakes is super simple.  The entry form asks for name, email, phone number and also asks if you want to opt into 4 separate items. It looks exactly like this: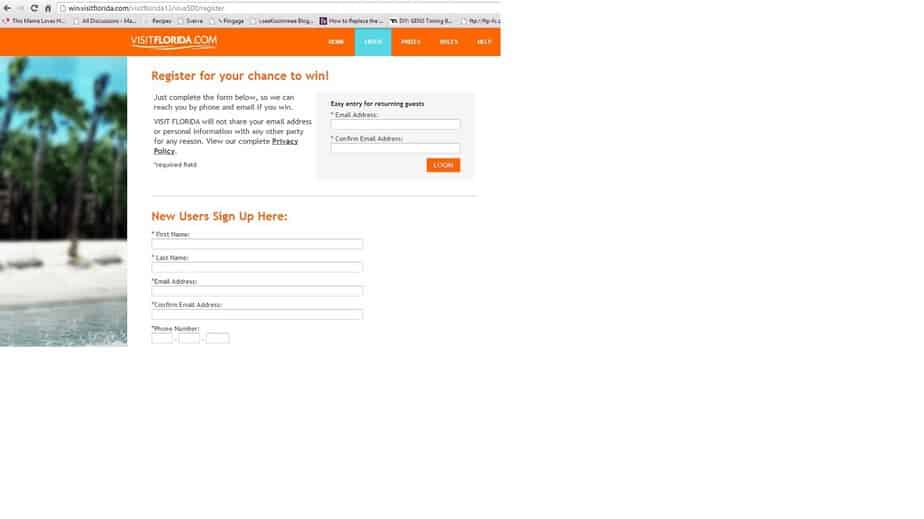 And takes all of 30 seconds to complete.  More if you need to stop to refill your coffee like me. Once you finish, you'll get a confirmation screen…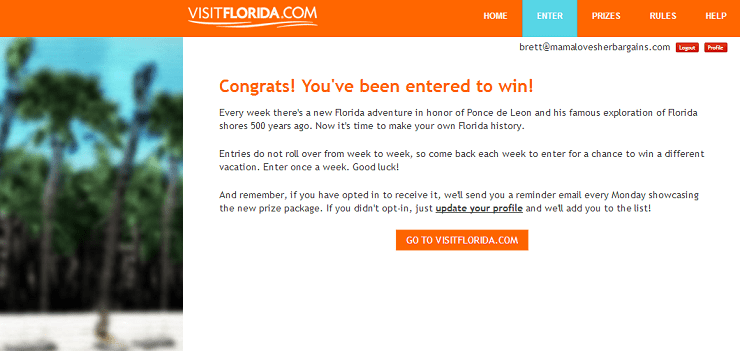 And that's it.  You are entered. I hope you win.
For me, I've been to Florida many times.  Or rather, I've been to Orlando many times, and Tampa a few.  That's about the extent of my Florida experience.  While I do love doing the amusement parks and have thoroughly enjoyed each and every Disney World visit and my few times at Universal Studios, as well as my other jaunts like the Makinson's Island hike, Florida EcoSafaris and Boggy Creek Airboat Rides, there are just so many other areas of Florida I  have yet to experience.
I'd love to head to some of the beach areas and just relax and enjoy beach living for a few days or a week….like maybe Key West?
Be sure to follow @VISITFLORIDA on Twitter to keep up with the latest Florida adventures.
Are you going to enter the Florida's 500 Years of Adventure Sweepstakes?  What are your favorite Florida memories?