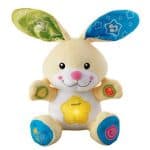 VTech's Peek-At-Me Bunny is an adorable interactive stuffed friend for the littlest family members that can play and teach your child things when its playtime, and calm and soothe them when its  night time. I had a lot going on the first few days this bunny was in the house and I kept making it turn on into soothing mode when making noise (unloading dishwasher, calling to kids to come inside to eat, etc) and at first I didn't realize that *I* was making it respond- the bunny thought I was a crying baby (I guess I do have a high pitched voice?)
The Peek-At-Me Bunny has 2 play modes, and with both modes, the bunny will interact with your child.  It's intended for ages 3 and under although I think probably 2 1/2 years is the top age range.  I absolutely adore the way the bunny will respond to sounds in night mode, playing soothing lullabies for  several minutes (and baby will quickly learn to make it play more when the bunny stops if my kids are an indicator!) and learning colors, shapes and body parts in Playtime mode is always fun for little ones.
The bunny has sensors on its hands, tummy and feet that engage your child with fun sounds, songs and melodies. And of course the bunny plays a game of peek-a-boo with your child.  The plush body has multiple textures to give your little one a tactile experience to go along with the sights and sounds of the bunny.  Its cute, its cuddly and its lots of fun for little ones.
The Peek-A-Bunny is definitely cute and fun interactive toy and, since it's priced at just $14.99, a wonderful gift idea for any little one in your life!  It's also not got  a loud volume on it, which means it won't be startling anyone if its bumped in the middle of the night like so many other toys may.

One of my readers will win a Peek-A-Bunny for some"bunny" special!


I received a sample of this product to facilitate my review.  Opinions expressed within are my own.
0