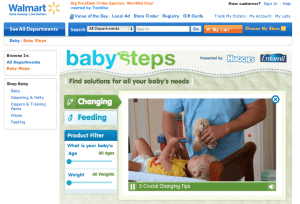 Walmart.com's Baby Steps offers a one stop shop for expectant and new parents.  Baby Steps doesn't just offer a place to buy baby items and gear, although they definitely have a huge range of baby products, but they also have tips and techniques for many ages and stages of baby- both written and in some really entertaining videos!
Baby Steps has 2 main categories for tips and techniques, Changing and Feeding.  Once you select either of those options, you are asked to give the baby's age (including expectant) and weight.  I was curious to see what the feeding recommendations would be for starting solids and very pleased to see that recommendations are given for developmental readiness and not just a date, which is not a one-size-fits-all response.  Once you click on a "sub" category you are shown several blocks with more information- clicking on that brings a short video up (and it is neither here nor there but all of the adults seem to be moving in s-l-o-w motion in the videos!?) and at the end the tips and techniques are shared.  The folks designing Baby Steps took a lot of time and put a lot of thought into this section of the Walmart site, and I have to applaud that.  
Sponsored by Huggies and Enfamil, I was very curious to see if breastfeeding was mentioned in the feeding section.  It was, but only as an option to breastfeed and formula feed your baby, not breastfeeding exclusively.  It would be nice if they offered an entire section of tips and techniques for those who exclusively breastfeed as well, or for those planning to.  I was VERY excited to see that they are carrying gdiapers now (and other greener disposable diapers), including the cloth ginserts!! gdiapers were what got ME into using cloth diapers– one diaper change and I was hooked!!  Makes me glad that even though the Baby Steps section is sponsored by 2 brands that other brands are still being featured. Kudos to Walmart.  I found the Baby Steps to be really thorough and helpful, and hope that it offers some help and suggestions that others find beneficial.
Visit Baby Steps and find solutions for all your baby's needs. Get baby product information and purchase supplies conveniently online at Walmart.com.
To celebrate the Baby Steps subsite, one of my readers will win a $100 Walmart Gift Card!


This post is brought to you by our friends at Lunchbox.  Opinions are my own.
0