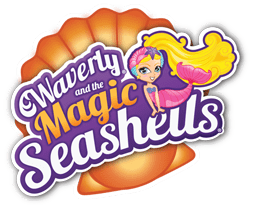 There's a tiny new mermaid on the toy scene and she's poised to make a big splash in the toy world.  Waverly, a 3 inch mermaid from Azarella, the home of real mermaids, loves to spend time hanging out in her first-of-its-kind Magic Seashell with her pets Gumbo and Zuli.  Waverly loves to sing and dance and most of all, play dress up- which is right up my daughters' alley.  Waverly and the Magic Seashells is a line of tiny mermaid dolls and accessories that are adorable, interactive, and oh so much fun!
Meet the mermaids: Waverly, Mirabella, Star, Amelia, Coralina and Breena!
Discover the world of Waverly and the Magic Seashells with 6 beautiful mini dolls to collect! Waverly and her friends come from the magical world of Azarella where just like these dolls, real mermaids are only 3" tall – the perfect size to go everywhere with you! Each doll comes accompanied by a special pearl that unlocks secrets of the sea when you place it in the Magic Seashell playset (sold separately). The dolls also come with a scepter-shaped hairbrush and a special accessory, such as a treasure chest, trophy cup or pedestal.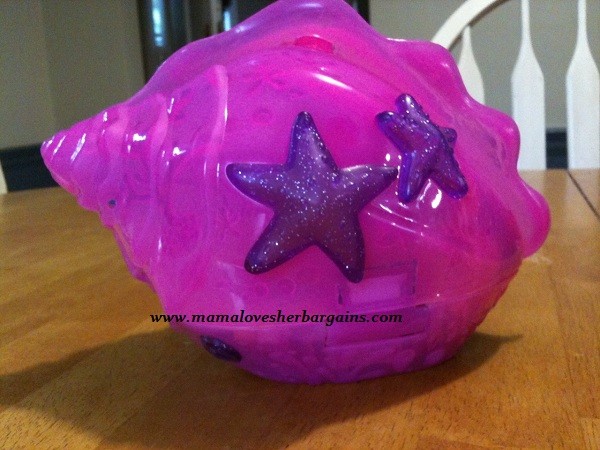 What I love about this toy line: small, compact, portable.  We have 2 mermaids, the accessories they each came with plus Waverly's Magic Seashell, and they all store right inside the seashell.  The shell's about the size of a football so it's kind of easy to bring somewhere- so for instance, when we're driving to Florida this winter…this is a perfect toy to bring along with us.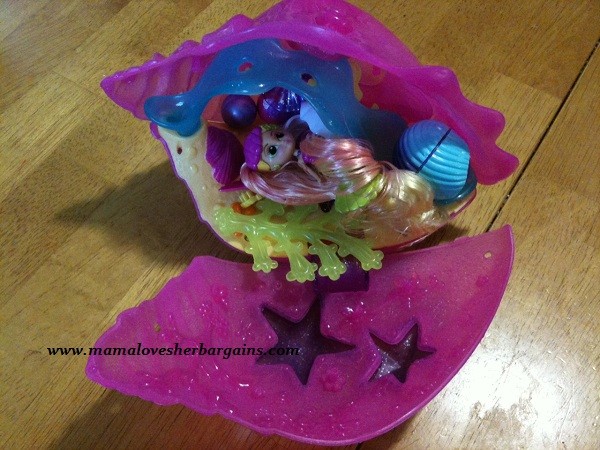 Lots of playtime fun packed into these tiny packages.  I think the whole concept of these toys is super cute, and I'm in love with them.  My favorite part is the mermaids' hair…and the pearls being able to be changed from the ring to other places.  I've always loved toys that include a slide- and since the seashell has one…I have to love it.  Plus, you know, it's pink.  So there's that.  The volume of the sounds and music is kind of loud when played with in a quiet room- or on a wood table…but when there's other noise in the room and/or carpeting, not an issue at all.
As for the kids?  They love them.  They were fighting over the dolls before the packaging was all the way opened, so guess what will be coming in their stockings? Yes, that's right.  More dolls and probably another playset.  They love "portable" toys and these mermaids are NO exception.  They also love that there are animals and brushes for the dolls' hair.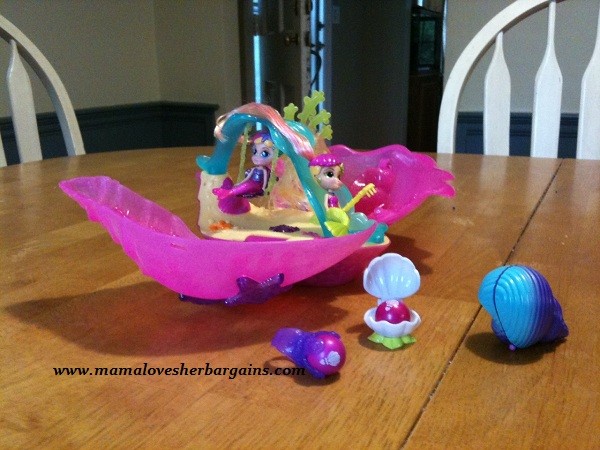 You can find Waverly and the Magic Seashells toys at most major toy retailers in store and online in the US, including Target, Toys 'R Us and Kmart.  Be sure to check out the free games, activities and printables on the Waverly and the Magic Seashells site!

I think Waverly and her friends will be finding their way into many little girls' hearts this holiday season- and I'm excited to tell you that one of my readers will win a Waverly's Magic Seashell playset ($24.99 ARV) toy along with a mermaid friends ($7.99 ARV each) and a shell accessory ($4.99)!
Loading Entry-Form…
…
Samples of this product were received in exchange for this post.  Opinions are my own.
0