As you know, I'm an Child Hunger Ambassador for ConAgra Foods this spring.  I told you then that 1 in 5 children in the United States of America suffers from food insecurity. That's over 17 million children.  That's too many. 17 million too many.  So now that more of us are aware of this, we can start to take action and DO something.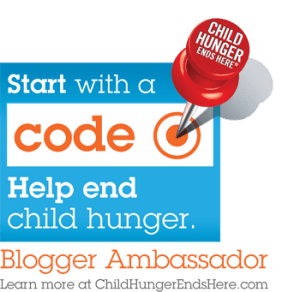 Obviously, we can purchase ConAgra Foods and enter a code to donate a meal. But there are many other ways we can help to fight child hunger.


What can WE do?
Have a party. Invite everyone to bring non perishable foods to donate. (It's called a Philanthro-Party!)
Have a food drive.  
Do a fundraising event and donate the proceeds to a food bank.  Food banks and organizations can buy more with that money than we can. 
Getting married?  Bat Mitzvah or Bar Mitzvah coming up?  Having a shower? In lieu of favors, make a donation to a food bank in your area in the guests' names!
Spread the word.  Tell your friends.  Tell your family. Tell your neighbors.  The more who know, the more who can help.  
Be sure to download Cody Simpson's and Amber Riley's version of the song "Fill a Heart" today. 
If you can give just a few moments of time and fill out this survey to help gauge awareness of Child Hunger, we'd very much appreciate it!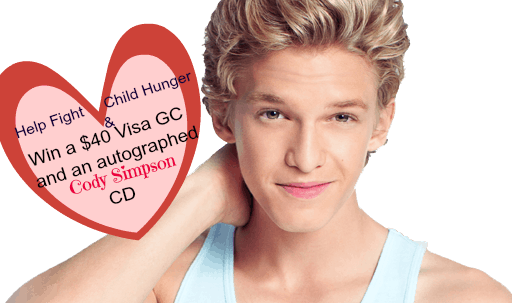 One reader will win an autographed Cody Simpson CD and a $40 Visa Gift Card!
This is a sponsored conversation as part of my Ambassadorship with ConAgra Foods and The Motherhood.  Opinions are my own.
0