Werx iPad and Android touch screen replacement kits from RadioShack allow the customer to send their cracked iPad or Android device touchscreen to Werx using the included prepaid FedEx box, and within 72 hours, they will have their repaired device sent directly back to them! Included in the repair is a limited lifetime screen replacement warranty. If anything goes wrong the screen after it has been replaced, not including accidental damage, the customer will simply need to contact Werx for a for a free replacement. Android and iPhone kits are $99, and iPad kits are $199.99. I like having the Werx in my house- I feel like it's almost inevitable that someone (me?) will be shattering the screen on my phone at some point.  Having the Werx means I can box it up and have it back 72 hours later.  You will probably find me hyperventilating and trying to use the kids' toy phones during the 72 hours, but I digress…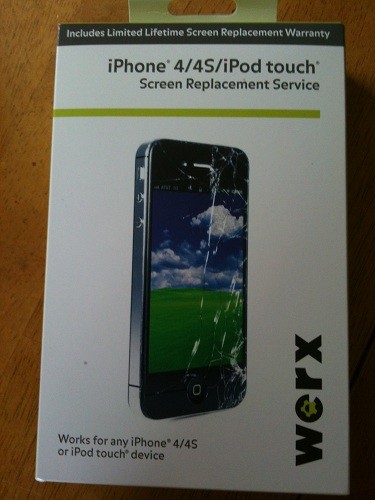 The Werx packaging is fairly simple- when you purchase the product, you are actually purchasing a box with a prepaid FedEx label and some nice, thick padding to protect your device from further damage.  You'll definitely want to hold onto your receipt because they want that when you send your device in.  That's kind of it.  Open, insert device, fill out a few short bits of information, and off it goes.  (FedEx is really good about doing pickups at my house with a quick phone call, although there are many places you can drop things off for shipping).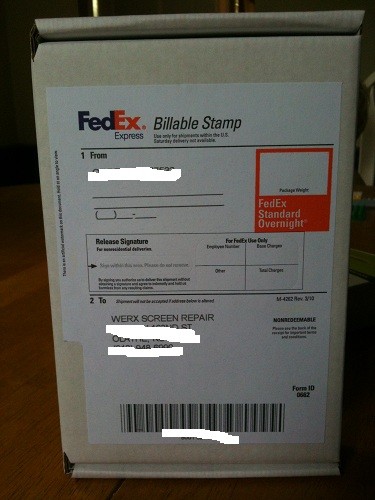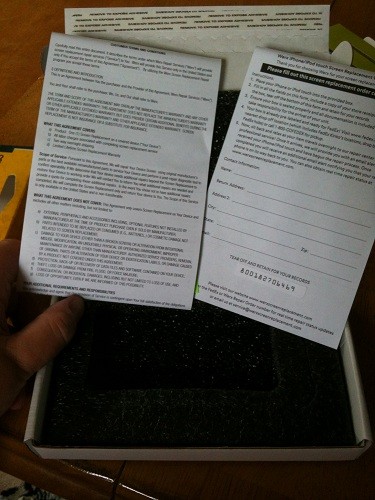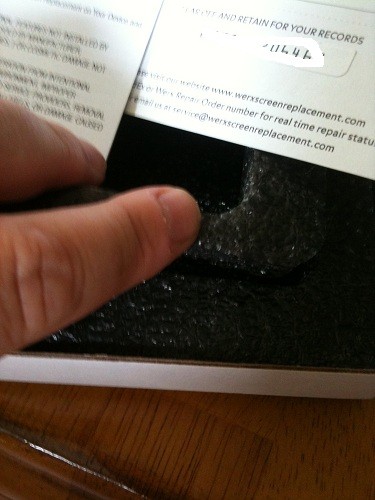 I purchased my iPhone with my own money.  No free phone for me.  That makes it an investment, and something I want to take care of.  That said, even with the precautions I have taken with a great case, being careful with the phone, etc., I do know that things can and will happen to phones.  I have friends who shattered screens on their touch screen devices and had to pay cash again a few months after purchasing the broken phone because they needed their device.  I am fairly certain they'd have used Werx had they known about it.  Peace of mind and knowing that if and when your screen cracks, there's a way to get it replaced, and in a fairly short period of time, is excellent.  I don't know about you, but I'd much rather spend $99 for a new iPhone screen from Werx than $600 or whatever it is to purchase a brand new iPhone from a retailer!
For a pristine screen.

Get your iPhone 4/iPod touch (or iPhone 3,  iPad, or Android device) repaired and returned in less than 72 hours. This service includes a toll-free customer support number and an online, real-time repair status. Plus, two-way FedEx overnight shipping and a one-year repair guarantee is included.

Repaired and returned in less than 72 hours
Toll-free customer support
Online, real-time repair status
Two-way FedEx overnight shipping included
Includes one-year repair guarantee
Satisfaction guaranteed

Pricing and availability: Please note that all prices are subject to change without prior notice. Prices advertised on this site are for online orders only. Prices on some items may differ from those advertised in RadioShack stores. All merchandise may not be available at all stores, and all stores may not participate in all sales promotions. We recommend you contact the store to confirm product availability and price.
I love how RadioShack offers so many great options (and affordable ones) for all of the devices we use- charging, recharging, on the go stations- supplies for hobbyists and DIY folks, wires, solar power- they offer a huge array of products!  My dad always got his binoculars and weather radios from Radio Shack.  He's still got one that is going strong at his apartment, and I'm pretty sure it's over 20 years old!
Definitely stay connected with RadioShack on Twitter- they are giving away prizes all week to followers!!

I received a sample of this product to facilitate my review.  Opinions are my own.