I've not met a mom who doesn't want to look and feel her best (at least some of the time?!) and I recently discovered a really fun way to help ME to look and feel my best.   What is it that I discovered?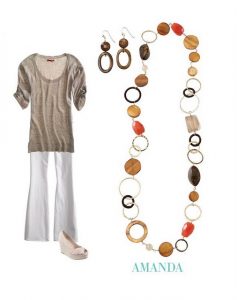 Stella & Dot.  Oh, my heavens.  Where have I been?  Fun, functional and affordable.  This Mama Loves.  Loves a lot, in fact.   Above you can see my beloved Amanda necklace, which I fell in love with at first sight.   Actually, with the exception of the cute-but-I-would-quickly-break-my-neck-in-those shoes, the outfit in its entirety caught my eye.  Love it.  So versatile and can be dressed up or down- which is, to me, what Stella & Dot is all about.  Pieces you can mix and match for all kinds of different looks and moods at affordable price points.
I haven't yet gotten my Amanda necklace to share with you, but Kelly and I wanted this giveaway to end in time for someone to have the gift code to use for Mother's Day if the winner chooses to, so I'm posting this anyway.
Let me tell you though- I've touched it, and seen it in person, and I can't wait to have it.  Its fun, its functional, and I can totally change the entire look and feel of it by slipping a simple ribbon through it and doubling it up- or wearing it as a single strand.  Changing the earrings I'm wearing when I have this necklace on can also change the look and feel of this!!  All of the pieces I've seen from Stella & Dot either at a trunk show or in person on others have been beautifully made and well made.  These are pieces that are worth every penny of your hard-earned money (or, I suppose, of someone else's hard-earned money?!)!
Want to see and touch Stella & Dot lovelies before you buy them?  Contact Kelly and set up a Trunk Show- invite some friends and make a girls' night of it!  You'll see tons of the pieces on display and be able to see what they look and feel like, and hold them up to yourself, maybe try them on- you can browse in the comfort of your own home!!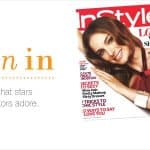 If you are starting to think that you have seen and heard of some of these pieces before, you probably have.  Lots of stars are stylin' with Stella & Dot-you can find pages of links to see Stella & Dot pop up in magazines and on television too!  They even have a section of the site devoted to pieces that have been "seen" in.  
Stella & Dot by Kelly L has offered one of my readers a $75.00 gift certificate to spend on her site!!
Mandatory Entry: Leave a comment with your name and be sure you leave a valid email when you leave your comment (otherwise, how can I contact you if you've won?!)
Extra Entries:
Like Stella & Dot by Kelly L on Facebook +1 entry (leave a comment on her FB wall, +1 more entry!)
Visit Stella & Dot by Kelly L and tell me what you'd use your gift certificate for if you win!
**Book a trunk show or an online show and get 10 extra entries!!  (Be sure to share your party date and this WILL be confirmed with Kelly)
Follow my blog publicly via GFC, RSS Reader or Email Subscription +1 entry each (3 entries total)
Leave a (relevant) comment on any non-giveaway post +1 entry/post up to 5 comments
Enter any other "What a Mom Wants" Giveaway +1 entry per giveaway, up to 5 entries
Share this giveaway on any social networking site: "Who doesn't want to #win $75 to spend on #StellaDot #Jewelry http://wp.me/p1qA6G-1gU" can be done 2x/day at least 1 hour apart (leave URL of your comment- right click on the timestamp and it will copy the URL for you)
Enter to win a Stella & Dot necklace at Living on Love and Cents +1 entry
This giveaway will end on May 7, 2011 at midnight, EST.  US only.  Winner to be chosen using "and the winner is" plugin.  Winner has 48 hours to respond to initial contact of prize or a new winner will be chosen.
I will receive a sample of this product in exchange for my post. Opinions expressed within are my own.
0