This post about what moms really want on Mother's Day is sponsored by Warner Bros. Pictures
You know, a lot of folks have this idea in their head that Mother's Day is going to be this perfectly wonderful day that dotes on mom and it's a day when the kids behave, sleep, eat what they are offered, don't talk back, the spouse and kids do all they can to spoil mom…
You know. The greeting card version of the holiday.
Which happens maybe .0001% of the time.
I love my kids. I love my husband. I love being mom. My DREAM of a perfect Mother's Day?
What Moms Really Want on Mother's Day
Breakfast with the family. As long as I am not cooking it nor deciding what to make? It's all good. Yummy, great, thank you very much.
Handmade cards or notes? YES! Flowers? OK, sure. Gifts? Well, my birthday is May 10 so that's awfully close together.
Or maybe one gift.
A Bike for Mother's Day
A new bike JUST LIKE the one Melissa McCarthy's character Deanna rides in her new movie Life of the Party? YESSSS!!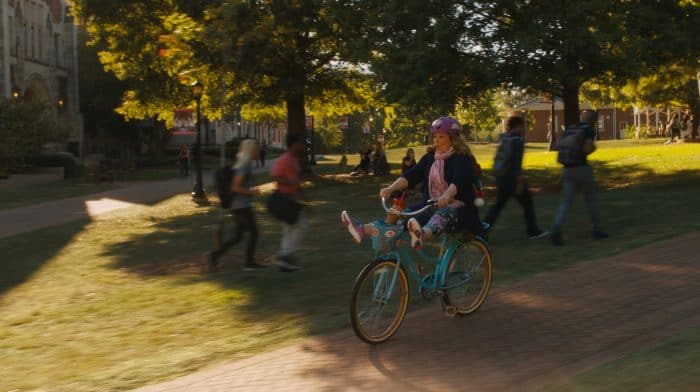 A bike. For real, Brett? Yes. For real. If this bike was pink it would be the most amazing thing in the world for me but then the basket wouldn't match so well and the basket and cup holder make this everything.
A nice bike that I can ride on vacation with the family, or around town, or with friends. Depending on where we are, ride to do errands. The basket is key. The bike is kind of the perfect mom thing- it's good for exercise, a great way to spend time with the family, but also? You can do "no hands" and lift your feet and feel like you did riding a bike as a kid again.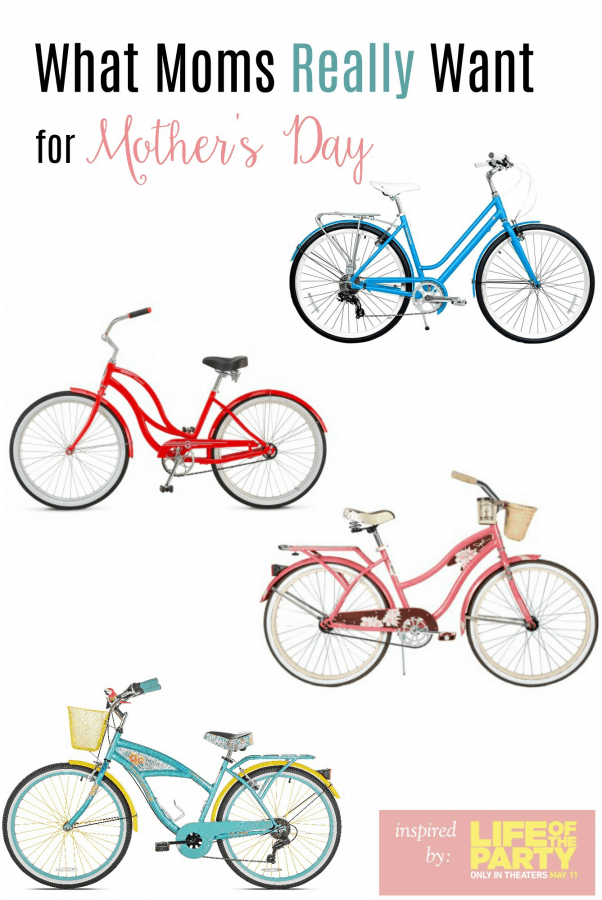 I had a hand me down bike for a while, but a friend who's a single mom was in search of a bike to ride with her daughter, and we weren't using it much at all…so I passed it along. I've not had a pretty, shiny bike just for me since I was a kid, and to me it kind of envelopes a lot of being a mom! We're still women, we're still wives, we're still friends, and for the most part, we make sure our family has what they need and/or want far before our own needs and wants. So to have a fun, pretty bike to ride with or without the family sounds to me like the perfect gift. Freedom, exercise, time with the family and a whole lot of fun all rolled into one gift!

Good Laughs for Moms
To go with the bike? Tickets to go see Life of the Party! Yes, we love the cards and the notes and flowers and handmade gifts. We do. I have saved each of them faithfully and will continue to do so. But you know what I really want to be gifted? The encouragement to put myself first for a day.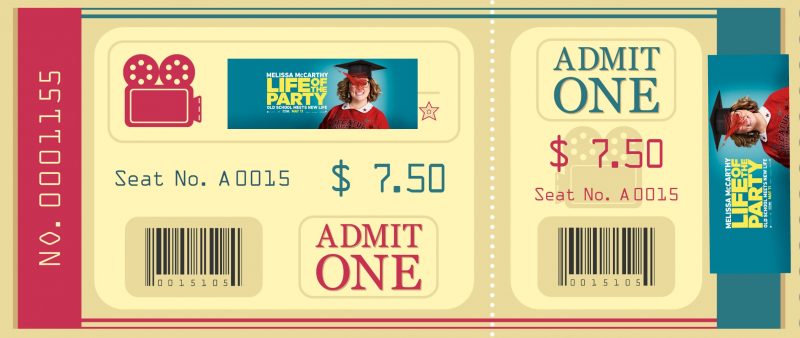 For me, a good laugh with friends is more therapeutic and good for my soul than just about anything out there, and refreshes me. I think that's what most of us moms want, to have appreciation for how much of ourselves we pour into our families each day and to be encouraged to go do something FOR US. For me, that means to go see a movie *I* will love, and laugh at how funny it is, how inappropriate and not kid friendly it is, to let my hair down for a few hours and also get something to eat afterwards to talk about the movie and enjoy some conversation with friends.
Why this movie? Why a movie about a mom being dumped by her husband as a Mother's Day gift idea? Have I lost what's left of my mind? Bear with me a moment.
Deanna is a mom. She could really be any of us moms. She's been a housewife (by movie description, but I think stay home mom is ok to say as well) for many years and suddenly her husband decides to dump her. That's the sad part, but is it really the worst thing in the world? Like most women, Deanna finds a way to keep going and enrolls in college…ending up in a class with her daughter. What follows…well, I don't know for sure, except that a lot of fun looks to happen and a whole lot of laughter from those who get to watch. Melissa McCarthy as Deanna is perfection- she's one of the funniest women I've seen in my life, but she's so real, and so relatable to women- she embraces her flaws and owns them. Perfection in casting!
I do know that as she enters this new chapter of her life, Deanna's character starts to have new experiences, and she survives the devastation she felt when her husband dumped her, and she adapts to her new life. Then she finds, along with her kids, how truly amazing she can be, and who she was missing inside her all along.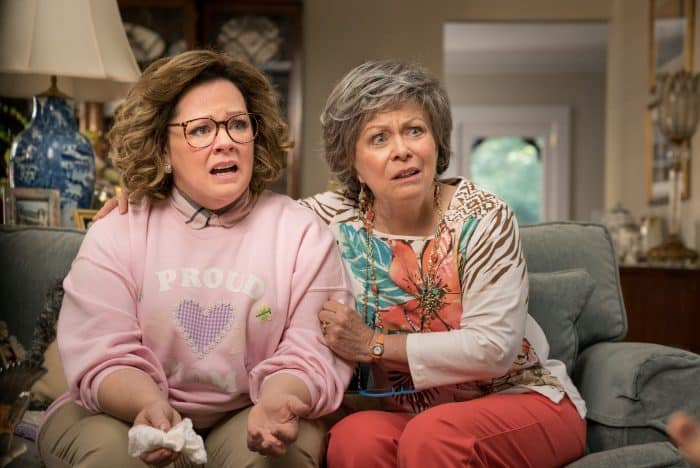 So yes, it's sad at the beginning for Deanna, but in the end, I believe what we'll find is just how strong and resilient even the most "mundane" and meek of us are, and a good reminder that we should all take a deep breath and try something new, because it might be the most amazing thing we've ever done for ourselves. With or without successes, when you're trying something new, there's usually a whole lot of bloopers and mix ups and laughs along the way.
Laughter, my friends, is good for the soul.  That's why I am so excited to go see this movie when it opens Mother's Day weekend. The film also stars some amazingly funny and talented women like Maya Rudolph, Julie Bowen, Deby Ryan (who I've watched grow up for years on a sitcom with my kids, and it's really fun to see her in such a different role for this film!) and more. Check out the trailer below and get your tickets here.
Do Something for Yourself this Mother's Day
Does it make some sense now why my take on what moms really want for Mother's Day is a bike…and movie tickets? It's not necessarily about the things, but the encouragement for us to do something for ourselves.
So to me…the bike represents the balance of family togetherness and also for mom to do something for herself…and to go see a movie that embodies that idea, along with finding a way to come out of a heartbreak situation without falling apart and letting life happen to you (which is a great thing to model for our kids).