Thank you Disney's Blank: A Vinylmation Love Story for sponsoring this post. Don't miss the adventures of Blank and Bow in the in the short film now available for free on Google Play.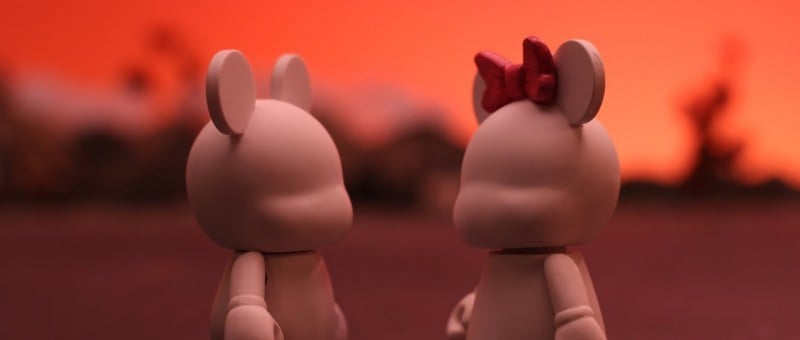 I watched Disney's "Blank: A Vinylmation Love Story" over the weekend.  It's a love story like Disney's not done before- it's 38 minutes of stop motion animation and tells the story of Blank discovers his one true love, Bow, and the story of their separation and ultimately, their reunion.  Along the way there are obstacles to be overcome and friendships to be made.
Love stories are always fascinating to me. I don't care if it's short, long, silly, funny, I love them all.  Hearing the way two people connected in such a deep way is just something that warms my soul.  It's never the same story twice, you know? Many tales of friendship are the same way.  We have all got those connections in our lives that never stop meaning the world to us- no matter how great the distance or how long it's been since we've been together.

Blank: A Vinylmation Love Story – Trailer on Disney Video
What stood out to me most about Blank and Bow was their lack of color or apparent features- although honestly, it took a split second to understand what they were feeling and hoping for.  And really, it isn't their lack of features, but how their appearance let you focus on what was happening so much more and not focusing on the characters so much.
Bow is taken from Blank to be brought to a color factory to be designed, and while Bow fights his way and follows her long distances, they also discover together that, along with other blank figures, they can band together and let others see that creating their own look is absolutely ok. They make some very colorful friends (literally) along the way and it's really sweet to watch friendships unfold without a word spoken aloud.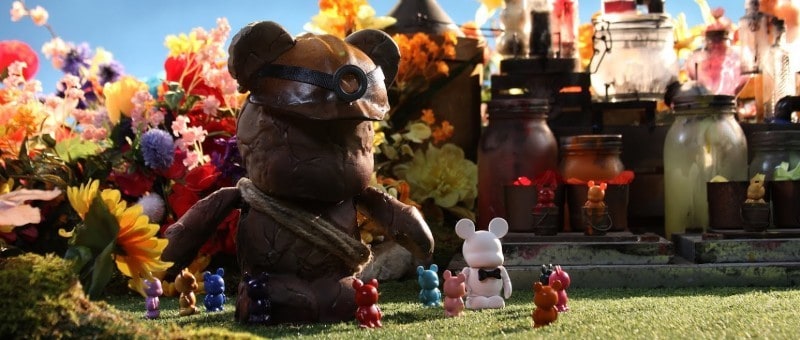 ABOUT DISNEY'S "BLANK: A VINYLMATION LOVE STORY"
Disney Interactive and Google teamed up to launch "Blank: A Vinylmation Love Story," an original animated short film. The film will be available exclusively on Google Play, Google's online store offering digital movies, books, music, apps, games and more.
Based on the popular Disney Parks Vinylmation collectible franchise, "Blank: A Vinylmation Love Story" is a 38 minute stop-motion animated film that tells the story of Blank, an unpainted Vinylmation, on an epic adventure through an original new world to find his lost soulmate.
Guests can download "Blank: A Vinylmation Love Story" for free exclusively on Google Play and can view the film online from their computer, or on their Android phone or tablet, or iPhone and iPad through the Google Play Movies & TV app. (Get the app for Android or iOS.)
To celebrate the premiere, Google is also inviting fans to share frames from the film with friends and family as digital greeting cards at blankmovie.withgoogle.com. After sharing a frame, guests can unlock a second special film, "Cranes in Love," created especially for Google users.
As for my love story, well, it starts at a house party a few towns from where we live now.  I went to surprise a very dear friend from summer camp I hadn't seen in a long time, her boyfriend's band was playing at the party.  My J was there, as he'd been roommates with Ann's boyfriend back in school… but I thought he was meant to meet up with my friend Maryanna, and all I could tell her all night was to go for it, and how cute he was.  A few months later, a group of us went to celebrate my birthday, and Maryanna and I had mutual friends with J…so they dragged him along promising him there would be 4 single ladies celebrating…
Well, it took about 4 seconds for me to have a goofy grin on my face.  Maybe less for him (he'd never admit to that). We were dancing and talking and having the most wonderful time… and honestly, it took him several days to call, but we've really been inseparable ever since. That second chance meeting was enough for both of us and we knew, this was it.   Like blank, I'd have and would still followed my J around the world to be with him again.
As for my friendship with Ann, we grew up in different states. We spent summers together at Camp Nokomis in New Hampshire.  4-8 weeks together depending on the year. The friendships I have from my years at camp never cease to amaze me. We don't see one another often, several years often go by between visits, but the moment we are together, that's it.  Time's gone.
What's your love story? Friendship story? Have you watched Blank and Bow?
I was selected for this opportunity as a member of Clever Girls Collective and the content and opinions expressed here are all my own.
0