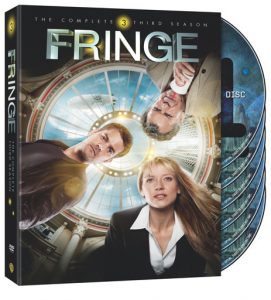 Season 3 of Fringe is set within two distinctive worlds where one world is affected by the actions that occur in the other.
How often do you feel like your professional and personal worlds collide? How does your online persona differ from who you present yourself as professionally?
My professional and personal worlds collide more and more frequently lately. With me, you kind of get what you get.  I'm Brett, I'm me, and this is what you get.  With some people that I've known in my travels, their personal and professional lives are totally separate, and their personas from those separate lives aren't the same.  I can't imagine what it would be like to act very differently at my place of work than my personal life and have those worlds collide.  Which of "you" would you act like most? First?  I'd be so confused.  I can't imagine living in a world where you are affected by the actions of yourself in an entirely different world as the characters on Fringe are.  But that's why the show is fun to watch- because someone else is imagining it for me!
Pre-order your copy of Fringe: The Complete Third Season on DVD here today: http://bit.ly/o2MYBv !
"I have been hired by Warner Bros. WBWord division to promote Fringe: The Complete Third Season on DVD/Blu-Ray."
0