The Cool for School promotion is still going strong from AT&T- this week's prize? A Samsung Galaxy Note! (Is it bad I'm dying to have one of these? I need a new phone!)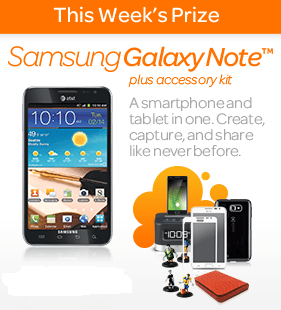 What comes with the prize?
The 4G LTE capable Samsung Galaxy Note™ combines all the benefits of a tablet with the functionality and portability of a smartphone. Whether keeping track of your family's schedule, taking notes, or editing your company's budget, the state-of-the-art and stylish Galaxy Note lets you do it all with ease. With its integrated S Pen™, dual-core processor, and 5.3-inch HD Super AMOLED™ screen, now you can multitask while on the go with one easy-to-carry device.

Work, play, and share without sacrificing speed, performance, or the pleasure and convenience of a larger screen. The Samsung Galaxy Note delivers fast downloads, smoother Web browsing, and an unparalleled multimedia experience powered by blazing-fast network speeds and a 1.5GHz dual-core processor. And improved calendar features will help you manage complicated schedules.

A distinctive user interface and large tablet-like 5.3″ HD Super AMOLED display provide crisp, clear text and imagery for superior Web browsing, photo viewing, and HD video playback. The distinctive interface provides fast, easy multitasking with full-screen utilization. See and do more with minimum scrolling and a split-view screen for email. The Note's super-fast connection speeds, powerful dual-core processor, 8-megapixel camera, and 1080p HD video capture combine to create a user experience second to none.

Let the ideas flow. The Samsung Galaxy Note's integrated S Pen solution makes composing emails, taking notes, drawing and capturing ideas simpler and more natural than ever. Create content in your own handwriting. The S Pen is fully integrated with native applications, making communication fast and easy. Use the S Pen to copy, crop, and paste images and write personalized messages on photos and video.
Each week, AT&T will be featuring a new deal on one of their hottest products. Not only are there hot deals but they are giving away products as well. For those that enter, you have  the chance to win smartphones, tablets, digital picture frames and more!
0