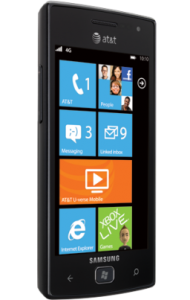 I am an admitted smartphone junkie.  I love having a phone that lets me stay connected whenever I want.  Being a social media person, I check email frequently thoroughout the day, and often need to "check in" in different places for different reasons.  A phone I have recently had the chance to try out is the Samsung Focus™ Flash, which is a Windows based phone preloaded with lots of fun and features.   I like the look of this phone, and honestly of all the smartphones I've tried to date, this is one of my favorites, and most user friendly out-of-the-box.   I like gadgets but I like someone to just have it 100% ready to go for me.  Once my service was activated, setting up all of my accounts and sync options was super simple.  The screen is a nice size, and the phone fits easily into my hand- things that make me happy.  I like the colors and the screen isn't super glare-y.  (Yes, that's right…that IS a technical term.  In my world anyway!)
With a Windows Phone, navigating the holidays has never been easier. The only phone with Facebook, Twitter and LinkedIn built in, Windows Phones are a perfect fit for the holidays, making it easy to connect and share with the people who matter, whether you're organizing holiday travel, picking out gifts or just saying happy holidays – no app required. Plus, with features like Local Scout, you can find your favorite shopping hot spots nearby – wherever you are.

I really like the affordability of this phone.  $49.99 right now at AT&T.com plus a free $25 prepaid APP card with purchase.  That's a pretty affordable phone, and who doesn't love freebies with purchase? 
One reader will win a Samsung Focus Smartphone!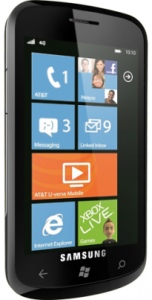 I received  a sample of this product in exchange for this post. Opinions are my own.