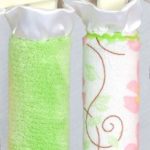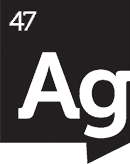 I am sure that all of you mamas out there have heard about the safety issues related to crib bumpers. This is an extremely important issue that is so often overlooked. Did you know that are an average of 26 crib related injuries every day? It is actually against the law for caregivers to use bumper pads, due to the risk of suffocation, but they are sold to parents everyday. If you are looking for more information on crib safety, please visit www.missionorg.com.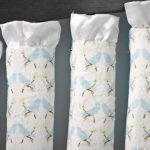 The problem that moms are faced with now is how to safely pad your babies crib. Sure, they sell those mesh like crib bumpers online and in the stores, but come on, who really wants to use those? They may be functional but they sure don't fit into that nursery decor that you painstakingly designed. Besides, I wouldn't want to sleep against one of those all night, would you? I was faced with this exact dilemma recently while switching my baby out of the bassinet and into the crib. I was so fortunate to discover the Wonder Bumper by Go Mama Go Designs. The so generously offered to let me try out their Bluebirds Wonder bumper, Minky Crib Sheet and Toddler Blanket. Here is some information about Wonder Bumpers from the manufacturer: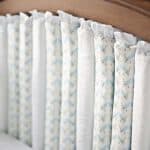 Why use wonder bumpers?
"
Wonder Bumpers are the safe, smart alternative to conventional bumper pads. Wonder Bumpers' innovative design continuously protects your baby's head and body, prevents escape artists from crawling out of their crib and provides increased air flow."
How Do I know which set to buy? – 24 or 38 bumpers?
"Count the rails on your crib! Cribs have anywhere from 30-60 rails depending on the model. Wonder Bumpers come in 2 options, one consisting of 24 bumpers, the other consisting of 38 bumpers. Some cribs will need a set of 38, other cribs will need 2 sets of 24. Mixing 2 sets of 24 give parents fun and fabulous mix and match options. In addition, we provide bumpers in sets of 2 to ensure you can make your crib a safe and soft place for your baby."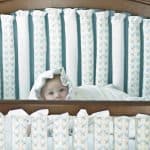 How Do I know if they will fit on my crib? "Wonder Bumpers are soft and stretchable. One individual bumper is 5" in width and will fit on rails 2.5". They will fit on both round and flat rails. Wonder Bumpers are also designed so you can zip 2 together for larger rails over 2.5". Each bumper is 24" long, but can easily compress to accommodate shorter rails."
Can put wonder bumpers in the washing machine? "Yes, you can wash all of our products. Please be sure to wash according to care instructions on the label for best results."
Can I buy one individual bumper? And are they reversible?
"You can purchase a package of 2 of any design Go Mama Go Design manufactures, this is only available on the Go Mama Go Designs website. All of there Wonder Bumpers, except Wishes of Windsor, are reversible. Due to the reversibility, the Wonders Bumpers provide multiple design options, our Baby Basic has solid on solid, while our other lines have a print on one side a solid on the other."
My Thoughts on the Go Mama Go Wonder Bumper: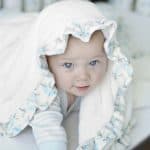 I cannot describe how much I LOVE this bumper! First and foremost they give me peace of mind. I know that I am providing the safest sleep environment possible for my little guy. The bumper also provides security for the future. My last son was a crib climber. Once he was able to stand at the crib rail, he would use the bumper pad as a sort of step. With the
Wonder bumper
this is no longer a worry. Secondly, the bumpers were so easy to zip onto each rail. They are made of quality materials that will stand the test of time. These bumpers are not only safer, but they actually work BETTER than a standard bumper. No slipping or sliding, no tugging to change the sheets. Last, but certainly not least, let's just talk about the sheer adorableness of these bluebird bumpers. I could not resist (the fact that the bright turquoise of the birds perfectly matched my bedroom walls was a huge selling point). In fact, the bright white with splashes of turquoise and spring green have become a great backdrop for my photography. The minky crib sheet and toddler blanket are great additions to this set. So cuddly! I love this product and design. So much so that now I am inspired to redecorate my entire nursery around it! Follow Go Mama Go Designs on
Facebook
to keep up to date and find out first about new products!!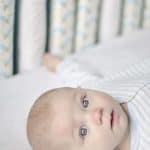 One Lucky Reader will win their own Go Mama Go Wonder Bumper Set or Pack up to $165 value!!!!!! (winner chooses design of their choice, excluding Wishes of Windsor Set) // <![CDATA[ /*{literal}{/literal}*/ // ]]>
a Rafflecopter giveaway
You need javascript enabled to see this giveaway.
"I was provided a sample of these products to facilitate my review. All opinions expressed are my own."
0