This post about baby shower invitations and ideas is sponsored.  I have a firm belief that all babies should be celebrated in some way.  They are, after all, a miracle, each in their own right, and I think they should all be welcomed with some sort of occasion.  It doesn't have to be big or fancy, doesn't have to cost a lot of money, or it can cost 3 mortgage payments- the point of the shower is to celebrate the impending arrival of a miraculous new life with the parents to be.

One of the first things to think about (after choosing a day, time and location of course) when you are planning to celebrate a new baby is HOW you are going to tell people about the event.  Email? Phone calls? Invitations?  If you are doing invitations, they kind of set the tone for the event, so choose carefully.  Find something that works with the theme you have in mind- and one that is in line with the mother-to-be's tastes.  Gone are the days when we all wanted lots of pastels all over the nursery walls- modern day families want their baby everything to reflect their family taste, lifestyle, etc.  Keep that in mind when choosing. 
For invitations, I always head to the internet first.  These days, I'd probably just head over to Pinterest… Regardless of where you search, be sure to check out Huggies sponsored baby shower invitations from Punchbowl.com, ( I LOVE the Woodland Creatures invitation, for about 400 reasons, but once you look at it (below) I'm sure you'll understand why all the love is there for these invitations.  What a darling an sweet theme for a baby shower- and with colors like that, it can be gender neutral if the parents are wanting to be surprised, or add accents to show off the baby's gender!).  These would be perfect for my dear friend who is pregnant with her fifth baby and who loves woodland creatures as much as I do.  (AND, I wouldn't get the "Cute baby shower invitations are simply not a reason to have another baby" speech again).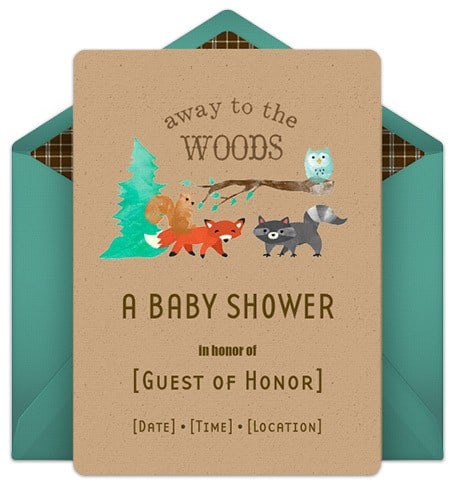 Photo Credit: http://www.punchbowl.com/huggies
Once you have your invitations set, it's time to have some fun.  Decorations can be super simple or they can be detailed and involved.  Work with your budget and be creative.  With a woodland creatures theme, I can use a lot of what we have in the yard for a celebration and spend next to nothing.  DIY Woodland Creatures Baby Wishes Book: If you have 3 guests or 35, encourage guests to give well wishes to the new baby.  Encourage folks to have fun with this one.  Take a photo for one side of the page and have guests be creative with the other. You can easily make a paper bag scrapbook in a few minutes time, probably with materials you have at home.  These are fun, inexpensive and adorable little books!  
(Check out my full tutorial for how to make a lunch bag photo album)   How cute would it be if people made thumbprint animals on little branches (see below), or in nests….with a little message to the baby?!  You could even include photos from the shower on the opposing pages.  See the little owl on the invitation?  That's what inspired the thumbprint idea.  You don't have to be super artistic to make a thumbprint and add a face, so everyone can participate.  This will work for any number of guests…although if you have a LOT of guests you might want to just make a large canvas for mom to hang all of the thumbprint critters in the nursery later.  Make a garland of greens or vines- use wood bowls for serving foods if you have them.  There are so many things you can do to create a wonderful, personal baby shower without spending a lot -or you can spend a ton- little personal touches are what makes the event memorable.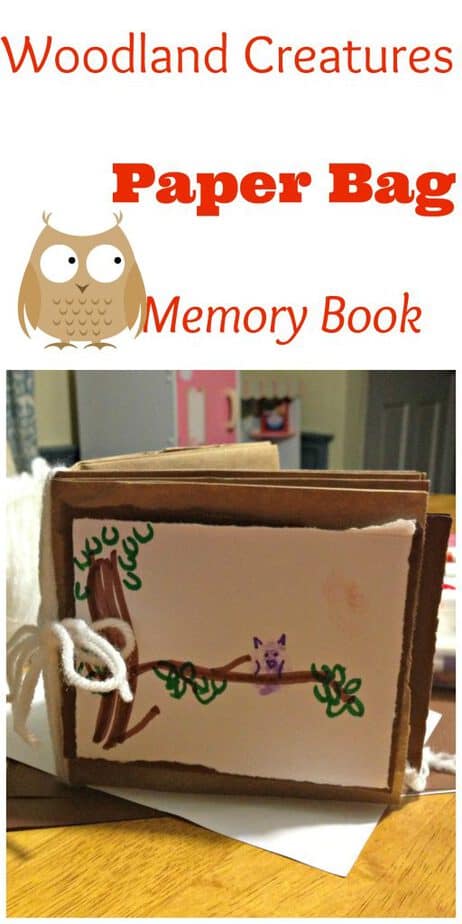 For other Woodland Creature Baby Shower Ideas, visit the Woodland Creatures Pinterest Board.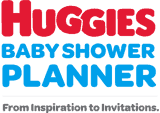 You can find an exciting array of theme ideas on the Huggies® Baby Shower Planner—it features games, favors, flavors, diaper cakes and more. Visit Huggies® on Pinterest to create exclusive invitations to match your theme and inspire your guests.

Want to win $1000 towards a baby shower? Enter Tend's Pin-To-Win Sweepstakes! 
Sweepstakes Details: PIN IT TO WIN IT! Win a $1000 Baby Shower from Huggies
How to Enter (two options):
1). Go to the Huggies Sweepstakes tab on the Tend page on Facebook at https://www.facebook.com/TendByGlam, where you will find photos from the Glam/Huggies Baby Shower Event. Select your favorite photo, fill out the entry form, and submit to pin your favorite photo to Pinterest.com.
2). Enter via Sweepstakes widget  BELOW.  Enter your email address and click "Submit & Pin" to pin the image displayed. After pinning, you'll be redirected to the Tend Huggies Baby Shower board where you'll need to re-pin your favorite image for a chance to win.


Only one (1) entry per person/email address during the Sweepstakes Period. The winner will be determined in a random drawing from all eligible entries.
Sweepstakes begins at 12:00 AM, Eastern Time ("ET") on 08/08/13 and ends at 11:59 PM ET on 9/08/13 (the "Sweepstakes Period").

Disclosure: Compensation was provided by Huggies® via Glam Media.  The opinions expressed herein are those of the author and are not indicative of the opinions or positions of Huggies®.
0