Welcome to the World's Funnest Dad Giveaway!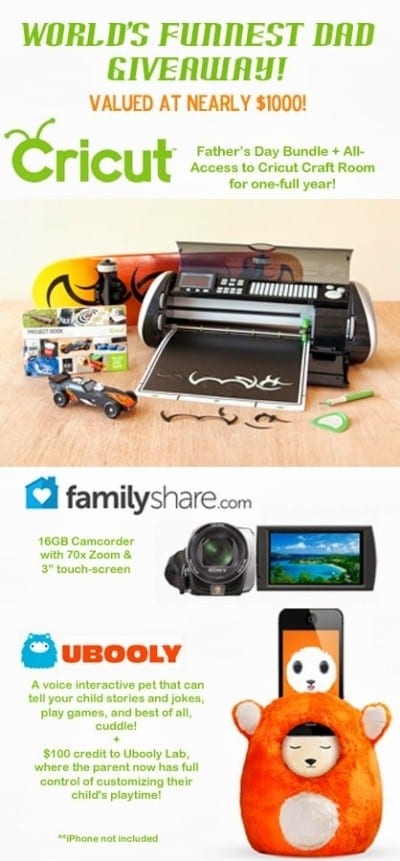 What's up for grabs in this amazing World's Funnest Dad Giveaway?
-A Cricut Father's Day Bundle + a year of Cricut Craft Room access to more than 37,000 images!
-An Ubooly—a plush interactive toy that works with your smart phone to make your kids smarter+ $100 in Ubooly Lab credit
-A camcorder from FamilyShare.com with 16GB of internal memory, 70x zoom and 3.0" touch-screenAbout FamilyShare.com
FamilyShare.com is a site designed to provide tools to strengthen families worldwide. Filled with practical solutions from real people, FamilyShare.com can be your go-to guide for a stronger, more loving family. Whether you want to ask a question or help others find a solution, you can find and share tips on parenting, home, health, vacations, love, and all things family.
Over $1000 value in prizes!!!!!!!!!!
About the Cricut Father's Day Bundle
Complete with a sleek, black Cricut Expression and multiple manly materials to create with, the Cricut Father's Day Bundle will get the dad in your life creating with cereal boxes, Duck Tape and vinyl for crafts and customizing everything from tech to water bottles. You'll also find a deep-cut blade & a Cricut toolkit, which makes creating manly crafts easy! Your Dad & family will get all-access for one full year to the entire Cricut Craft Room digital library, which includes access to more than 37,000 images and fonts!
About Ubooly:
When we first created Ubooly we wanted to provide children with an interactive & engaging toy that would be both entertaining & educational. As children everywhere are falling in love with their new pet, now it's time for the parents to play. With Ubooly Lab the parent now has full control of customizing their child's playtime!
· Ubooly will know their child's name, like the same: colors, interests, food, hobbies etc.
· By purchasing credits parents will be able to unlock Educational, Interest, and Helper packs.
o Educational Packs: Our Lesson packs are created on a 5 day schedule, and keep parents in the loop with progress reports
o Interest Packs: Our interest packs are full of fun facts of trivia to get your child excited about specific topics.
o Fitness & Helper Packs: Ubooly will also help with personal growth & create healthy habits through the Fitness and Helper packs.
· Content packs are all designed to be age appropriate for different age ranges (3-9)
· Content packs are written by a large team of elementary teachers & comedians
Additional Features to write about:
Ubooly small talk:
In our new app we will also be releasing a hilarious feature where two Uboolies will talk to each other when they recognize they're in the same room.
a Rafflecopter giveaway

No compensation was received – my Pinterest link was added to the Rafflecopter form.
0