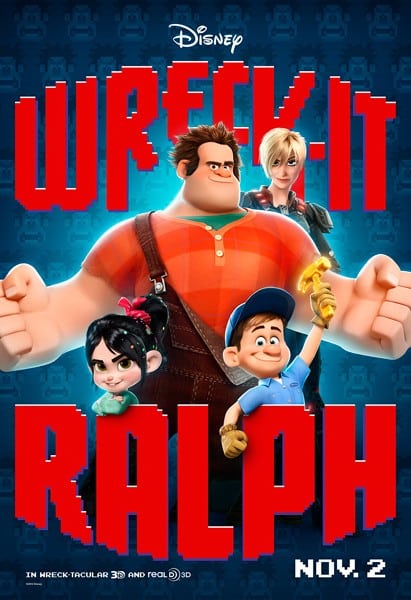 Do you want to know how to make two techie adults and a 7 year old, self-proclaimed, "gamer" happy?  Take them to a movie about a retro arcade game character.  We heard about Wreck-It Ralph  at least a year ago and have been awaiting it's November 2, 2012, release on the big screen.
We went to see Wreck-It Ralph on Tuesday and we all loved it.  My 7 year old has seen all the ads on TV and read the book so he was super excited to see parts he knew.  He was engrossed then entire time.  Wreck-It Ralph had the right balance of comedy, adventure and a cute story line.  This is a movie we will purchase on DVD and watch it many more times.  For the adults, there are some truly hilarious retro arcade game references (Pacman Q*bert, and more)  and enough play on words to keep us engaged and laughing.
Wreck-It Ralph has likeable characters for both boys and girls.  Ralph is the "bad guy" but is also a big teddy bear.  Vaneloppe, the sweet little girl, is a tough cookie and gives Ralph a run for his money.  The movie is rated PG for some rude humor and mild/action violence.  Wreck-It Ralph is a fun family movie that you all should check out.
About Wreck-It Ralph
From Walt Disney Animation Studios and Emmy®-winning director Rich Moore comes "Wreck-It Ralph," a hilarious, arcade-game-hopping adventure. For decades, Ralph (voice of John C. Reilly) has been overshadowed by Fix-It Felix, Jr. (voice of Jack McBrayer), the good-guy star of their game who always gets to save the day. Tired of playing the role of a bad guy, Ralph takes matters into his own massive hands and sets off on a journey across the arcade through multiple generations of video games to prove he's got what it takes to be a hero.
On his quest, Ralph meets tough-as-nails Sergeant Calhoun (voice of Jane Lynch) from the first-person action game Hero's Duty, and feisty misfit Vanellope von Schweetz (voice of Sarah Silverman) from the candy-coated cart racing game, Sugar Rush, who may just be his first real friend. But everything changes when a deadly enemy is unleashed, threatening the entire arcade and Vanellope herself. Ralph finally gets his chance to save the day—but can he do it in time? "Wreck-It Ralph" crashes onto the big screen on November 2, 2012, in Disney Digital 3D™ in select theaters.
Check out these super cute Wreck-It Ralph Coloring Pages
Wreck-It Ralph Coloring page 2
Wreck-It Ralph Coloring page 3
Remember to enter the Wreck-It Ralph T-shirt giveaway HERE!
Who are you going to take to see Wreck-It Ralph?   What is your favorite Disney movie?
Advance screen seats were provided, all opinions are my own.
0