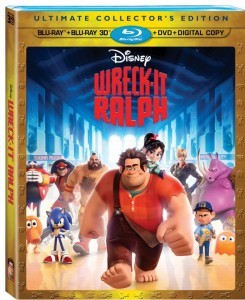 My whole family LOVES Wreck It Ralph.  There's so much TO love.  There's sweet, there's funny, there's action, there's a love story…the underdog story, the surprise twist…and…my favorite…Sour Bill.  I think he's one of my favorite Disney characters, ever! Now that Wreck it Ralph is out for purchase, we can watch again, and again, and then again.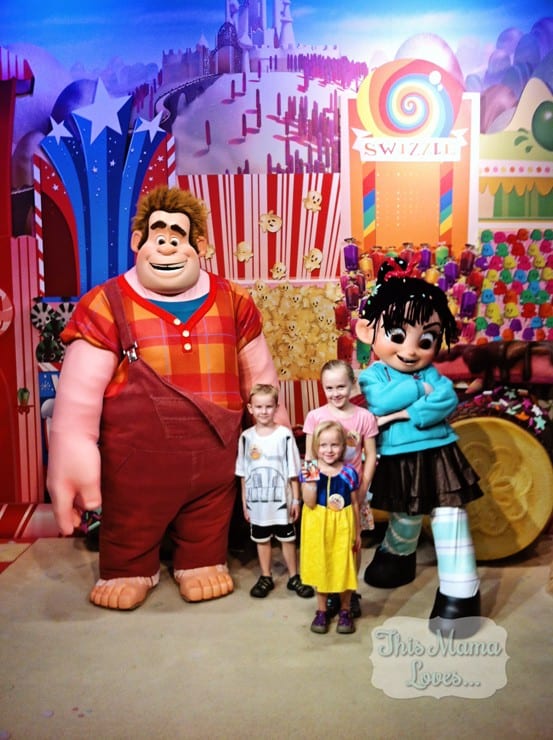 All 3 kids insisted we wait 45 minutes in line to meet Ralph and Vanellope.  They were not willing to wait that long to meet Mickey Mouse.  That's got to speak volumes.
Haven't hear about Ralph? He's the "bad guy" in the arcade game "Fix it Felix" who wants to be the hero and have the accolades that Felix Jr. has. When the folks in his game don't want to see him as anything but the bad guy, Ralph leads his game and sets out to find a way to win a medal, so that the folks in his game will recognize him and see him as more than the bad guy. Of course, Ralph gets into situations and learns a whole lot of lessons along the way. He also meats some hilarious characters from all kinds of arcade games who interact in really neat ways- there's love, there's action and there's a whole lot of funny (see above reference to Sour Bill). Most of all, there's Vanellope von Sweetz, a spunky, sassy little "glitch" in the Sugar Rush Candy game at the arcade where Ralph ultimately lands. Their unlikely friendship tugs at your heartstrings and their joined sense of being outcast is just so sweet, and sets such a stage for a great story line.
I didn't even realize until I was grabbing the box art for this post that there are Hidden Mickeys in this movie- now we have to watch it again to find them! I should know better by now and always look for those hidden Mickeys…

Can't get to the arcade to play games this weekend? Check out these fun (and free!) Wreck it Ralph games and activities!

Thanks to Disney for the combo pack to review of Ralph! We may just wear this one out!  
0