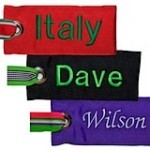 YourBagTag™ makes personalized fabric tags for just about any bag you can imagine- although you can also use them for other things besides bags!!  Your luggage can easily stand out from others- how nice will it be to spot YOUR luggage quickly?  There are over 50 varieties of the tags so you are sure to find one to suit your taste- or bright enough to locate your luggage, or your SCUBA gear, tennis bag…or whatever you decided to put them on!  I like that they suggest using these for gift tags- what a unique way to label a gift and have it be part of the gift!

Since we often order our groceries from a local store and pick them up, we're able to leave many of our shopping bags right at the store.  I decided to order some bag tags with our last name on them for some of my favorite bags, just in case.  We've not had issues but I really love some of the bags we have and don't want to lose them!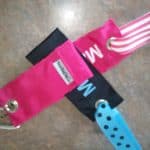 Ordering my tags was really simple.  Literally a few quick clicks, entering our last name and that was that.  I love sites that are so user-friendly.  YourBagTag also shows you an example of the product in the color combo so you can see what it will actually look like- something that not everyone does and I'm sure I'm not the only one who's ordered something and received a very different looking color or design!  That just makes me crazy!!
Including browse time for my three tags, I spent 10 minutes choosing, ordering and completing the checkout process.  I don't want to be stuck entering a ton of information or held up in a slow site- I want to be in, get what I need and get out, to carry on with my day! I got one of the carabiner tags and 2 ribbon tags for my review.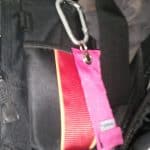 The longer I have these tags the more I think they're such a great thing- sport bags, beach bags, the bags you keep camping chairs and umbrellas in…identifying your child's larger items at summer camp- the list can go on and on!  There are lots of varieties and you can even get photos put onto a tag, have different ways to attach your tag…even blank tags to design your own (what a cute idea for Mother's Day or Father's Day, or for a college-bound student leaving home for the first time- just a little something to make them think of home!!).  Luggage tags aren't just for luggage any longer, I guess.   If you have to have it tagged, why not do it in your style, on your terms?  Who says they have to be boring like the ones I've always had…jazz it up a bit, and have some fun!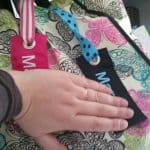 YourBagTag™has offered to send one of my readers three of their own bag tags!
Mandatory Entry: Leave a comment with your name and be sure to leave a valid email address so I can contact you if you're the winner!
Extra Entries:
Like Your Bag Tag on Facebook
Tell me what you would like to use your tags on! +2 entries
Follow my blog publicly via GFC, RSS Reader or Twitter
Share this giveaway on any soical networking site: #win 3 #custom #luggagetags from @yourbagtag & @mamatomjr http://wp.me/p1qA6G-19l
 (can be done 2x day at least 1 hour apart per site)
Enter any other giveaway +1 entry/giveaway up to 5 entries
Leave a relevant comment on any non-giveaway post +1 entry/post up to 5 posts
This giveaway will end on May 18, 2011.  US only.  Winner to be chosen using "and the winner is" plugin.  Winner has 48 hours to respond to initial contact or a new winner will be chosen. 
This is a compensated post and samples were provided for my review.  Opinions expressed within are my own. [ad#glam between posts]
0