I recently discovered Zumba classes at the gym where I work out. I have heard about this type dance aerobics for years, but have never tried it until now.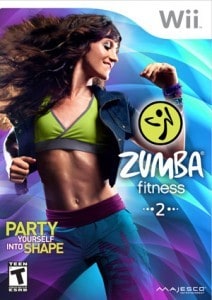 Wow, it's a really great workout and boy did I sweat! I find that the upbeat music and dance moves keeps me motivated throughout the entire class. The only problem is: with 3 kids how to I manage to get to the gym? It's near impossible to get away these days.
I was thrilled to try out the new Zuma Fitness 2 for the Wii. I want to be able to exericse at home, and maybe even have the kids join in. This could be a great way for the whole family to get some exercise during the winter. I thought this game was really well thought out and gave me a great workout. Here's my breakdown:
Zumba Fitness 2 is great for any level of fitness. You can start by doing a single song routine and building up to a full class. For more advanced Zumba enthusiasts you can choose from routines that are 20-60 minutes long. They even give you the option of building your own routine by picking out your favourite tracks.
The Zumba Belt that is included with the game allows you to exercise hands free. I found that this really helped me get into the dance moves. The wii remote is placed in a special pocket on the zumba belt that you wear around your waste.
This game is fun! They really made an effort to make the instructors look realistic, with detailed features and great settings. The setting changes depending on the song. The settings vary from a dance club, to a luxurious pool side party. I found that these elements really kept me engaged in the routines.
Zumba Fitness 2 offers a "video cueing system" that helps you follow the choreography. There is also a progress tracker which offers a lot of useful information, including how many calories I burned during a routine.
It's a great game for those who love to bust a move on the dance floor, but also good for people who may not have as many "dance skills". The instructors are fairly easy to follow and the steps are repeated often enough that it is easy to pick up the routine.
You can get the whole family involved with up to 4 players. Please note that the game only comes with one zumba belt. Additional belts will need to be purchased if more than one player will be participating.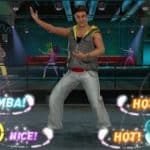 My family had a great time with this game and I felt like we all got a great workout. I definitely recommend this game for those who love Zumba, but find it hard (or too embarrasing) to get out and take a class.
Zumba Fitness 2 can be purchsed at: Amazon.com (for 34.39), bestbuy.com(for39.99) andgamestop.com(for 39.99).
One of our readers will win their own Zumba Fitness 2 game!
"A sample of this product was provided to facilitate my review. All opinions expressed are my own."