We live in an increasingly connected world and every day brings new products that allow us to share data across different devices.  These three new products from IOGear are aimed at simplifying the mess of managing media files across all of your different devices.
Screenshare – Wireless Mobile and PC to HDTV
First we have the Screenshare, which allows you to connect your HDTV to any wireless device and show movies, share pictures and play music over the TV.  The unit is a small, black box that will fit anywhere near your TV without taking up a ton of space.  One nice touch is that the LED lights for power are very low intensity so they don't add to the array of lights you probably already have in your home, which can be distracting when watching a movie in the dark.  The box includes quick setup instructions and to use the basic functionality of the device, it is very quick. Within a few minutes I was playing music off my phone to the TV and a few minutes more had me streaming videos.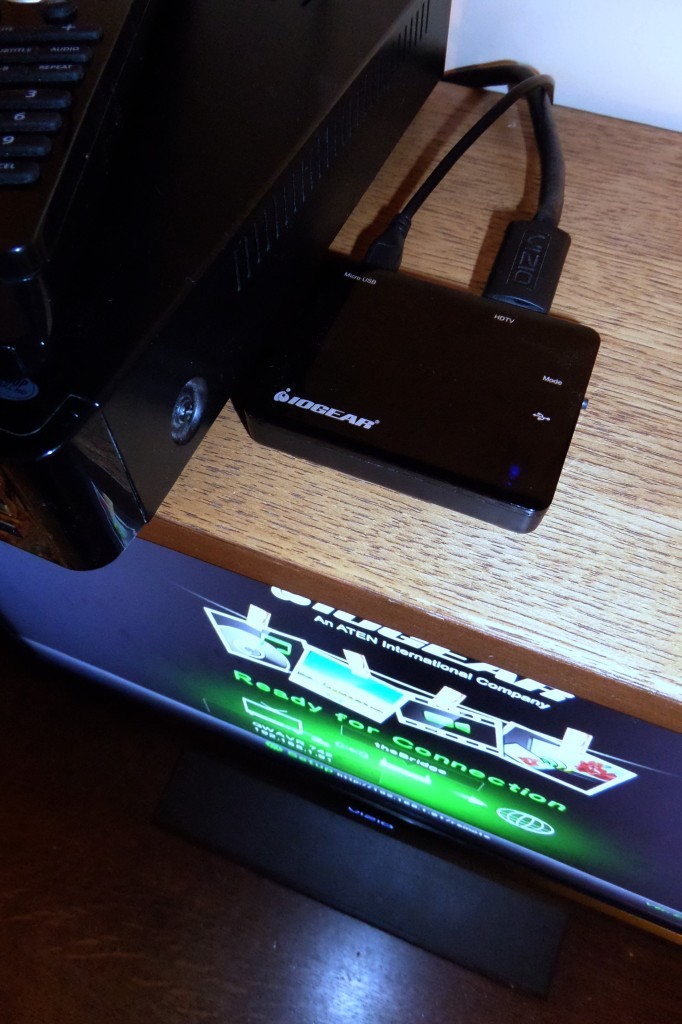 After plugging the power adapter to the micro USB port, use the included HDMI cable and simply connect the unit to an unused HDMI port on your TV and select it.  ScreenShare is compatible with a couple of different standards, so the setup varies a little bit depending on your TV and phone combination.  There are a couple of quirks to setup that you need to pay attention to.  The first is that you need to have the app downloaded and ready on your device before you connect your device to the hub's wireless signal or you won't be able to use it.  The other is that there is no way to manually input a network to the hub, so if you want to connect to your existing home network (to share off a PC or laptop) your network ID has to be broadcasting publicly (an annoyance for those of us who are paranoid about our network security).  Configuring the device to work on my existing home network was quite a bit more complicated as I had to change settings in my router, but this allowed me to stream videos without using up data from my mobile plan.
All in all, this is a very cool little device that will be keeping a place on my entertainment center for some time to come.
MediaShair Hub
The MediaShair Hub is basically the opposite of the Screenshare – right down to the color, which is white instead of black.  This unit allows you to broadcast a signal wirelessly with up to 7 other devices, so that people in different parts of the house (or car) can see the same content. You can stream content from a thumb drive, SD card or portable hard drive.  The hub also can act as a wireless router by hooking it up to a wired internet connection.  As one final bonus, you can also charge a phone or tablet from the built in battery in the Hub. The setup is again quite quick and easy, simply download the appropriate app for your device and connect to the Hub.  The box includes a car adapter and short USB cord.  We have a family vacation coming up in a few weeks and this will be a great way to keep the kids occupied in the car.
TuneTap
The last piece we have is the TuneTap, which allows you to pair your home stereo system to any Bluetooth compatible device.  The unit is again a small black square that should blend in with the rest of your A/V equipment.  The box includes a USB cord, power adapter and a 3.5mm to RCA cable adapter.  As with the other two units, setup is quick and painless, simply plug in the power cord, connect to an open port on your home stereo and then pair your device over Bluetooth.  If you have an Android phone that has Near Field Communications, it is even easier, as you can simply tap the phone on the unit and it pairs seamlessly.  You control song selection through your phone as usual, making this great for working around the house listening to music as it works through walls and around corners, unlike your system remote.  The range seems to be about 30 feet so as long as I'm on the main floor of the house, there are no skips or pauses in playback.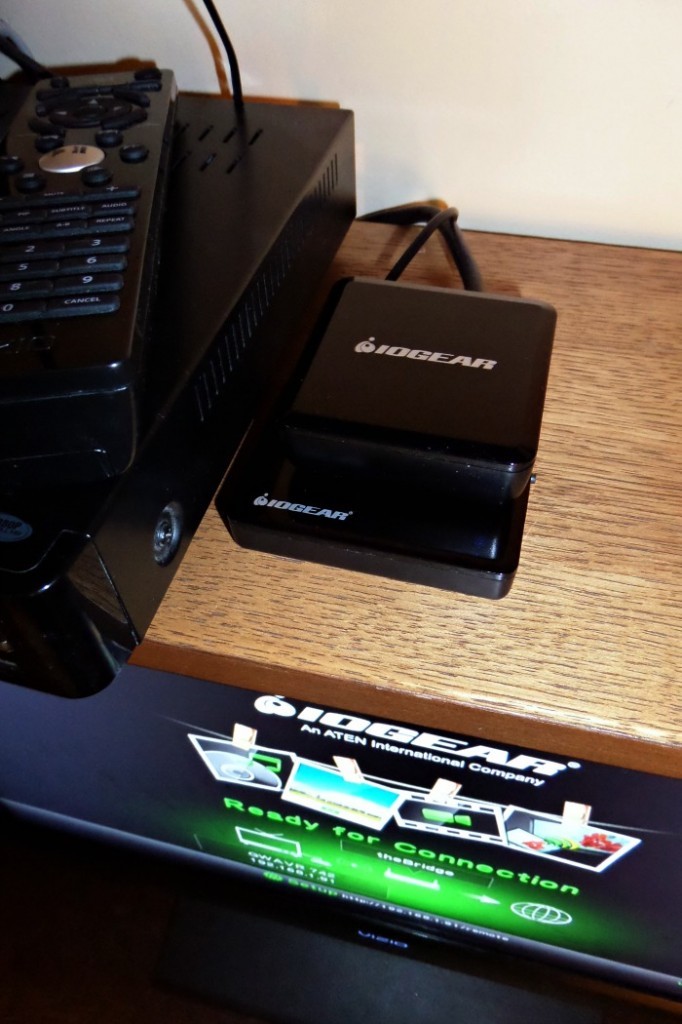 All three devices are well constructed and come packaged in a plastic tray and have protective plastic on them, so they arrive undamaged.  The quick setup cards are clear and instructions are easy to follow with a lot of screenshots to guide you.  Styling is very subtle, these devices are here to help you out, not be show pieces in and of themselves.  Each one fills a very useful niche and will be getting plenty of use around our house.
These items were received for consideration from IOGEAR.  All opinions are my own.