These 10 things you probably don't know about is part of a sponsored conversation via Dunkin Donuts.  Opinions are my own.
Ready? Here's more about me than you ever wanted to know!
1. I have 2 tattoos. Mickey Mouse holding flowers and a pink starfish.
2. I went to summer camp on an island in the middle of Lake Winnipesaukee for 10 years growing up.
3. I have a weird aversion to purple food. There's no reason at all for it.
4. I'm the youngest of 8 kids, all totaled. 4 brothers, 3 sisters. We're a blended family but it's my family and has been so since I was 3 and I know nothing else.
5. My sister Debi died when I was a sophomore in high school.
6. Pour Some Sugar on Me should be played at full volume every time. It does lose some of it's effect of awesome when done in a minivan, but I make do.
7. If I've been someplace, chances are, I've used the bathroom. I think I have the world's smallest bladder. I used to have accidents all.the.time. I also would wait until the last possible second and then run like crazy to make it to the bathroom in time. My 4 year old is the same way. (sorry, mom and dad!)
8. I haven't ever had coffee on purpose without sweetener. If I'm at Dunkin Donuts, it's got to be light and sweet with skim milk.
9. I worked at a Cumberland Farms for a really long time. It was actually a lot of fun.  The holiday "bonuses" of a half gallon of their brand eggnog and ice cream were a little lacking, but I had a great boss and learned a lot.
10. I had a love for overalls (even capri overalls) that went on far, far too long.
11. I can't snap. The first trick my husband taught our Tobey when we got him was to bark when he snapped. Guess who can't get Tobey to bark? 😉
12. I also can't wink. I mean, I try, but my eyes don't move separately from one another. There's no discretion if I'm winking. Unless you are looking at the back of my head.
13. I used to tell people my name was Bridget. All the time. My mom would stand behind me shaking her head, and I'd be all "I'm Bridget!"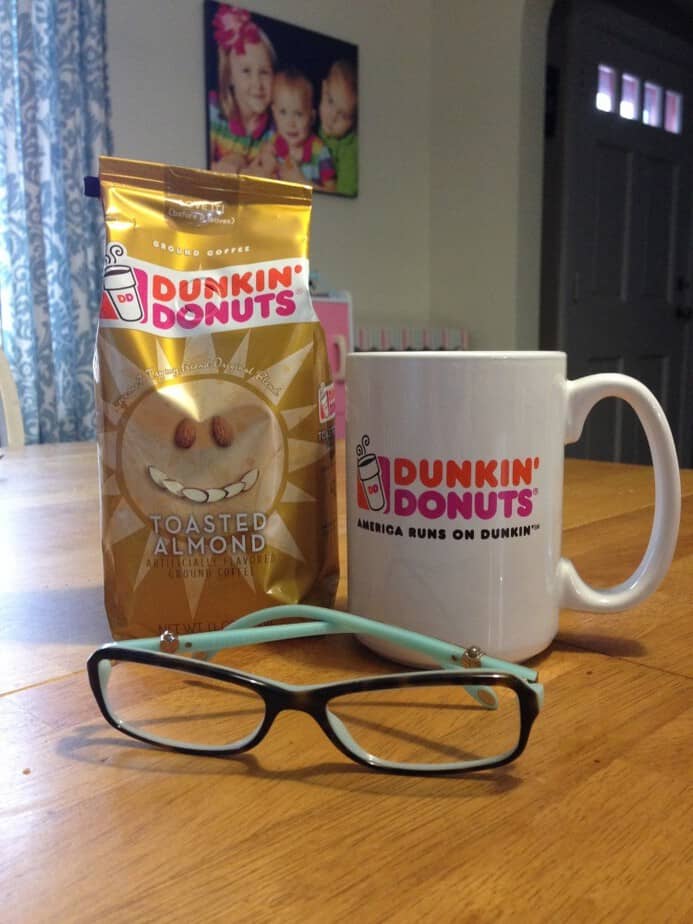 14. My eyeglasses are about as hip as I get. Given that I'm currently sick (again) I will spare you a photo of me in my specs. Although as I write this, I am realizing that my 'hip' glasses have little holes so you can attach eyeglass chains.
Perhaps my hipness is gone? I'm still going to pretend. Cool glasses and fun coffee makes me hip. It does.
15. I'm really no good at sticking to lists of 10.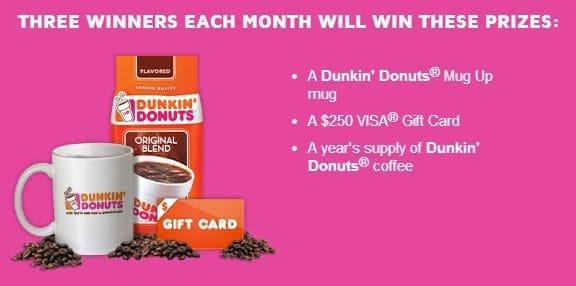 Dunkin' Donuts loves the hipster vibe. Take a picture of you and your mug in your old school kicks and vintage tees and upload here for a chance to win sweet prizes in the Mug Up Contest.
This is a sponsored conversation written by me on behalf of Dunkin' Donuts . The opinions and text are all mine.