Are you looking for a quality all in one sound system to bring the best out of your home audio and home cinema? Are you short on space, prefer less "stuff", looking to create a theater sound at home? The Polk Audio – 2.1-Channel Soundbar System with Amazon Alexa Voice Assistant built-in is just what you are looking for! It's got a sleek, streamlined look that sits right by your television with no bulk and brings theater-quality sound to your living room!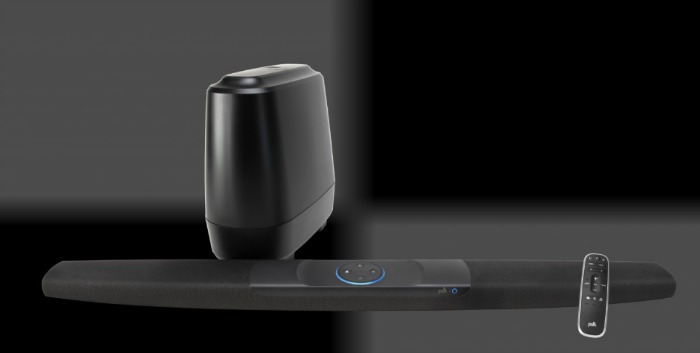 The reviewer of this all in one sound system has been compensated in the form of a Best Buy Gift Card and/or received the product/service at a reduced price or for free.
All in one sound system: Polk Audio Soundbar System
My husband has had stereo components since I met him. Almost all of them are Polk Audio brand. He has an appreciation for the quality and durability of the Polk brand, which I've come to have as well, so when we heard there was an  all in one sound system, we were really excited to check things out. We weren't disappointed, although now we're left with the decisions about where the sound bar will reside permanently. I'm in love with the aesthetics of a streamlined living room tv area, and the sound quality is amazing.
We have 2 movie watching areas in the house, so we want to have the traditional sound system in one and the new, sleeker and technologically advanced sound bar in another. We keep going back and forth so if anyone has suggestions, please let us know!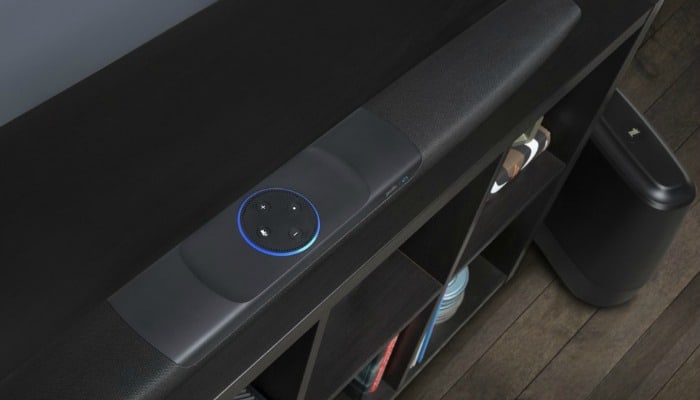 The Polk Command Sound Bar offers an amazing sound system for your home stero system. BUT- it also comes with Amazon Alexa for quick, easy voice control. It's almost like we don't even need the TV clicker anymore, and I love that.
Specs
Built-in Amazon Alexa

Easily control, monitor and schedule your electronics using your voice.

260W total output power

Provides quality sound for your favorite movies, shows, games and music.

Performance-tuned driver array, wireless subwoofer and Dolby/DTS surround sound decoding

Bluetooth music streaming

Makes it easy to enjoy tracks stored on a compatible Bluetooth-enabled device (not included).

Sleek appearance

Fits seamlessly along most HDTVs for a streamlined look.

Universal Compatibility

Included High-Speed HDMI and Optical cables ensure quick and easy setup and the low-profile 2″ design won't block your TV's screen.

Fire TV Compatible

HDMI ports designed and spaced to fit Fire TV and other wide HDMI streaming devices. Built-in USB port also powers original and 4K versions of Fire TV (where Fire TV is available).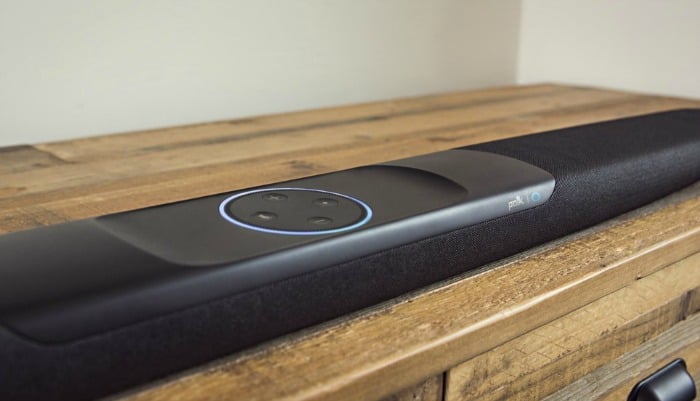 The Polk Command Sound bar is an all in one sound system, and then some. Grab one now, at your local Best Buy store or at BestBuy.com!
Our Experience
We were able to take this sound bar out of the box and have it set up in about 25 minutes. It probably would have taken us less time but there was a NERF gun battle in the midst of this setup and, well, things happen.
FYI: NERF darts don't hurt the Command Bar. I don't recommend testing this, but since it happened…
Sound quality is excellent. As with our previous subwoofer that was a separate piece of stereo equipment, we loved the enhancement of special effects especially when we watched several Star Wars movies the first weekend we had it.
This is a whole lot of quality sound in a nice tidy package- I love that it's just a few simple pieces and not a lot to dust around and under. The husband and the kids are more into the sound quality and trying to be the "boss" of Alexa all the time.
We've got the Polk Sound Bar on the list for some holiday gifting this year!
I cannot wait to have my coffee group friends over – we have plans for a pajamas and hot cocoa and Hallmark movie marathon day in early December and we will absolutely be watching with our Polk Command bar alongside! Perhaps when you buy one of these for a gift, you should grab one for yourself…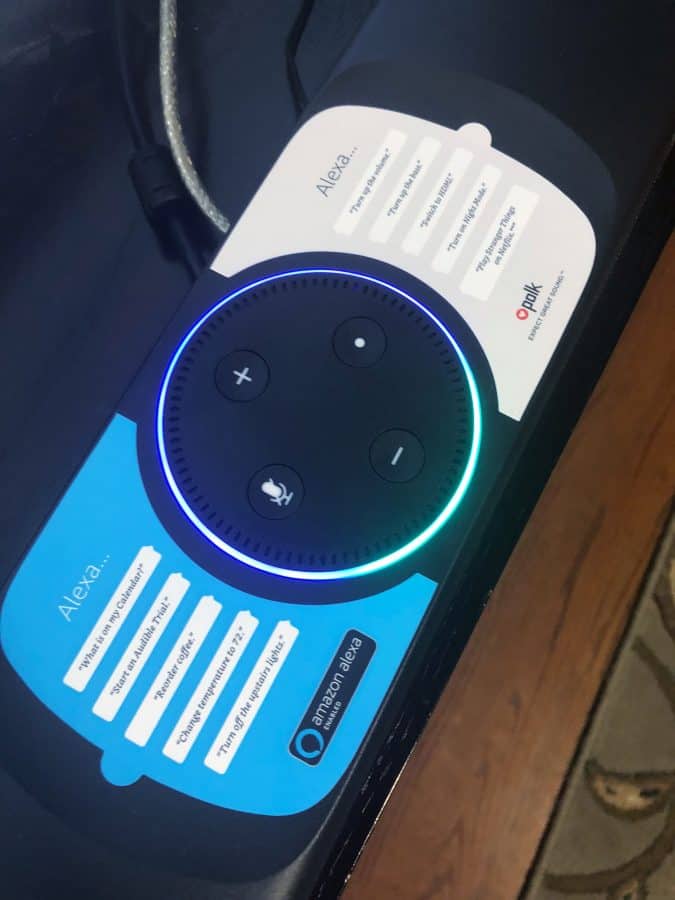 Pro Tip: If you have more than one device with Alexa close to the sound bar, you may want to move it further away. When we first set this up, both Alexa devices were responding!
Have you looked into an all in one sound system? Have you looked at the Polk Command Bar?