American Girl sent us two of their Bitty Twins for review.  As with anyone shopping for these gorgeous, well made dolls, we were able to choose the skin tone, eye color and hair color for our dolls.  These 15 inch dolls are gorgeous- very well made, nice, soft bodies, strong stitching (the kids have put this to the test, trust me) and beautifully molded arms, legs and  heads with, one of MY favorite features, hair that can be styled.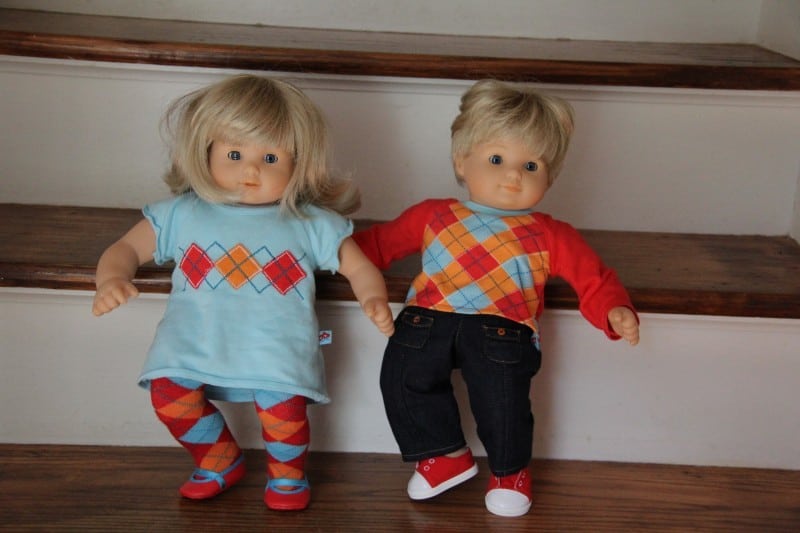 I don't know what it is that American Girl does with the hair of their dolls but we don't have anything else in this house in the "toy" category that has hair that we can actually get a brush through.  With the Bitty Twins, we CAN brush the hair, and style it- and it's been a lot of fun for my girls to make pretties in the babies' hair and, I fully admit it, me, too.
When you purchase the Bitty Twins, you can choose the features of each twin separately- so if you want one dark hair and one light hair twin, you can do that.   There are 5 options for the girl twins and 5 for the boy twins.  The twins are not inexpensive at $100 for the pair but they do come with an adorable outfit that is also well made, plus a really sweet little board book, The Bitty Twins Learn to Share, which I have now read about one thousand times and will likely continue reading for a long time!
The clothes they come in are brightly colored and, with the exception of the shoes, quite easy for little hands to put on and off.  Perhaps it is my kids but doll shoes of any sort are tough to get onto doll feet?  I adore the argyle outfits that the twins come in.   American Girl also carries a great line of clothes for the Bitty Twins including several that you can purchase for your little one to match her doll!! (As of this writing, there are boy outfits, but apparently there isn't a big market for little boys to have outfits to match their babies…maybe someone will read this and know there is one?  This soccer outfit would be cute on my 4 year old!!)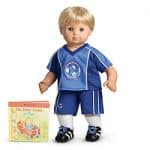 My son loves his as much as my daughters love theirs- he took at  look at his, announced that his name was "Dayvon the Hairy Baby", and promptly took his baby over to show him his building creations.  The two have been "thick as thieves" ever since.  My little guy loves to bring his Bitty Twin on walks with us, we have a few kid-sized baby carriers, although both of his sisters prefer to bring their dolls in baby strollers.  I chuckle every time the kids ask if we can take the "hairy babies" for a walk.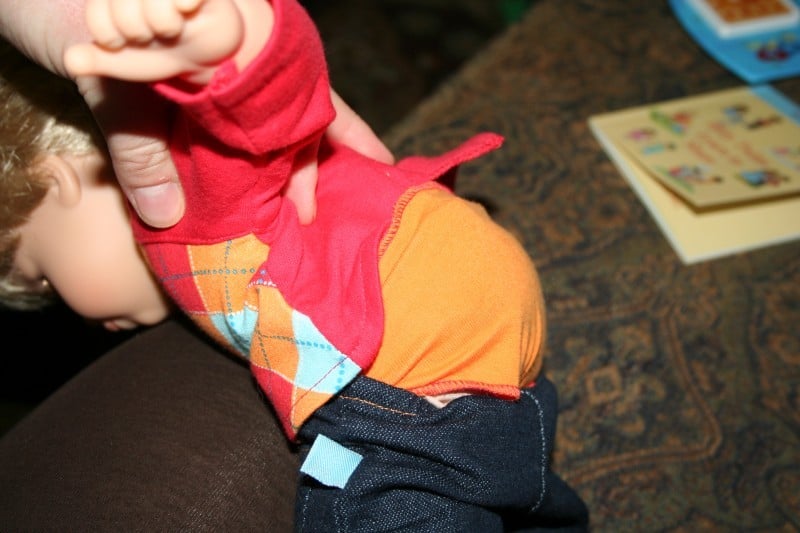 In addition to the clothes and accessories for the Bitty Twins, there is also an adorable, fun and engaging line of furniture and accessories- from a double jogging stroller to potty seats and mealtime playsets, and so many other things in between.  The Mix & Match Meals are so much fun- the tiny little cafeteria style trays, and the different foods- I end up spending most of my afternoons playing "Baby School" with my kids- I get to change babies and feed them, but not run centers!!  So I have spent many hours playing with this set.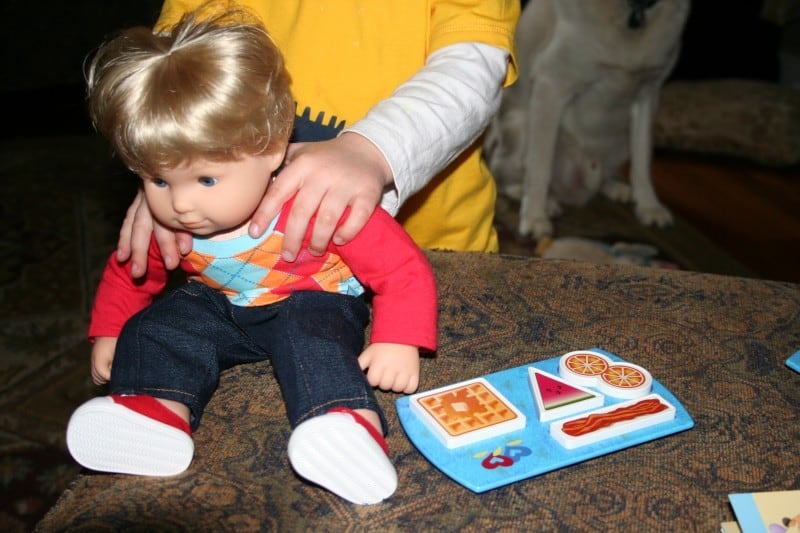 These dolls are MADE to be loved, changed, played with, hugged, played with some more, and then, after your little one has a nap, played with some more.  We've had a few other kinds of dolls in our house and 2 of them fell apart with frequent play.  My kids were so sad about this.  I really feel that the Bitty Twins are really well made (as are the Bitty Babies, ours is named Maggie), and made to be played with- not just admired.  This is something that, in my opinion, is worth paying a higher price for.  We have had a few 'hairy babies' before but the hair is tangled and not at all easy (or really even possible) to comb through the hair and *I* get frustrated trying to make it look nice, let alone a 3-6 year old.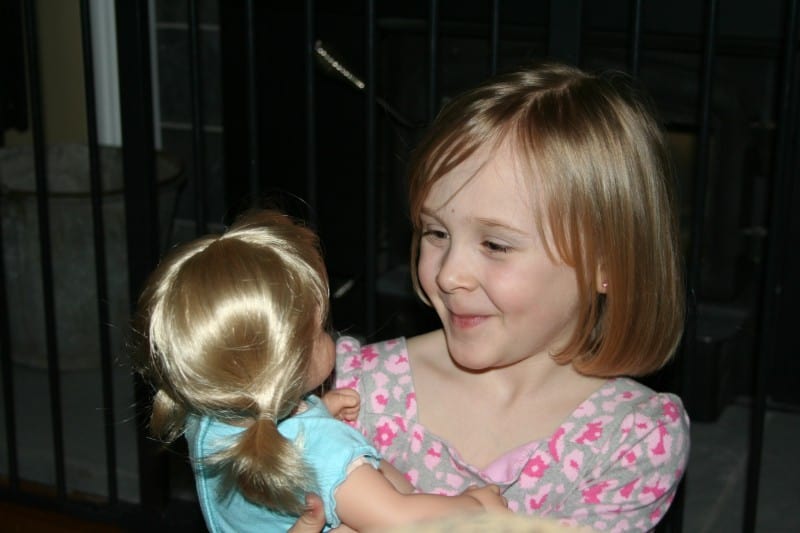 1