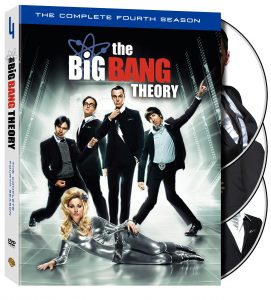 Bazinga!  I have to admit, here and now, that Big Bang Theory is one of my very favorite shows.  Probably my favorite.  I just love it.  I'm not sure if its just one thing or the melding of the stories, the characters and the folks who play their parts so well, but I have (I think) seen every single episode since the pilot and loved them all!  And yes, I do admit I have a tiny little crush on Sheldon Cooper. 
 A lot of people go after hip and popular, but these days geek is chic. This is good news for folks like me who are, while admittedly not as smart as Sheldon, Leonard, Howard and Raj, still geeky!  Well, it would be, were I not married.  But its nice to see the geeks and underdogs being in the spotlight for GOOD reason for a change- which is probably yet another reason I love this show so much!! I like seeing the beautiful girl fall for a guy for the right reasons, and for the underdog to be the victorious one so often.  Plus the show is just FUNNY.  Even Mr. Bargains enjoys it, and it is not often we both truly enjoy entire shows- usually we just watch because the other wants to- but not Big Bang Theory.  Perhaps because we were never hip nor popular ?  I don't kn0w- I just know this show works and we love it!
Big Bang Theory: Season 4 is available for pre-order and will be released on September 13 2011.
"I have been hired by Warner Bros. WBWord division to promote The Big Bang Theory Season 4 on DVD."
0